Politics
Two city councilors want a 'Towing Bill of Rights.' Here's what that means.
"We should hold them to a higher standard," Councilor Lydia Edwards said of towing companies. "We should make sure that people don't feel exploited by them."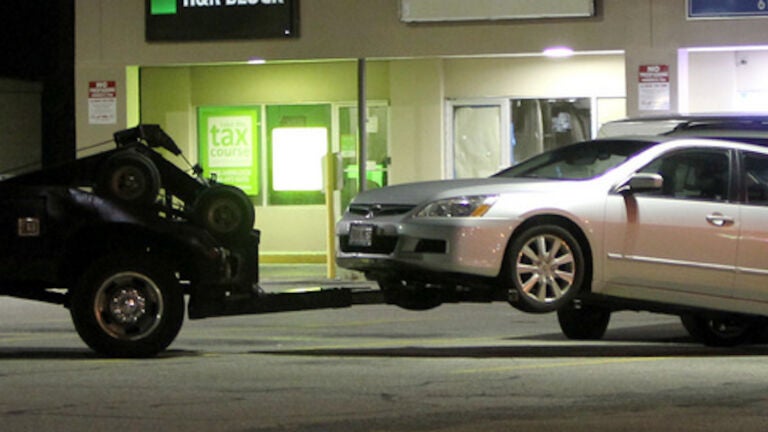 Two city councilors are looking to crack down on predatory vehicle towing practices in Boston — an initiative that they say would include publishing a "Towing Bill of Rights" for car owners whose wheels have been whisked away.
Councilors Liz Breadon and Lydia Edwards, at a council meeting Wednesday, put forth a proposed ordinance that aims to set specific parameters for when tow operators cannot remove a vehicle and to help inform vehicle owners of their rights, among other regulations.
Breadon said her office, in recent months, has heard from several residents "who have been impacted by predatory and inequitable towing practices and policies."
"We've heard from owners who were not allowed to remove their vehicle when they showed up … just as it was being hooked; not allowed to access personal belongings, including medication and a car seat; and then those who have been charged exorbitant fees," Breadon said. "We've also heard from police officers who raised concern of out of line towing practices that they had witnessed."
Edwards noted how the city contracts private companies to handle towing: "We should hold them to a higher standard. We should make sure that people don't feel exploited by them," she said.
Edwards, Breadon, and other councilors outlined the impact an unexpected loss of a vehicle can have for residents.
Some people who rely on their vehicles for shelter may lose their home if they are unable to pay to get it back, they said. Others simply cannot always afford the fees, creating transportation problems for their families and sometimes for their livelihoods.
Through the proposed ordinance, tow companies would be required to accept multiple methods of payment; to take at least one photograph of a vehicle before it is towed with a date and time recorded; to allow a vehicle owner to access personal items before a tow or at a storage facility; to display their rates and provide an itemized bill; to report involuntary tows to the city; and to reimburse vehicle owners if it is proven their car or truck was towed without authorization or if the vehicle was damaged during towing or storage.
Additionally, the law, if passed, would require tow operators to stop a tow in progress if the owner or driver of a vehicle shows up at the scene and can immediately move the vehicle. In those instances, the law would allow operators to charge a "drop fee" of no more than half the price they would have charged for the tow.
The proposal also prohibits practices such as cruising or patrolling a private or commercial property while searching for vehicles to tow without having been contacted by the property owner first.
The law would furthermore create a "Towing Bill of Rights" — a document to be published by the city to inform vehicle owners of their rights when their car or truck is towed, according to Breadon.
Councilor Michael Flaherty highlighted that city officials have tried to take on the towing problems before.
Under a pilot program, the city increased fines for cars that otherwise would have been towed due to street cleaning in certain neighborhoods, he said.
"That program worked. (I'm) not quite sure why it stopped," Flaherty said. "But we're now back to the predatory practices of private companies towing multiple cars at a time."
Flaherty suggested that practice also poses public safety concerns.
"It is predatory," he said. "They're going down one way (streets) the wrong ways with the yellow lights, like the the cops, like they can do that. It's over the top offensive."
Read the proposed ordinance:
32701408202021021131519 by Christopher Gavin on Scribd
Newsletter Signup
Stay up to date on all the latest news from Boston.com