Politics
Boston's preliminary mayoral election is just around the corner. Don't miss these important dates.
From the registration deadline to early and mail-in voting.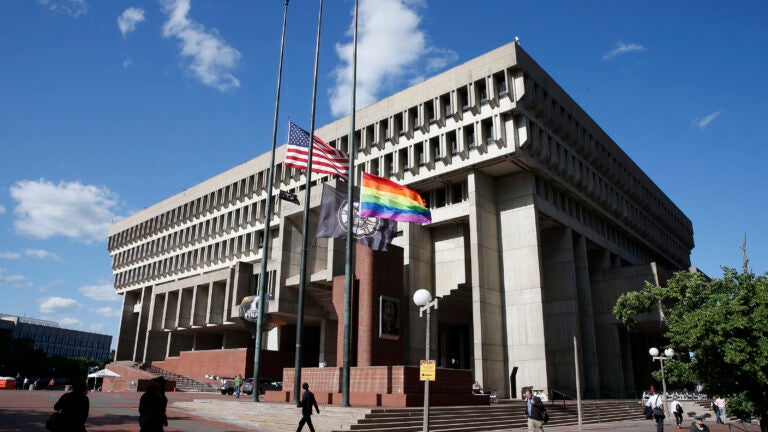 Important dates are creeping up in Boston's historic mayoral race.
While the Sept. 14 preliminary election is just three weeks away, the deadline to register to vote, the beginning of in-person early voting, and the final day to request mail-in ballots are lurking even closer around the corner.
Here's what you need to know:
First things first: Register to vote
The deadline to register to vote in Boston's preliminary election is this week: Wednesday, Aug. 25.
Residents can check their registration status on the state's website.
If you've voted in a previous election as a Boston resident, you should already be registered.
Still, newcomers to the area — and new voters — should make sure they're registered before Wednesday, and residents who have recently moved to a new location within Boston should update their address so that they can vote at their nearest polling place.
There are three ways to register.
You can register to vote online. You can mail a registration form to the Boston Election Department (1 City Hall Square, Room 241, Boston, MA 02201). Or you can visit and complete the form in person at City Hall.
If you're moving within the city on Sept. 1 (as many do in the Boston area), state officials say to vote using your previous address in Boston on Sept. 14.
However, if you're moving out of the city on Sept. 1, you won't be able to use your old address to vote in Boston. While statewide elections give voters a six-month grace period to vote from an old address in a different community, that isn't allowed in local elections.
"Once you move out of Boston, you can't vote in a Boston city election," Deb O'Malley, a spokeswoman for Secretary of State Bill Galvin, said in an email. "So, if a voter moves from Boston to Cambridge on September 1st, they are not allowed to vote in the Boston preliminary on September 14th."
Vote early — but not on Labor Day
One thing that will be familiar to those who voted in last year's elections is expanded early and mail-in voting for the Sept. 14 preliminary election.
Under a law passed last month to extend the pandemic-era reforms, cities can hold up to seven days of early voting during the Saturday-to-Friday period before the September election. Boston will do so on six of them.
According to the city's Elections Department, early voting for the preliminary will run Saturday, Sept. 4, through Friday, Sept. 10 — with the exception of Monday, Sept. 6, which is Labor Day, a federal holiday.
The finalized list of polling place locations and hours is still being worked out (after blowback from several candidates and city councilors, the city added additional polling locations last week). According to the Elections Department, it should be published by the end of the week.
Officials are also in the process of sending out applications for mail-in ballots (according to O'Malley, the Boston Elections Department planned to do it themselves, but because of the "late passage of the voting by mail law in July," Galvin's office is partnering with them using their vendor to assist).
"Applications were in the mail to all Boston voters at (the) beginning of last week, so we would expect everyone to have received theirs by the first half of this week," O'Malley said Monday. "Just like 2020, voters can apply by checking off the elections they want a ballot for, signing the application, and dropping it in the mail."
(The preliminary election is non-partisan, so eligible resident can vote, whether they're a registered Democrat, Republican, unenrolled, whatever.)
Voters can also download a mail-in ballot application and mail it to the Boston Elections Department. Or they can simply send a letter saying they want to vote by mail.
"Any signed request for a ballot is an acceptable form of application," O'Malley said.
The deadline to request a mail-in ballot is Sept. 8.
Galvin's office recommends requesting and mailing back a ballot as early as possible, "allowing up to seven days for ballot delivery in each direction."
Who's on the ballot?
In the wake of former mayor Marty Walsh's departure to become U.S. labor secretary, there are five major candidates in the running to take his place:
City Councilor Michelle Wu
City Councilor Andrea Campbell
City Councilor Annissa Essaibi George
Former city economic development chief John Barros
and Acting Mayor Kim Janey, who is also a city councilor
Click here to read more coverage of the issues driving the race and interviews with all five candidates.
That exodus of city councilors has also contributed to an unusually high number of competitive races to join the legislative body.
A total of 17 candidates are on the ballot for the city's four at-large council seats, two of which are being vacated by Wu and Essaibi George.
Nine hopefuls are vying for Campbell's District 4 seat, and another eight are gunning for the District 7 seat being left open by Janey.
Meanwhile, the race to replace District 6 Councilor Matt O'Malley, who isn't seeking reelection after a decade in office, has attracted three candidates. There are also two candidates taking on first-time City Councilor Liz Breadon in District 9.
(There are no preliminary elections for this year for the City Council's first, second, third, fifth, and eighth district seats.)
What's next?
The two top vote-getters in the preliminary mayoral election will advance to the Nov. 2 general election.
The same goes for the district City Council races. In the at-large City Council race, the top eight finishers move on to the Nov. 2 finale.
If you miss the preliminary, the deadline to register for the general election is Oct. 13.
Newsletter Signup
Stay up to date on all the latest news from Boston.com