Politics
Alex Gray
"If elected, I would be Boston's first blind city councilor and one of only two in America."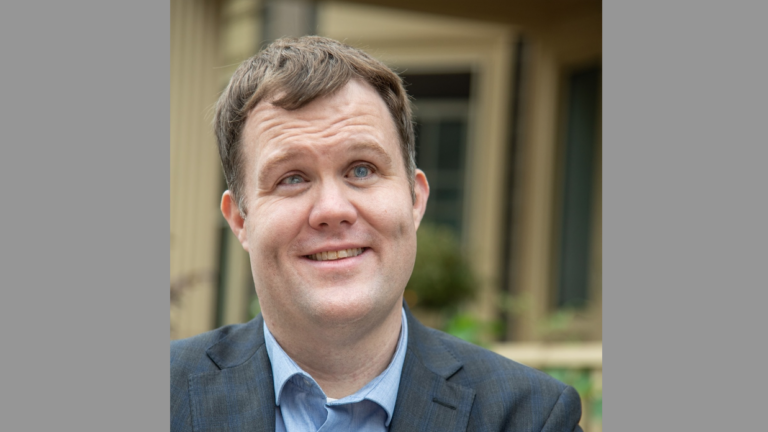 Alex Gray, 37, is running for an at-large City Councilor and is currently a senior policy manager for the City of Boston's Office of Workforce Development. He lives in Jamaica Plain with his wife Lauren and their 2-month-old son, Emerson.
Previously, Gray spent two years working as a policy advisor in Mayor Martin J. Walsh's executive office and served as a policy advisor for Gov. Deval Patrick after graduating law school. He graduated with a bachelor's degree from Boston College in 2006 and a JD from Suffolk University School of Law in 2011.
Why are you running for at-large city councilor?
I am running for At-Large Boston City Council because my work has brought me into every neighborhood of the city and given me the experience to do the job on Day One. I began my career with the Massachusetts Housing and Shelter Alliance where I advocated for permanent housing solutions for individuals experiencing homelessness. After law school, I worked for Governor Patrick on public safety and transportation policy including helping to launch the Fairmount Commuter Rail Line. I have spent the last seven years as an advisor for Mayor Walsh and the City of Boston, focused on improving pathways to careers, including helping create Boston's first-ever Tuition-Free Community College program. In addition, I have found that across the country, people with disabilities are often left out of decision-making conversations, and I believe that must change. If elected, I would be Boston's first blind city councilor and one of only two in America. Being blind has taught me the value of advocating for others and the meaning of truly listening to people. I have found that by listening to those impacted, a good policy idea can be made great and a community can thrive.
There are 17 candidates for at-large city councilor. What accomplishments and proposals do you think make you stand out from the others? Please be specific.
I am proud of several tangible accomplishments I have achieved during my time in public service. I believe that my direct work on the city's policies sets me apart from other candidates. Firstly, during my time in Governor Patrick's administration, I helped to launch the Fairmount Commuter Rail Line, serving the neighborhoods of Dorchester, Hyde Park, and Mattapan. The launching of the Fairmount Line helped to bring more equitable transportation access to the communities, better connecting people to their everyday needs. Secondly, in Mayor Walsh's administration, I helped to start the city's first-ever Tuition-Free Community College program, working to make higher education more affordable for BPS graduates. Since its inception, the program has had over 500 participants across the city. Finally, I successfully advocated for the Home and Healthy for Good program while at the Massachusetts Housing and Shelter Alliance, which provided the housing and wrap-around services that residents needed to both be housed and remain housed. I not only have worked on so many of the issues facing our city, but have helped implement policy that has positively impacted people's lives.
What would be your top three objectives during your term as city councilor?
Jobs & Economic Relief: As we work to recover from the COVID-19 pandemic, it is critical that we implement policy centered on the communities that have been most impacted: people of color, seniors, the disability community, and front line workers. In addition to this, we must focus our recovery efforts on small businesses in our Main Street districts that serve as the backbone of our neighborhoods. It is also vital that we take bold steps to expand job opportunities for residents that pay a living wage and offer the benefits that they deserve. Housing: As a city councilor, I will work to develop more affordable and accessible housing options for our residents. It is vital that we ensure that these housing options connect Bostonians to transportation, school, work, healthcare, businesses, and green spaces. Everyone in the city deserves to have quality access to their everyday needs. Education: It is imperative that we fully fund our schools with the necessary resources to provide a quality learning environment for each and every student. As a Boston City Council member, I will work to ensure that our students and educators have everything that they need to succeed in the classroom.
What is one thing you want the City of Boston to know about you?
I want the City of Boston to know that, if elected, I will use my professional and lived experience to help create a Boston where everyone can live with dignity. My experience as a blind person has shaped me into who I am today: someone who understands challenges and adversity, the value of listening to and advocating for others, and the importance of building a Boston that centers the voices and needs of all of its people.
What is your typical Dunkin' order?
Iced coffee and a sesame bagel toasted with butter.
Visit Alex Gray at his website, Facebook, Twitter, and Instagram.
Previous candidate: Donnie Palmer
Newsletter Signup
Stay up to date on all the latest news from Boston.com