Politics
James Reginald "Reggie" Colimon
"If elected, you can be sure that I will stand up for all people in this City. Our best days are ahead of us."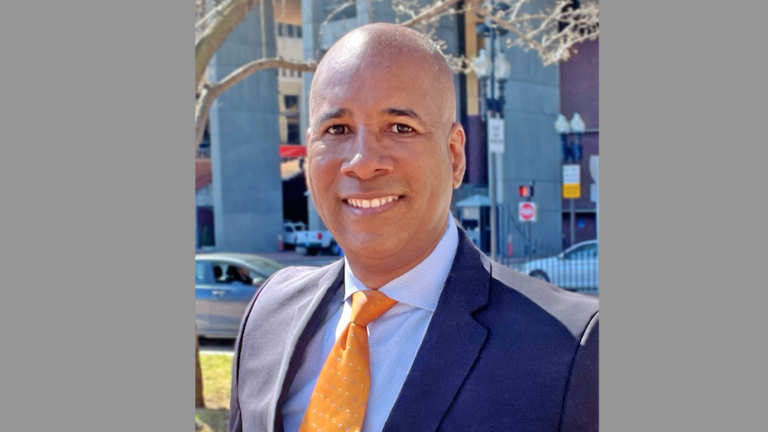 James Reginald "Reggie" Colimon, 55, is running for at-large City Councilor for the first time and works in government relations. He lives in Roslindale and has two kids, 15-year-old Zoe and 11-year-old Marcus.
Colimon graduated Salem State University with a BA in political science and a minor in foreign languages, and received his MBA in International Management from Middlebury College at Monterey.
Why are you running for at-large city councilor?
I am running for City Council because I believe that with more equitable policies and wider access to opportunities, our City – our people – can reach new heights. Having served as a senior staff member in three mayoral administrations, (Mayor [Thomas] Menino's Office of New Bostonian's, Mayor [Marty] Walsh's Global Affairs office and chief liaison to the Boston City Council, and in Mayor [Kim] Janey's Global Affairs office), I know that a strong collaboration between executive and legislative branches results in effective and responsive municipal government. I also served in Mayor (Buddy) Dyer of Orlando, FL, where I assisted homeowners and 394 diverse neighborhood associations and residents in accessing and utilizing the wide range of city services and community resources. As an elected City Councilor, I will work with my colleagues to enact laws and policies that are equitable, fair and inclusive, and that reflect the makeup of our City. Every family in Boston deserves a fair opportunity to lead the life they've always envisioned. If elected, you can be sure that I will stand up for all people in this City. Our best days are ahead of us.
There are 17 candidates for at-large city councilor. What accomplishments and proposals do you think make you stand out from the others? Please be specific.
Here are three accomplishments I am most proud of. 1 – Pioneered the City of Boston's Immigration Clinic in 2004, a pro-bono immigration attorney program that is still in operation today. 2 – Directed the "We Are Boston" event to raise funds for 26 New Bostonian's programs. 3- Worked to establish a Global Affairs Team in the Economic Development office, hosting over 1000 international delegations.
What would be your top three objectives during your term as city councilor?
Here are 3 of my priorities when elected: 1 – Invigorate, energize, and re-equip Madison Park Vocational 2 – Provide critical technology that's accessible to all Boston residents, effectively bridging the "digital divide." 3 – Establish a paid internships program in partnerships with the DA's Office, Corporation Counsel of the City of Boston, and the major law firms of Boston to enable minorities to attend law school.
What is one thing you want the City of Boston to know about you?
Every immigrant has a unique story to share. Born of their experiences in their country of origin, about why they were willing to risk it all to come to the United States. Yet, there are common threads in these stories as well – the hope that propelled them to America, the apprehensions of arriving in a new land and speaking a foreign language, the struggle to adapt to a fast-paced and dynamic society, and the challenge of shaping a new life in America. I am a proud immigrant who left the beautiful Caribbean island of Haiti as a teenager to join my parents in Boston over 35 years ago. I came to this country, like many before me, in search of opportunities for a better life. For many immigrants, transitioning into a new life in this country is financially, socially and emotionally difficult. I come from a well-educated family of modest means, but that did not shield me from my first experiences of discrimination, racism and bullying: experiences that were totally foreign to me, but also made me tougher and more resilient.
What is your typical Dunkin' order?
Usually black if at Dunkin'; however, I brew my own 95% of the time.
Visit James "Reggie" Colimon at his website, or social media @Colimon2021 on Facebook, Twitter, Instagram, and LinkedIn.
Previous candidate: Jon Spillane
Next candidate: Erin J. Murphy
Newsletter Signup
Stay up to date on all the latest news from Boston.com