Politics
Sonia Chang-Diaz proposes free public college for Massachusetts residents as part of education plan
The Democratic gubernatorial candidate says the plan would cost "billions" of dollars, but that those costs are already being borne across Massachusetts.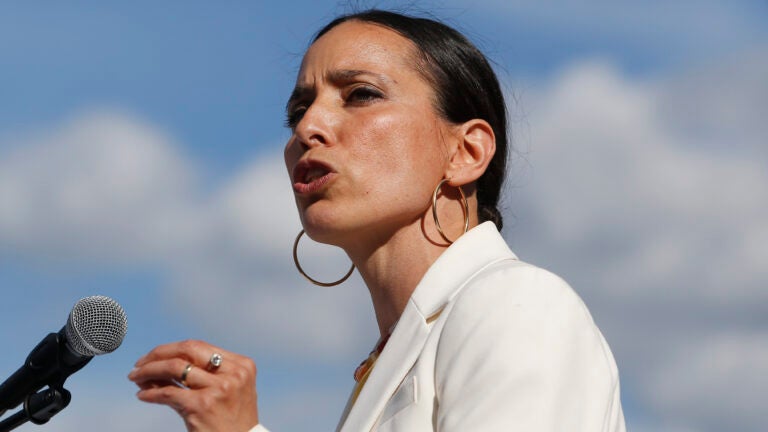 State Sen. Sonia Chang-Diaz wants public education to be free for Massachusetts residents from "birth into adulthood."
As part of a sweeping education plan released Tuesday, the Democratic gubernatorial candidate and 43-year-old state senator from Jamaica Plain is pledging to invest "billions" to provide universal affordable child care, free preschool, and debt-free public college to Massachusetts residents.
"We're really using the K to 12 system as a model," Chang-Diaz said in an interview. "The existing K-12 system recognizes that education is a public good, and it serves everyone in the commonwealth."
Chang-Diaz says the plan, the first policy platform of her 2022 gubernatorial bid, aims to go "big" and "bold" after years of "uphill fighting" on education reform and "disinvestment" in the state's public university system.
Massachusetts has been estimated to have the highest child care costs of any state in the country, averaging between $15,000 and $20,000 a year depending on the child's age. At the same time, researchers say a reduction in state funding for Massachusetts public colleges has contributed to higher tuition, fewer graduates, and more student loan debt.
"These are costs that people are already bearing in Massachusetts," Chang-Diaz said. "We're providing a roadmap to make those costs more equitable."
Beginning with early education, her plan adopts the so-called Common Start legislation, capping child care costs at 7 percent of household income using public subsidies; families that make less than 50 percent of the statewide median income would also be able to access free child care and early education.
Chang-Diaz's plan also includes a universal, single-payer preschool system, modeled after a bill she filed in 2015. Under the proposal, local 3 and 4 year olds would be counted in school districts' enrollment numbers for Chapter 70 funding in order to finance free preschool, regardless of whether they're at a district program, child care center, or home-based provider.
The platform also calls for fully funding the Student Opportunity Act, a 2019 law that reformed the state's funding formula for K-12 schools (Chang-Diaz has criticized Gov. Charlie Baker's administration over the implementation of the law).
And in higher education, Chang-Diaz says she would pass legislation to create a grant program to cover tuition and mandatory fees at public colleges and universities in Massachusetts, including community colleges, for all in-state high school graduates. The proposed program would also cover additional costs, like room and board and books, for lower-income students who are eligible for Federal Pell Grants.
While she characterizes the overall plan as a "hybrid" proposal, Chang-Diaz says the universally free elements make the programs "simple to administer," as well as "more durable."
There are smaller pillars to the plan, too. Chang-Diaz says she would invest more resources into efforts to address racial disparities in school disciplinary rates, launch a statewide dropout prevention program, and pass legislation to ensure that undocumented immigrants who live, pay taxes, and attend school in Massachusetts are eligible for in-state tuition rates.
The entire plan, of course, would require a significant shift in how both early and higher education is paid for in Massachusetts.
Chang-Diaz says the "debt-free" higher education plank is estimated to cost $2 billion, which she says could be "mostly" covered by a 2.5 percent tax on private university endowments over $1 billion.
Meanwhile, full implementation of the Student Opportunity Act comes in at around $200 million a year. While around $350 million has already been reserved through the law, Chang Diaz says it could also draw revenue from the proposed millionaire's tax that will be on the ballot in 2022.
Cost estimates for universal early education are more varied, depending on uptake, according to Chang-Diaz. General estimates range up to $5 billion a year. Chang-Diaz says it could be paid for through the millionaire's tax, federal partnerships, and "progressive revenue streams like closing corporate tax loopholes."
Many of the costs of the plan, Chang Diaz says, are already being borne directly by families and students in the form of tuition payments and debt. She also says they're being paid indirectly by employers in the form of "forgone productivity," due to a lack of qualified workers and parents who haven't returned to the workforce because of a lack of affordable of child care.
"We have the resources," Chang-Diaz said. "We have the know-how. We have the creativity. What we need is the political will."
Chang-Diaz points to the Student Opportunity Act, a law she helped create, as an example of her experience to accomplish what "people said was impossible." As governor, she says she would have "tremendous agenda setting responsibility." While the Baker administration has taken some narrow steps to provide free tuition to certain lower-income students, Chang-Diaz charges that there has been a "void of leadership" from the Republican governor's office.
"Our education system and our workforce is the engine that powers the state's economy," Chang-Diaz said. "We're losing that competitive advantage in our economy, because of the slow walking and the disinvestment in our system over the last decade or two. And that's why this plan really goes big."
Newsletter Signup
Stay up to date on all the latest news from Boston.com