Politics
Elizabeth Warren comes out against potential Massachusetts ballot question
"Our laws are not for sale — not to big tech, not to anyone."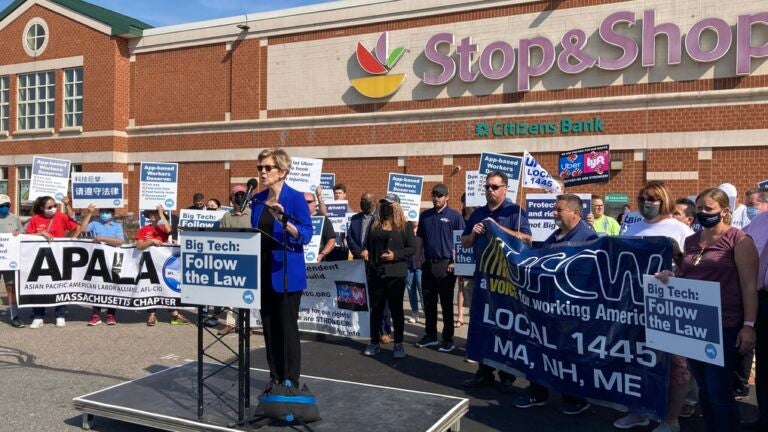 The initiative to create a carveout for rideshare and delivery workers under Massachusetts labor laws has a long way to go before it reaches the 2022 ballot.
However, Sen. Elizabeth Warren is already joining the effort to stop the proposed law in its tracks.
"Our laws are not for sale — not to big tech, not to anyone," Warren said during a rally Wednesday outside a Stop & Shop in Boston's Allston neighborhood.
During the rally, the Cambridge Democrat endorsed the labor-backed group opposing the proposed ballot question, the Coalition to Protect Workers' Rights, and called on the companies backing the initiative, such as Uber, Lyft, Doordash, and Instacart, to abandon the effort.
It's an ask that's unlikely to be met.
The initiative was one of 16 potential Massachusetts ballot questions that were allowed to move forward earlier this month. And the committee formed to support it, the Coalition for Independent Work, is indicating no plans to pull the plug.
"It is coming to the ballot in November 2022," their website says.
If passed, the ballot question would define app-based rideshare and delivery drivers as "independent contractors" and set a wage floor of 120 percent of the Massachusetts minimum wage ($18 per hour for 2023) for time they spend completing requests for transportation or deliveries, plus tips.
It would also provide additional benefits that drivers don't currently get, including healthcare stipends, paid sick time, paid leave, and accident insurance.
However, opponents say that the companies would have to provide their workers with even greater pay and benefits, like overtime and earned sick time, if they were classified as "employees," rather than independent contractors (they would take on more in payroll tax obligations).
In fact, Massachusetts Attorney Maura Healey is currently suing Uber and Lyft for misclassifying their workers (based on the companies' contracts, incentive practices, and the "core" nature of the drivers' work, Healey argues drivers should be classified as employees, and judges have generally agreed).
"Instead of following the law, these giant companies launched $100 million lobbying campaign to change the law, and make their exploitation permanent," Warren said Wednesday.
Warren also argued that the ramifications of the ballot question could extend far beyond app-based drivers.
After a similar ballot measure known as Prop 22 was passed last year in California, the supermarket chain Albertson reportedly replaced hundreds of its workers with Doordash drivers (Prop 22 defenders note that Albertsons made the shift to third-party delivery services in other states).
Still, supporters also suggested the model could be expanded to include sectors from "from agriculture to zookeeping," including "nursing, executive assistance, tutoring, programming, restaurant work, and design."
"That's great for big tech, great for big corporations, and a disaster for American workers who are trying to pay the rent and keep food on the table," Warren said. "Now these companies want to come over to Massachusetts, and run the same play, and Massachusetts says no."
Supporters of the measure say they have drivers on their side.
According to polling commissioned by the Coalition for Independent Work, 83 percent of Massachusetts drivers support the proposed ballot measure. The group also says that many treat the apps as side jobs, with 82 percent of app-based drivers in Massachusetts working 15 hours a week or less.
"We're not employees," Matthew Rose, a Wareham driver, said during a separate press conference Wednesday organized by the Coalition for Independent Work.
"I've never been an employee for these companies," Wareham said. "You tell me any job where you can walk in, clock in and go to work and then decide 'Oh I don't want to do this today,' clock out, go somewhere else, clock in, and work there instead," said . "It's a completely different type of industry, and that's what we need to recognize."
Uber and Lyft executives have argued treating their drivers as employees would "pose a risk to our business," though some researchers say the effects would be relatively limited.
Warren suggested Wednesday that the main goal of the ballot question is so that teach company can "boost their own profits by squeezing workers."
"Not here in Massachusetts," she said. "I am proud to be here to fight for our workers, because when we fight, we win."
Newsletter Signup
Stay up to date on all the latest news from Boston.com