Politics
Live blog: Updates on the Boston mayoral preliminary election
Boston voters selected two mayoral candidates on Tuesday to advance to November's general election.
There can only be two.
Boston voters who had not already sent their ballot by mail or voted early headed to the polls to cast their votes in the city's preliminary mayoral election on Tuesday, whittling the diverse field down to two finalists for the Nov. 2 general election.
Scroll down for information about the candidates and the issues, and check back here for updates on the race as results come in.
Declared candidates:
View a roundup of candidate Q&A's and prior race coverage, here.
View updates prior to Sept. 14, here.
---
BOSTON (AP) — Democrat Michelle Wu has emerged the top vote-getter in a runoff election for the next mayor of Boston, and although the race to decide her opponent in November remained too early to call early Wednesday, Annissa Essaibi George said she'd won enough support to challenge Wu in November.
Wu, a city councilor, easily won Tuesday's preliminary balloting, with fellow councilor Essaibi George trailing in second. Two other candidates — acting mayor Kim Janey and fellow city councilor Andrea Campbell — both conceded defeat late Tuesday night despite partial results showing a tight race for the No. 2 slot.
All four are candidates of color, as is John Barros, Boston's former economic development chief and the only man in contention. Barros trailed well behind the four women.
No matter who joins Wu on the Nov. 2 ballot, history has already been made in a city that has never elected a woman, Black resident or Asian American as mayor. For the past 200 years, the office has been held by white men.
Wu and Tuesday's other winner will face off against each other on Nov. 2, ushering in a new era for the city which has wrestled with racial and ethnic strife.
"I'm overjoyed that we are confident we've made the top two and are moving on to the final election," Wu told her supporters earlier in the evening. "I just want to take a moment to honor and thank this historic field of candidates, an amazing moment for the City of Boston."
See the latest ballot tallies here.
— The Associated Press
It looks like Kim Janey won't get a full term as Boston mayor, but – for the first time — another woman will.
After sending supporters home from their preliminary election results watch party Tuesday night without a speech, Janey's campaign released a lengthy statement from the acting mayor accepting defeat and pledging to ensure a "smooth transition."
"While we are still waiting on some results, it appears that we have come up short in the election," Janey said in the statement released just after midnight Wednesday morning. "I want to congratulate Michelle Wu and Annissa Essaibi-George on their victories this evening. This was a spirited and historic race, and I wish them both luck in the final election. "
Janey became the first woman and first person of color to serve as Boston's mayor in March, after Marty Walsh left office to become U.S. labor secretary. However, early results showed her on track to finish fourth in the preliminary election, missing out on the two-person general election along with Andrea Campell and John Barros, the two other Black candidates in the race.
In her statement Wednesday, Janey thanked her family, friends, campaign, and supporters for their work over the past several months — and highlighted their accomplishments.
"While tonight hasn't ended how we hoped, we have so much to be proud of," she said.
"On the campaign side we built a multi-racial, multicultural, and multi-generational coalition committed to making Boston a more just, more equitable place to live for every single resident," Janey continued. "And at City Hall — as the first woman and first Black Mayor of Boston — we not only made history, but we made a difference. Crime is down, people are staying in their homes due to work we've done with rental assistance and an eviction moratorium, our children are safely back in school, and Boston is one of the most vaccinated big cities in America."
Janey will continue to serve as acting mayor until either Wu or Essaibi George is sworn in following the November election.
"Over the next two months," Janey said she is committed to continuing to lead Boston to further boost the city's COVID-19 vaccination rate, "keep our kids safe in school, keep our streets safe, and keep our residents housed."
"And I am also committed to ensuring a smooth transition for the next Mayor so that SHE will be able to hit the ground running," Janey added.
Annissa Essaibi George gave a celebratory speech to supporters, signaling she's prepared for the road to the Nov. 2 general election, but noted Boston must take the time to "count every vote" following significantly slow returns late Tuesday night.
"Not every vote has been counted," the city councilor at-large said to a room of jubilant supporters in Dorchester. "And it's so important that we take the time necessary to count every vote. (It) doesn't mean we won't celebrate, but we need to make sure that every one of those votes is counted."
Even with results lagging, the shape of the general election began to come into view on Tuesday night.
Earlier, fellow City Councilor At-Large Michelle Wu told her supporters she was "confident" she was one of the two top-vote getters — the only candidates that qualify to advance.
Shortly before Essaibi George took the podium, City Councilor Andrea Campbell conceded, saying in a speech she had already called to congratulate Essaibi George and Wu.
And acting Mayor Kim Janey, her campaign having directed its supporters to head home after a long night of waiting for results, conceded in a statement released after Essaibi George gave her remarks.
At one point in her 20-minute-long speech, Essaibi George addressed Wu, her now likely opponent: "Over these next few very short weeks, I look forward to exchanging ideas, talking about our visions, and seeing you on the trail. I congratulate you on this evening's victory and I look forward to working in partnership with you for a better Boston."
Essaibi George, a former Boston Public Schools teacher, touted her work on the council aimed at tackling mental health, homelessness, substance abuse, and education issues, and emphasized achieving "real progress" in Boston, "not just abstract ideas."
In speaking about the need to collaborate with state lawmakers in certain arenas, Essabi George took apparent swipes at Wu, an ardent supporter of free public transit and rent control.
"Let me be very clear about this: The mayor of Boston cannot make the T free. The mayor of Boston cannot mandate rent control," Essaibi George said to applause from her supporters.
"Boldness isn't just about voicing aspirations," she added later. "Boldness is about getting it done."
As of early Wednesday morning, there were 48 days until the Nov. 2 election.
If you're waiting for the complete results of Boston's preliminary mayoral and City Council elections, be prepared to stay up late — or check back Wednesday morning.
State and city officials acknowledged Tuesday night that the reporting of election results would take a little longer than previous election nights, as poll workers add thousands of ballots that were returned in the mail or to drop boxes around Boston before the 8 p.m. cutoff to local precinct tallies.
"This is part of the new normal," Boston City Councilor Matt O'Malley said Tuesday night on CBSN Boston.
Though results are still slowly coming in, Andrea Campbell conceded the preliminary election for mayor of Boston around 11:30 p.m. on Tuesday night.
In an emotional speech, Campbell addressed her team, campaign volunteers, and voters in Dorchester, conceding defeat to City Councilors Michelle Wu and Annissa Essaibi George.
"It's not the result we wanted, it's not the result we expected, but we have something to be extremely proud of," she said. "I believe fiercely that we are victorious tonight and I'll tell you why: we kept this campaign about the issues that matter most to Bostonians, providing action and solutions that will make our city more affordable, safer, more equitable, and just, and where opportunity exists for every single resident of the city of Boston."
Campbell thanked her team, her family, the voters, and the other candidates, noting she'd called Wu and Essaibi George to congratulate them. She highlighted the commitment and diversity of her campaign.
"The real winner tonight was actually Black women," she said. "Collectively our vote shares surpassed all others, and what that shows is there is an appetite indeed in this city for change and I know my candidacy helped ignite it and I'm proud of that."
Her campaign, Campbell said, was about breaking cycles of poverty and trauma, making an impact, and transforming systems.
"I still deeply love the city of Boston, this is the city that gave me everything," she said. "Thank you for your faith in me, thank you for your faith in my candidacy, thank you for your faith in everything we did on this campaign. I appreciate all of you…I love you with all my heart. I'm still a faith driven woman, that will never change, something will come next and we better be prepared. …Here we go."
As unofficial election results lagged hours after voting ended in Boston, City Councilor Michelle Wu said her campaign strongly believes she is among the top two vote-getters — positions necessary to advance to the Nov. 2 general election.
"We are confident we've made the top two and are moving on to the final election," she told supporters at an event in Roslindale.
Two hours after polls closed at 8 p.m., results were still unavailable from the city's Election Department.
Wu acknowledged the ballots were still being counted, adding later in her remarks that Tuesday night was not "a victory celebration" but a thank you to her team and supporters for their work over the past year.
But her speech exuded Wu's confidence in her standing among her preliminary opponents and her popularity among Boston voters. (Several polls had placed Wu as the front runner in recent weeks.)
She painted a rosy vision of what the future could hold for Boston, touting a grassroots campaign that spanned languages, cultures, and generations.
She told the crowd: "This is a moment on our shoulders."
"This is the moment that we will look back on one day and say, 'Boston stepped up with every single one of us at the table,'" Wu said later.
As voters wait to see which candidates advance to Boston's general election in November, Rep. Ayanna Pressley said the "historically diverse" field of mayoral and City Council hopefuls has already made a lasting contribution.
"No matter the results tonight, those candidates and current officeholders, their families, their staff and supporters have changed our city forever and for good, through their commitment, their courage, and their sweat equity," Pressley wrote in a series of tweets after polls closed in the city's preliminary election Tuesday night.
"Boston will be better for it," she said. "Different questions will be called. The lived experiences of more Bostonians will be lifted up. [And] more people in our city will see themselves reflected in the halls of power. I am so proud of the city our family calls home."
As the first woman of color elected to the Boston City Council, the now-Massachusetts congresswoman remarked upon the body's increasing diversity, which spawned four women of color leading the 2021 mayoral race. She noted that the field includes "many of my partners in good from City Hall."
Pressley didn't endorse any candidate in the mayoral or City Council races. However, four of the five mayoral hopefuls — Michelle Wu, Andrea Campbell, Kim Janey, and John Barros — and over a dozen City Council candidates signed a policy pledge affirming their support for the Boston Democrat's priorities (Annissa Essaibi George was the only mayoral candidate who did not). Pressley's campaign also sent pizza to all five mayoral campaigns Monday evening.
After the months-long race, she also shined a light on the people and behind-the-scenes work that made the campaigns possible and lifted up unheard voices.
"History isn't made on one Election Day, or even one election cycle," Pressley wrote. "History is made by the candidates, the organizers, the advocates, the volunteers who have worked for years – for generations – to build our communities. To build movements. To build power."
After a long weekend of barnstorming across Boston's neighborhoods and hitting the polls Tuesday, the five candidates to be the city's next mayor finally get some time to rest, if not relax, as the results come in on election night.
City Councilor Michelle Wu plans to host an election night party for family and supporters on the patio of Distraction Brewing Co. in her neighborhood in Roslindale, according to her campaign.
Meanwhile, on the other side of Franklin Park, City Councilor Andrea Campbell will host supporters at the Prince Hall Grand Lodge in Dorchester (in line with Campbell's calls for a citywide COVID-19 vaccine passport, proof of vaccination will be required to attend, according to her campaign).
Acting Mayor Kim Janey's team is throwing an outdoor election results watch party at the renovated SoWa Power Station.
City Councilor Annissa Essaibi George's campaign is planning a waterfront election night party at the Venezia restaurant in the Neponset neighborhood of Dorchester, a part of the city where she expects to draw strong support.
John Barros, the city's former economic development chief, will also be spending the night in Dorchester — just a mile away from Campbell's watch party — at Restaurante Cesaria, the Cape Verdean restaurant he operates, to take in the results with family, friends, and supporters.
Mayoral candidate and City Councilor Andrea Campbell was one of the first to vote at her polling location — Lower Mills Branch Library in Dorchester — casting her ballot at 7 a.m. Tuesday as polls opened. They'll remain open in the city until 8 p.m.
Campbell was joined shortly by fellow City Councilor Michelle Wu, who voted at the Phineas Bates Elementary School in Roslindale. Wu was accompanied by both of her sons, Blaise and Cass, as well as her husband, Conor Pewarski.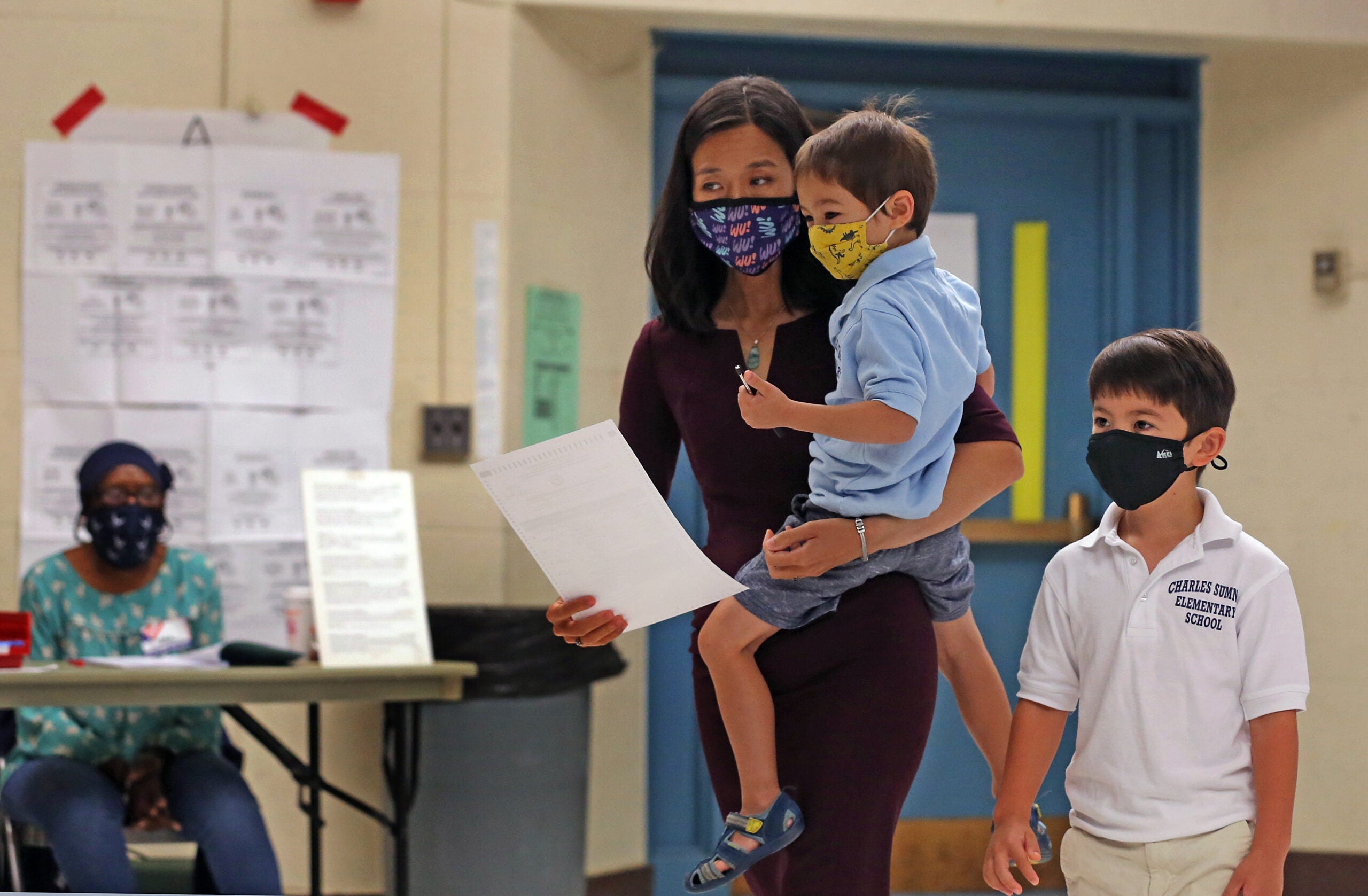 Acting Mayor Kim Janey cast her ballot at the Yawkey Club of Roxbury. She was joined by her mother, daughter, and granddaughter — a family tradition, she says.
City Councilor Annissa Essaibi George and John Barros, the city's former economic development chief, voted at the Boston Housing Authority location on Bellflower Street and Uphams Crossing, both in Dorchester, respectively.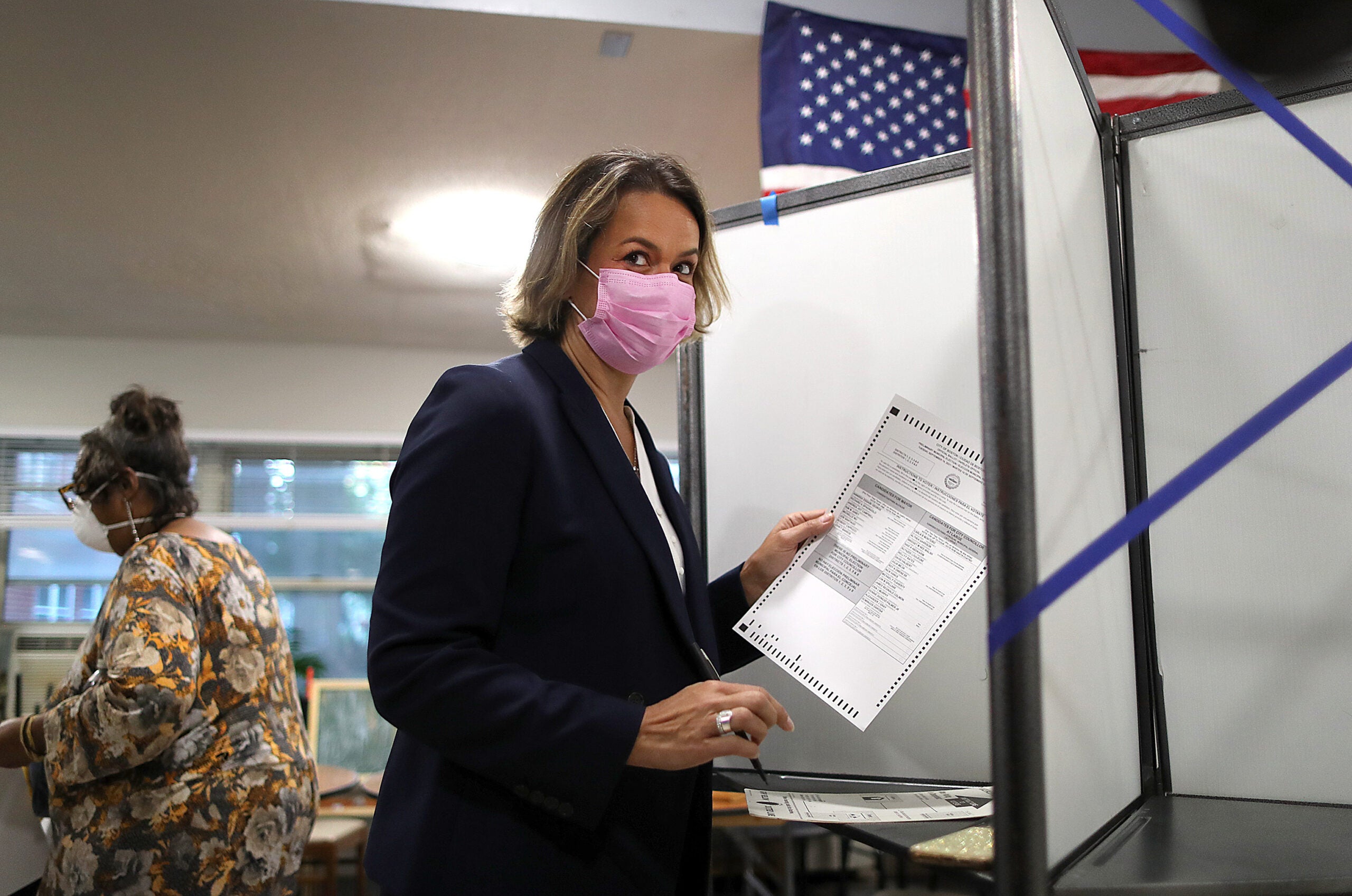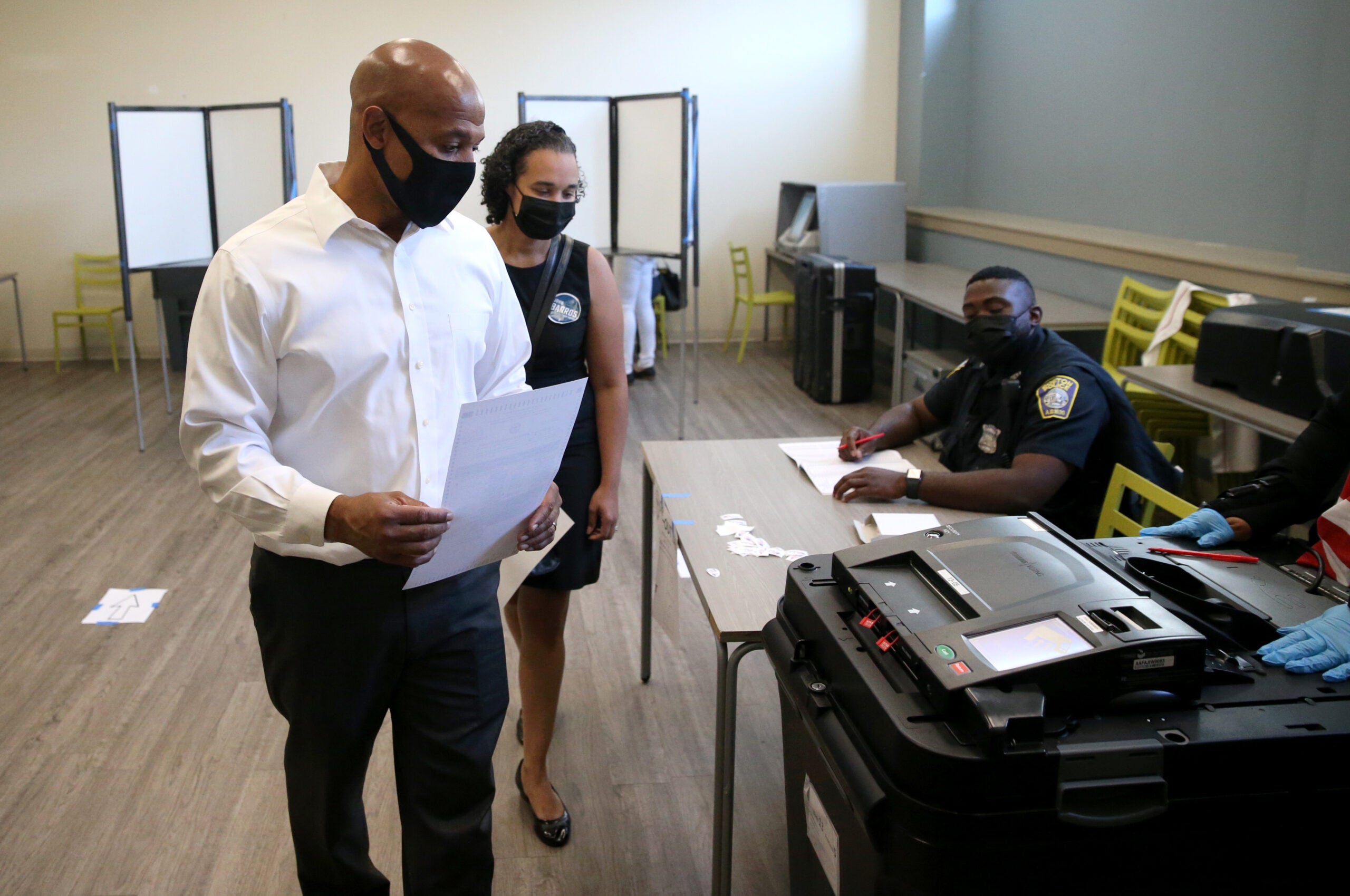 Thirty-eight years ago, Mel King became the first Black candidate to reach the general election in a race to be Boston mayor.
Now, the pioneering activist and politician is hoping to push Acting Mayor Kim Janey into the two-person finale — and beyond.
In an endorsement announced late Monday night, King backed Janey to be the next full-term Boston mayor.
"I am 92 years old," he said in a statement. "I've spent my entire life fighting for a Boston that is more equitable and just. One that tears down the walls of racial and economic injustice in Boston and builds up a multi-cultural, multi-ethnic and multi-generational coalition that will bring a new day to the city. I believe the person to lead that change is Mayor Kim Janey."
The endorsement came just 10 hours before voting on the eve of the preliminary election Tuesday, with polls showing Janey in a virtual tie with City Councilors Andrea Campbell and Annissa Essaibi George for the second-place spot to advance to the Nov. 2 general election.
King said he has known Janey and her family for "decades," noting that the acting mayor volunteered as a teenager on his 1983 mayoral campaign (King ultimately lost the race to Mayor Ray Flynn). A former state representative for the 9th Suffolk District, the longtime South End resident said Janey is "carrying the torch" for the "multi-racial, multi-generational Rainbow Coalition" he led four decades ago.
"I have seen her grow into a passionate advocate and leader for equity and excellence in our schools, for affordable housing for every family, for continuing to build a city to open the doors for the jobs and education opportunity, and for closing the wealth and opportunity gaps that still plague our city," King said. "She has done that in just five months as Mayor, and I believe she can do so much more with four more years. It is why I am endorsing her and, more importantly, voting for her."
"Mel King helped shape my life of activism that turned me into the person I am today," Janey said in a statement. "He is a giant, a legend, a trailblazer. His influence is felt all throughout our city, throughout the generations, and I am so very honored to have earned his endorsement in this race."
Newsletter Signup
Stay up to date on all the latest news from Boston.com