Politics
Charlie Baker says Boston 'can't withdraw' its downtown waterfront plan. Now what?
It depends on who's elected as the next mayor of Boston.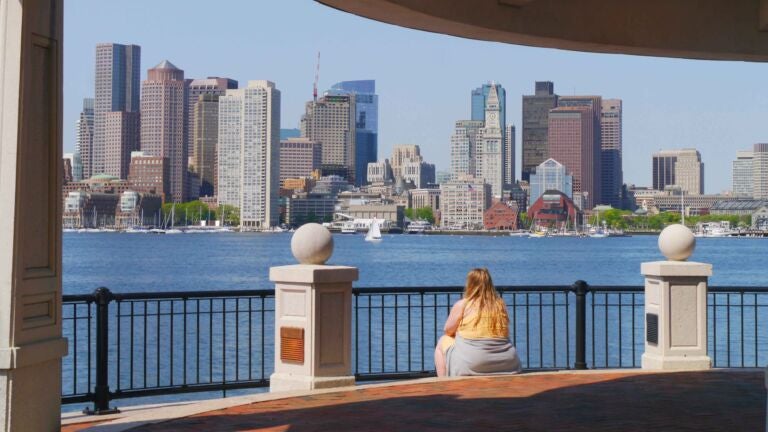 After announcing plans to withdraw Boston's Downtown Waterfront District Municipal Harbor Plan last month, Acting Mayor Kim Janey was asked if she had the power to suddenly scrap a zoning plan years in the making.
"I just did it," Janey said.
But according to Gov. Charlie Baker, it's not so simple.
Baker, whose administration approves municipal waterfront plans, suggested Monday afternoon that state officials would not grant Janey's withdrawal request unless city official submit a replacement plan.
"Procedurally, you can't just really withdraw a plan. You have to write one," Baker told reporters at the State House.
"The bottom line is that the way you deal with these plans, is if you want to change it, you can," he said. "But you can't withdraw, you have to submit a new plan."
Boston's initial downtown harbor plan took four years to develop under former mayor Marty Walsh, allowing the city to approve construction in the 42-acre area that would have otherwise violated a 19th-century waterfront protection law, including a 600-foot tower on the current site of the Boston Harbor Garage by the New England Aquarium and a 275-foot hotel tower on the site of the James Hook & Co. restaurant.
Janey's move to scrap the plan — citing equity and climate change concerns — meant that those projects would likely be delayed, if not also scaled back.
Baker added Monday that the situation in Boston has been "a complicated one," both "from a policy and an administrative point of view," with the city about to go through three mayors in less than eight months.
"I think we can agree that's not the sort of thing that happens very often," he said. "But the way the process works around harbor plans is, communities develop, and the state certifies. And if you want to change your plan, you can, but you don't just withdraw it … you need to submit a new one."
In response to Baker's comments, a spokesperson for Janey suggested that the acting mayor — who did not advance in Boston's preliminary mayoral election last week — would pass on final decisions about the waterfront plan to the next mayor.
"Mayor Janey stands by her decision to withdraw from the Downtown Municipal Harbor Plan and intended to lead a planning process that centered resilience, equity and community around our shared waterfront," the city spokesperson said Tuesday.
"Since we are approaching a transition period, we will coordinate with the incoming Mayor to facilitate a conversation about the future of the downtown waterfront and beyond," the statement added.
That future could very well hinge on the result of the Nov. 2 election.
City Councilors Michelle Wu and Annissa Essaibi George, the two final mayoral candidates, have both expressed concerns about the the harbor plan, which critics said was too "developer driven" and would lead to less public waterfront access.
However, the two candidates diverged Tuesday on the path forward.
"Boston has the right to hold a community planning process for a waterfront that is accessible, resilient and equitable," Wu told Boston.com in a statement.
Wu had urged state officials this summer to launch a new waterfront planning process to better address the "impacts of the accelerating climate crisis and an increasingly inaccessible public space for many Bostonians."
"I look forward to working with Mayor Janey and stakeholders across our neighborhoods to shape our shared waterfront so it works for everyone," she said Tuesday.
Essaibi George, however, expressed opposition from redoing the zoning plan, despite her concerns about the planned tower near the aquarium.
"While I personally have reservations against a portion of the project, I do not think we need to completely scrap this plan and throw out an entire seven years worth of work and community engagement," Essaibi George told Boston.com.
"We need an activated, accessible, resilient waterfront and a plan that delivers that efficiently, responsively, and responsibly," she added. "We should continue community engagement and we can make changes, but those changes need to be done in partnership with all stakeholders and not leave thousands of residents without jobs."
Janey had previously aimed to develop a new plan with stakeholders that included increased waterfront resiliency, more public access and green space, and net-zero emissions requirements for new developments. However, after the previous years-long process, it's unclear how long that would take.
"We have to act with urgency," Janey said last month, acknowledging that another four-year process was undesirable.
In a statement Tuesday, Vikki Spruill, the president and CEO of the New England Aquarium, said that "developing a new plan is entirely achievable," while also acting urgently to respond to the increasing effects of climate change.
"The world has changed since the last [municipal harbor plan] was developed and approved," Sprull said, responding to Baker's comments.
The aquarium had been an early backer of legal challenges to the waterfront plan, which they said lacked community input and did not consider newer data on sea level rise.
"We have the opportunity to be a national leader by prioritizing equity in resiliency planning," Sprull said Tuesday. "To let a procedural matter become a barrier to climate justice would be a missed moment to get it right."
Newsletter Signup
Stay up to date on all the latest news from Boston.com