Politics
Ayanna Pressley endorses Katjana Ballantyne for Somerville mayor
"I have seen, firsthand, her commitment to leading with compassion and in deep partnership with community."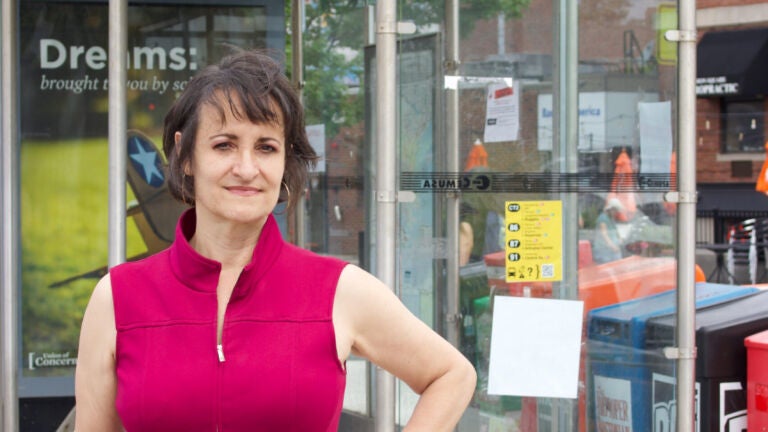 Rep. Ayanna Pressley has picked her progressive in the Somerville mayor's race.
The Massachusetts congresswoman announced Monday morning that she is endorsing City Councilor Katjana Ballantyne over fellow City Councilor Will Mbah in Somerville's mayoral general election this fall.
"I'm grateful to have known Katjana for more than a decade, and to have had the opportunity to work alongside her during her time on the Somerville City Council," Pressley said of Ballantyne, who has held the city's Ward 7 seat since 2014.
"I have seen, firsthand, her commitment to leading with compassion and in deep partnership with community," Pressley, whose Boston-area congressional district includes Somerville, added in a statement.
The Nov. 2 election is the first open mayoral contest Somerville has seen this century, in the wake of Mayor Joe Curtatone's decision not to seek reelection.
Ballantyne finished second in the city's preliminary mayoral election last month, advancing to the general election along with Mbah, a second-term at-large city councilor. Both candidates have signed onto a policy pledge created by Pressley committing their support for national priorities like criminal justice reform, student debt cancellation, and fare-free public transportation.
Self-described as the "most progressive candidate" in the race, Mbah has campaigned on enacting rent control and a "Somerville Green New Deal," and has been endorsed by left-wing groups like Our Revolution.
However, Ballantyne also authored a 2019 resolution calling for a Somerville Green New Deal and pushed for affordable housing through the city's inclusionary zoning requirement that 20 percent of large developments be affordable housing units, among other policies (Mbah has called for raising the percentage required). She and Pressley also co-hosted a conversation in Somerville about equity in public education in late August.
Pressley said Monday that Ballantyne had "presented a clear vision for Somerville's future — rooted in inclusivity, equity, and justice — and a detailed plan for how to make that vision a reality."
"I know that, as Mayor, Katjana will continue to provide the bold, committed leadership that the residents of Somerville both demand and deserve," she said.
Ballantyne said Monday that she was honored by the endorsement from Pressley, who she called a "a leader I admire greatly," a "friend," and "a fighter for people who don't have the tools and resources to fight for themselves."
In response to the news, Mbah noted that he has taken the Pressley Policy Pledge and has "tremendous respect for the Congresswoman."
"But my focus isn't on political endorsements," Mbah told Boston.com in a statement. "It's on listening to the voters who are struggling to afford to live here and need real solutions to our housing crisis."
Pressley also announced several Somerville City Council endorsements Monday, backing Councilor At-Large Kristen Strezo, Ward 1 Councilor Matt McLaughlin, Ward 2 Councilor J.T. Scott, and Ward 3 Councilor Ben Ewen-Campen for re-election, as well as first-time candidates Willie Burnley Jr. for an at-large council seat and Judy Pineda Neufeld for the open Ward 7 seat. (She also endorsed Somerville School Committee member Andre Green for reelection.)
Taken together, the endorsements Monday suggest that Pressley isn't fully on board with the so-called "socialist takeover" of Somerville, an effort to make the city home to the only majority-socialist City Council in the country.
Though Scott, Ewen-Campen, and Burnley are backed by the Boston chapter of the Democratic Socialists of America, Pressley is effectively endorsing against DSA-backed Ward 7 candidate Becca Miller and at-large candidates Charlotte Kelly and Eve Seitchik. She also did not endorse in the open Ward 5 race, which features DSA-backed candidate Tessa Bridge and Beatriz Gómez-Mouakad, both of whom have signed onto Pressley's policy pledge.
Still, Pressley says the diverse slate of endorsed candidates would bring a "wealth of experience, a dedication to bold policymaking, and a deep commitment to community partnership to Somerville City Hall."
"In this moment, when all of our communities are faced with both unprecedented challenges and unique opportunities, I'm proud to endorse this dynamic group, whose passion, determination, and unique perspectives will help make Somerville a more just and equitable community for everyone," she said.
Newsletter Signup
Stay up to date on all the latest news from Boston.com