Politics
Donald Trump endorses Geoff Diehl for Massachusetts governor — and lights into Charlie Baker
"Baker is definitely not an American First or Make America Great Again kind of guy."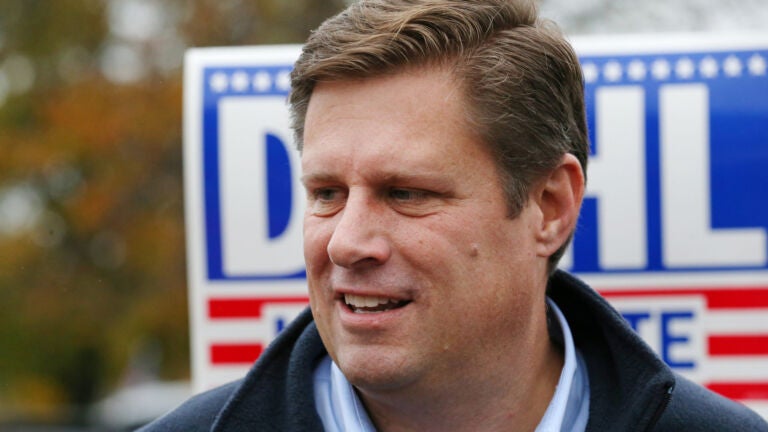 Former president Donald Trump is backing Republican candidate Geoff Diehl in the 2022 race to be Massachusetts governor.
He's also ripping into the state's current Republican governor, Charlie Baker.
In a statement Tuesday night announcing his endorsement of Diehl, Trump criticized Baker on everything from Massachusetts energy prices to the MBTA and compared the moderate GOP governor's views on climate change to Rep. Alexandria Ocasio-Cortez.
Calling Baker a "Republican in name only," the twice-impeached former president said the governor "has done nothing for the Republican Party and has driven Massachusetts energy costs into, by far, the highest in the Nation."
"Baker is bad on crime, disrespects our police, does nothing for our Veterans, has totally botched the Vaccination rollout, presided over the collapse of the MBTA, and has seen crime go to record levels," the statement continued.
(Massachusetts has one of the highest vaccination rates in the country, despite early hiccups in the rollout. Also, according to FBI data, the state's violent crime rate has been on a steady decline since 2010 to its lowest levels in decades.)
"His 'green climate' views are fresh out of the AOC playbook," Trump added of Baker. "He has totally abandoned the principles of the Republican Party, never cutting taxes and undermining our agenda. Baker is definitely not an American First or Make America Great Again kind of guy."
Trump said that Diehl, "on the other hand, is a true patriot, a believer in low energy costs and … strong on Crime, Election Integrity, our now under siege Southern Border, loves our Military, and has a big focus on taking care of our Vets."
"Geoff Diehl will be an outstanding Governor for the state of Massachusetts, and it is my honor to give him my Complete and Total Endorsement!" he added.
In response to Trump's statement, Baker told reporters Wednesday that he was "not surprised for a whole bunch of reasons," according to Politico.
Baker added that he takes "a lot of pride in the fact" that Massachusetts has the highest vaccination rate of any large state and said he remains focused on leading Massachusetts out of the pandemic.
Trump's statement Tuesday isn't the first time he has singled out Baker; last fall, the then-president also responded to the Massachusetts governor's criticism of his dubious mail-in voting claims by calling Baker a "RINO" on Twitter (he has since been permanently banished from the social media platform).
Diehl, who had previously told Politico he'd "rather leave national politics out of this race" when asked about Trump, is embracing the endorsement. The former Massachusetts state representative, chair of Trump's 2016 state campaign, and 2018 candidate for Senate promoted the endorsement Tuesday night on Twitter.
"Like the President, I want people to feel like government isn't working against them and that they can enjoy the individual freedoms our state and country were founded upon," the Whitman Republican told The Boston Globe in a statement.
Trump's backing also comes a day after Diehl claimed, without evidence, that the 2020 presidential election was "rigged," echoing the claims the former president used to stoke supporters ahead of the violent Jan. 6 storming of the Capitol Building. According to the Globe, Diehl said he also had a recent phone call with Trump promising to follow the former president's lead.
For his part, Baker has yet to announce whether he will run for a third term as governor. However, he did report his biggest fundraising month since the fall of 2018 this past September.
There are already three Democratic candidates running: former state senator Ben Downing, Harvard political theorist Danielle Allen, and state Sen. Sonia Chang-Diaz.
It's unclear how helpful Trump's endorsement will be to Diehl — or the Republican cause — in deep-blue Massachusetts, where he won just 32 percent of the vote in 2020. It may boost Diehl in a Republican primary against Baker, who has clashed with conservative factions of state GOP party leadership, especially during the COVID-19 pandemic (ironically, polls have repeatedly shown Baker — consistently one of the most popular governors in the country — to be more popular among Democrats than Republicans in Massachusetts).
At the same time, some Republicans have warned that challenging Baker in the primary could spell doom for the party in the gubernatorial general election. As Cook Political Report editor Jessica Taylor tweeted Tuesday, "a Diehl win would move this Solid R seat to Solid D."
Newsletter Signup
Stay up to date on all the latest news from Boston.com