Politics
Lydia Edwards apologizes for — and clarifies — reaction to Kim Janey's Indigenous Peoples Day order
"The people of Boston deserve meaningful engagement because we represent them."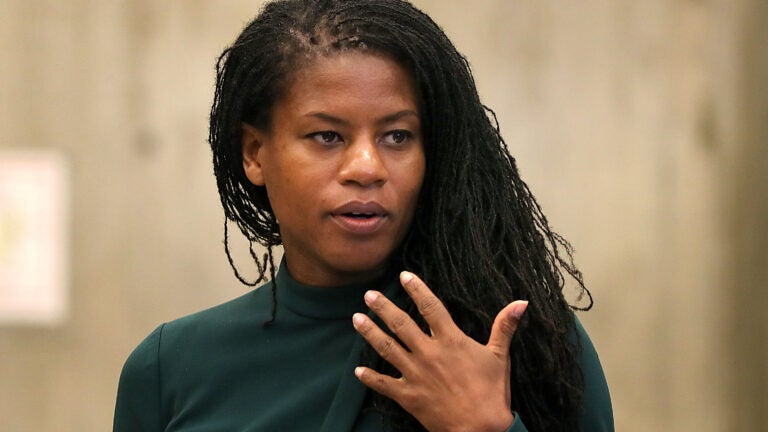 Boston City Councilor Lydia Edwards apologized Thursday morning for her initial response to Acting Mayor Kim Janey's executive order Wednesday to recognize Indigenous Peoples Day instead of Columbus Day, clarifying that she supports the move but is opposed to the way the "unilateral" decision was made.
"For too many people, my comments yesterday were painful and confusing, and I've disappointed you," Edwards wrote on Facebook. "For that, I'm sorry."
The apology comes less than 24 hours after Edwards, whose district includes Boston's North End and the "largest Italian American community in the city," criticized Janey's order. In a Facebook post, she called the decision — announced this week after no public hearings — a "surprise."
"I don't believe it encourages the honest, transparent, healing conversation we need," Edwards wrote, adding that an "elected mayor" should lead a process to honor both indigenous people and Italian Americans.
In her post Thursday morning, Edwards clarified that "as a city and as a country, we need an Indigenous People's Day."
"It's a day to acknowledge and address the historic, systemic and ongoing harms towards Indigenous people," she wrote. "More importantly, it's a day to empower people and celebrate Indigenous leaders and heroes. It is also opportunity for learning, healing and truth."
Edwards added that "we need to divorce" the explorer Christopher Columbus — whose legacy and treatment of indigenous people has been increasingly scrutinized — "from the celebration of Italian heritage. Period."
Still, she reiterated her belief that "unilateral decision making is wrong."
"The people of Boston deserve meaningful engagement because we represent them," Edwards wrote.
During a press conference Wednesday afternoon, Janey — who will be replaced as mayor in November — was asked why there wasn't more public input ahead of the announcement.
"I don't need to have a public hearing to sign an executive order," Janey said, adding that she "engaged with indigenous communities" and "talked with leaders and the Italian community, particularly in the North End."
However, at least one local Italian-American group disputes that the acting mayor reached out.
Janey's order to establish Indigenous Peoples Day in Boston first takes effect this upcoming Monday, Oct. 11. Boston joins over two dozen communities in Massachusetts and a handful of states in recognizing Indigenous Peoples Day. Columbus Day remains a federal and state holiday in Massachusetts.
Edwards recently announced her candidacy for a vacant state Senate seat, representing Revere and Winthrop, as well as East Boston, the North End, downtown Boston, and parts of Cambridge.
Her opponent in the race, Revere School Committee member Anthony D'Ambosio, was more critical of Janey's order, characterizing the acting mayor — who has been in elected office since 2018 — as an "insider politician."
"Mayor Janey's actions have caused more division and anger in Boston and throughout Massachusetts," D'Ambosio said in a statement Thursday. "I am proud of my Italian immigrant roots. No insider politician's decision will change that."
"This could have been done in a way that recognizes the plight of Indigenous people while not offending many Italian Americans," he added.
At same time, some Italian Americans say there are better ways to celebrate their heritage than honoring Columbus. Heather Leavell, a co-founder of the group Italian Americans for Indigenous Peoples Day, said Wednesday that "any association" with Columbus "diminishes our culture and does not honor the struggles and contributions of our ancestors or the long tradition of human rights activism in the Italian American community."
Newsletter Signup
Stay up to date on all the latest news from Boston.com