Politics
Watchdog group files complaint against Seth Moulton over his leadership PAC's use of funds
"When voters see thousands of campaign dollars spent on resort traveling and entertainment, they question whether the law is enforced."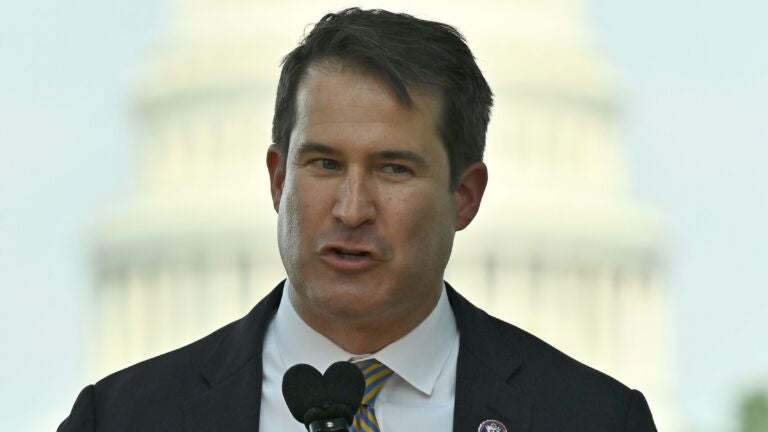 A campaign finance watchdog group is raising questions about Rep. Seth Moulton's political committee, after data from the 2020 election cycle showed only a narrow slice of the leadership PAC's funds went toward aiding other candidates and political groups.
In an ethics complaint filed Wednesday, the Washington, D.C.-based Campaign Legal Center urged the Office of Congressional Ethics to investigate whether the Massachusetts Democrat and two other representatives violated House rules.
While most members of Congress primarily use leadership PAC funds to make political contributions to like-minded candidates and groups, the Campaign Legal Center released a report last month pointing out that Moulton, Rep. Mike Kelly, and Rep. Gwen Moore dedicated less than 25 percent to politics, while using "significant sums" for things like travel, high-end dining, and sporting events.
In fact, Moulton's leadership PAC — Serve America — put just 8 percent of the $1.7 million it spent from January 2019 to December 2020 toward political contributions, the lowest percentage of any member of Congress.
While most of the PAC's spending went toward consultants, salaries, and administrative expenses, Serve America also "footed sizable bills for transportation, lodging, and meals," the report said.
For instance, Moulton's leadership PACs spent roughly $20,000 on meals, food, and catering, including $3,200 in March 2020 at the East Pole, an upscale farm-to-table restaurant in New York City, and $350 at Proxi, a high-end small plates restaurant in Chicago.

Moulton's leadership PACs also spent $9,200 on airfare, and paid $1,200 to Uber for transportation. Additionally, his leadership PACs spent $6,800 on lodging at Airbnb and an assortment of hotels across the country, including $540 at a Canopy by Hilton in Washington, D.C., in the glitzy, waterfront Wharf neighborhood.
In response to the complaint, Moulton told the Salem News in a statement that his PAC works to facilitate direct donations from individuals to political candidates, rather than serving as a middle man.
"Measuring the PAC by percentages is inaccurate," the Salem congressman said. "In our work, we drive our network of donors directly to candidates. That shows up as operating expenses for the PAC, because it takes a team and travel and events to do it, but the results of the work do not flow through our accounts."
If the Office of Congressional Ethics does open an investigation, it would likely be able to flush out whether those travel and event expenses were indeed linked to fundraisers, as opposed to personal use.
Getting that confirmation is essentially the point of the Campaign Legal Center's complaint.
In a statement, the group said that "many leadership PACs look like slush funds, and that diminishes the public's trust in our campaign finance system."
"The law is clear that campaign funds cannot be used for personal use," Kedric Payne, general counsel and senior director of ethics at the Campaign Legal Center, said. "When voters see thousands of campaign dollars spent on resort traveling and entertainment, they question whether the law is enforced."
Meanwhile, Moore, a Wisconsin Democrat, spent 12 percent of her leadership PAC funds on politics; Kelly, a Pennsylvania Republican, spent 22 percent. Moore's PAC notably spend $9,000 on event tickets, while Kelly's PAC spent tens of thousands of dollars on expensive resorts.
The Campaign Legal Center's report last month noted that the leadership PACs of Sens. Ted Cruz and Rand Paul also spent less than 25 percent of their funds on politics at 12 percent and 18 percent, respectively. However, unlike the House, the Senate does not have an independent investigative office for ethic complaints.
Rep. Josh Gottheimer, a New Jersey Democrat, also had a leadership PAC that spent just 17 percent of its funds on politics, though a Campaign Legal Center spokesman said a more detailed look at its spending did not merit a complaint.
Newsletter Signup
Stay up to date on all the latest news from Boston.com