2021 Boston elections
3 key clashes from the first Boston mayoral debate between Michelle Wu and Annissa Essaibi George
"I think that there's a very clear distinction."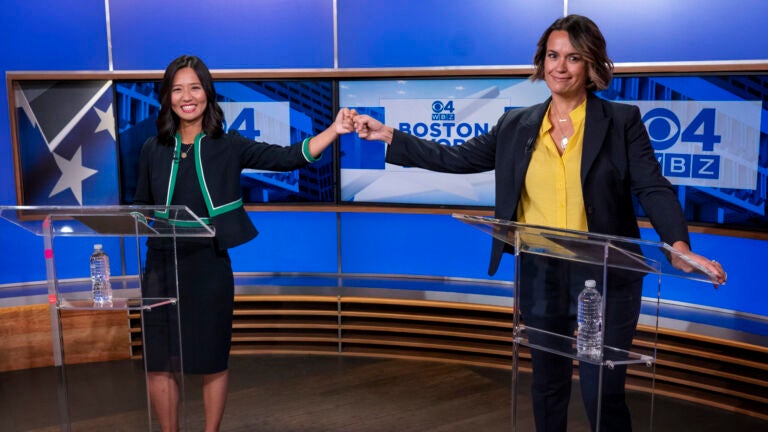 City councilors Annissa Essaibi George and Michelle Wu faced off in their first one-on-one mayoral general election debate Wednesday night — and the event was not short in contrasts.
From police reform to housing to Mass. and Cass to leadership style, the two general election candidates drew sharp distinctions. And with polls suggesting she has to make up ground, it was often Essaibi George on the attack.
"I think that there's a very clear distinction," she said, after emphasizing her record of being "engaged" and "present" in the community.
"It's so important to think boldly, and I do that every single day," Essaibi George said. "I also do the work every single day."
Wu countered that both candidates — both of whom are Democratic at-large city councilors — have been present in the community, but that the current approach hasn't addressed worsening problems like housing and homelessness.
"We're in a moment when waiting and sitting back and hoping for other levels of government or slow comfortable conversations isn't going to cut it anymore," Wu said.
A clash over housing and displacement
On the issue of housing, both candidates agreed on the urgency of addressing Boston's affordability crisis — with slightly different emphases.
Essaibi George called for greater investments in first-time homebuyer assistance and public housing for low-income families. Wu, on the other hand, put a focus on renters, arguing that the city "needs to play a much more proactive role in directing resources and keeping people in their communities," as well as simplifying the processes to build more affordable housing.
That led Essaibi George to take aim at Wu's outspoken support for rent control, after WBZ host Jon Keller, who was moderating the debate, noted that landlords who own just one property account for 68 percent of residential rental properties in Boston.
"I'm gonna say very clearly that Councilor Wu — Michelle — does not believe in the power of that small landlord," Essaibi George said, arguing that rent control would "create further disinvestment in our city" that would push out residents.
"Rent control is not the answer," she said. "It is not the fix to the challenge here in the city."
Wu responded that "we can't be afraid and listen to scare tactics," stressing that residents already fear displacement due to rising rents. Wu made clear that she would pursue a multi-pronged approach to creating more affordable housing, but that rent control was needed in the short term to limit displacement.
Implementing such a policy would hinge on state lawmakers approving legislation that would repeal — or at least give Boston an exemption from — the voter-approved ban on rent control across Massachusetts. Wu — who unlike Essaibi George has been publicly endorsed by over 20 state legislators — said she'd work with State House partners on the issue.
"It is not enough to simply dismiss policy, because it's too complicated or we're scared about what the unintended consequences might be," she said. "Let's have that conversation. Let's make sure that everything is on the table."
Essaibi George argues she's actually the leader of police reform
The two candidates also clashed on the issue of policing.
Essaibi George, who has called for adding 300 officers to the Boston Police Department and spoken out against so-called efforts to defund the police, has garnered a reputation as the more pro-police candidate in the race.
But she also said Wednesday that she would fully implement the recommendations made a year ago by a city-commissioned police reform task force and pointed to her work to increase the number of social workers that help police respond to mental health calls from two to 19.
"That is the work that I've led on as a member of the Boston City Council," she said, later adding that, "Michelle has not led on the reforms that are necessary."
Wu responded that she was "grateful" for Essaibi George's leadership on the subject, but that "going from two to 19 clinicians" didn't address the broader need for police reform in a city with hundreds of thousands of residents.
"We need to be fearless in reaching for the scale of change that our residents deserve," Wu said, adding that the city should be "leaning in" on a pilot program launched by Acting Mayor Kim Janey to have EMTs and mental health workers respond — without police — to 911 calls involving mental health matters.
Essaibi George argued that the pilot was a "product of my work on the Boston City Council." She also criticized Wu for her vote against the city budget last summer, which she said would have resulted in the loss of 43 EMTs and paramedics (Essaibi George has also been endorsed by the local EMS union).
Wu shot back that Essaibi George's comments were "simply not true"; other city councilors had said at the time that the budget's passage was never in doubt.
"We don't need false choices that pit our residents against each other or underestimate what is possible for this city," Wu said Wednesday night.
At Mass. and Cass, how urgent is urgent?
Both candidates also stressed urgency in addressing the crisis of homelessness, addiction, and violence around the intersection of Massachusetts Avenue and Melnea Cass Boulevard, but differed on the specifics.
Asked about recent proposals to commit homeless individuals to a repurposed South Bay detention center or the former Shattuck hospital in Franklin Park, Wu said she was "open to conversations on both." However, she stressed that her focus is on auditing all empty city-owned buildings within her first 100 says as mayor to see if they could be retrofitted for supportive housing.
Essaibi George said the city should "explore" using the South Bay detention center, as long as it was a "public health overseen effort." She also said "we need to use the Shattuck" as well as rebuild the bridge to Long Island, which used to host recovery services until the bridge was demolished for safety in 2014, which many see as an exacerbating factor in the worsening conditions at Mass. and Cass.
"We can't wait until the first 100 days of any mayoral administration is through," Essaibi George said. "This is work that needs to happen today."
Wu shot back that rebuilding the Long Island bridge — an effort that is currently ensnared by legal challenges from the city of Quincy — could take up to 10 years. Wu said it would be "much more" quick to rehabilitate buildings for housing or activate ferry service to Long Island, which Essaibi George has opposed.
Wu added that there has been "incredible frustration" among community members with the current approach. Essaibi George responded that efforts that were underway under former mayor Marty Walsh had "stalled" under Janey, to which Wu replied, "we shouldn't be pointing fingers, but making sure we continue to build [and] draw on every resource we have."
Asked later to assess Walsh's record, Essaibi George said the fellow Dorchester native was a "good mayor," particularly during the COVID-19 pandemic. Wu praised Walsh, now the U.S. labor secretary, as a "strong leader for our city."
But she again emphasized her discontent with the current trajectory.
"Over the last decade, Boston has seen tremendous pressures growing on our residents — our housing crisis, the pandemic, jobs, transportation system, our schools," Wu said. "I will make sure that we are not just continuing to take baby steps towards where we need to go."
The two candidates will meet again in less than a week for their second debate next Tuesday, Oct. 19 at 7 p.m. on NBC Boston.
Newsletter Signup
Stay up to date on all the latest news from Boston.com