Politics
MassGOP chair knew of candidate's anti-Asian remarks but said nothing, committeewoman says
"He overtly supported and proudly supported a very racist candidate for Boston City Council."
A Massachusetts Republican State committeewoman says she alerted party Chairman Jim Lyons of anti-Asian statements made by a Boston City Council candidate Lyons publicly supported this summer, but Lyons ignored her calls to publicly rescind his endorsement.
Jaclyn Corriveau, the 2nd Essex District state committeewoman, told Boston.com she informed Lyons in late August of a social media post with disparaging and false statements made by Donnie Palmer — then a candidate in the Sept. 14 preliminary election — aimed at mayoral hopeful and Boston City Councilor Michelle Wu.
Palmer finished 14th out of the field of 17 candidates in September, which means he did not make the ballot for the Nov. 2 final election. He has since indicated he plans to challenge Democratic Congresswoman Ayanna Pressley next year.
On Aug. 29, Palmer wrote on Facbook: "ARE WE ABOUT TO ELECT A CHINESE CITIZEN TO CONTROL THE CITY OF BOSTON?" Accompanying the words was a picture of Wu, the Chicago-born daughter of Taiwanese immigrants, alongside a photo of Chinese head of state Xi Jinping.
Corriveau, who said she is the only Asian-American member — and the only minority represented — on the 80-member state committee, said she messaged Lyons over Facebook on Aug. 31 about the post.
According to screenshots of her exchange with Lyons shared with Boston.com, Corriveau wrote to Lyons: "I would appreciate a retraction of support. As a Chinese American, this is unacceptable. I hope you find it to be too."
Lyons's response was only a question, asking Corriveau if she would like to have Palmer's contact information.
She told Lyons she already had it and that she hoped the party "will condemn this and retract any support it has offered."
"I suggest you call him," Lyons wrote back.
Despite Corriveau continuing to repeatedly tell Lyons this was his opportunity "to denounce Asian hate," Lyons only reiterated his suggestion Corriveau speak with Palmer and eventually gave her Palmer's phone number, though she never asked for it.
"I feel like I did everything I could to stop this, and he overtly supported and proudly supported a very racist candidate for Boston City Council, which is incredibly disturbing to me," Corriveau said in an interview.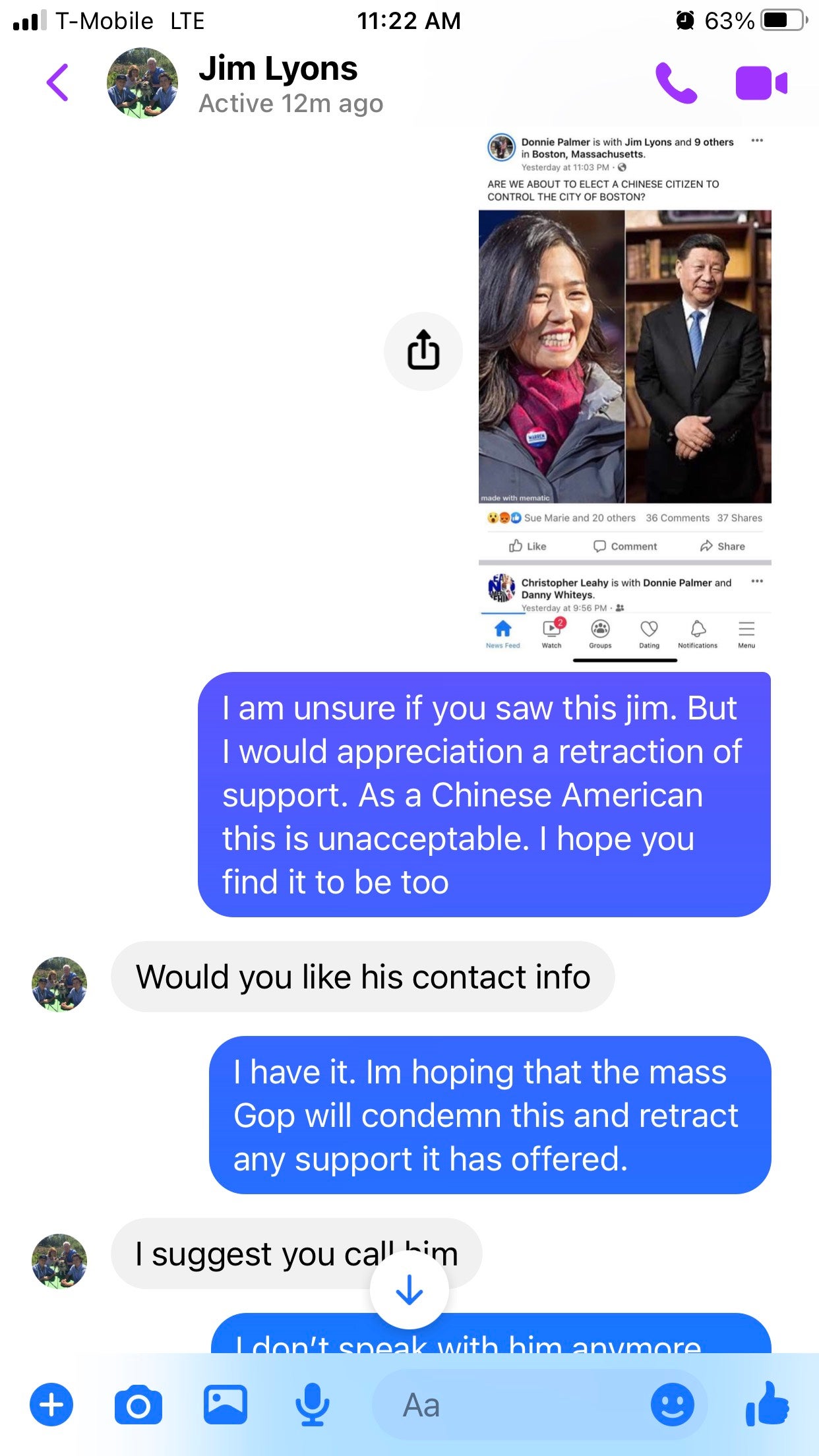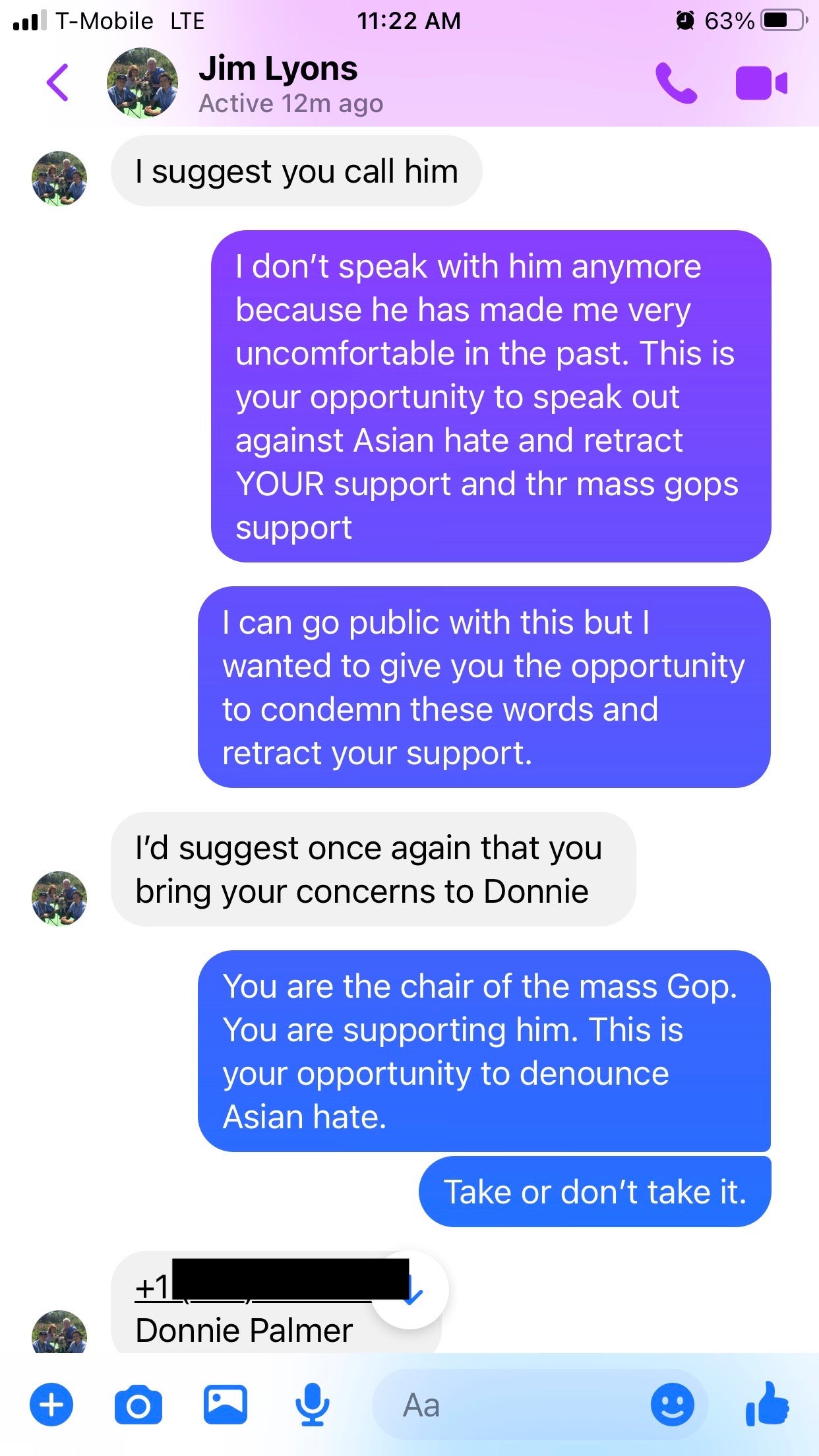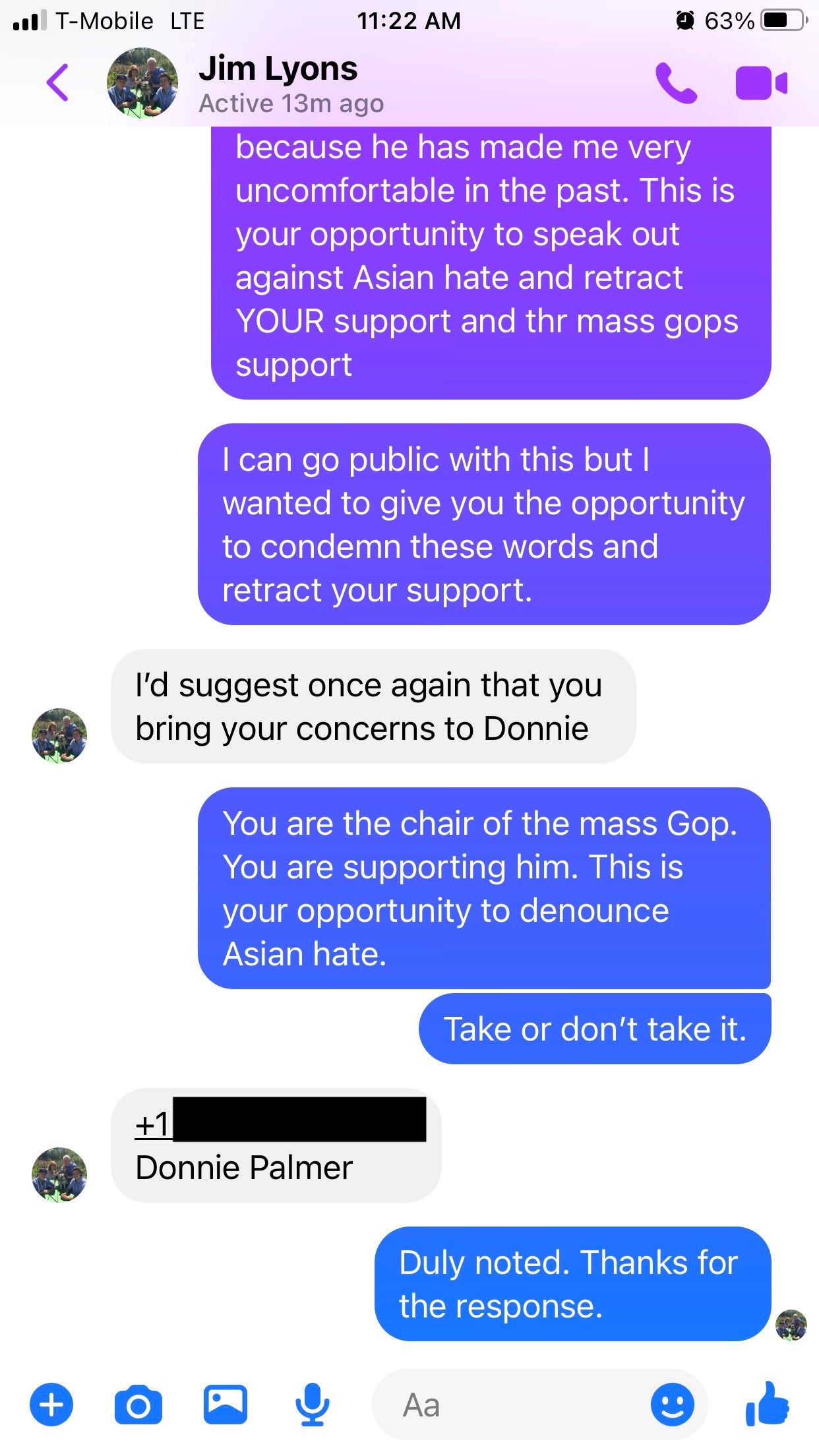 Palmer took shots at Wu in other posts on social media, including in a direct response to her campaign on Twitter in August when it shared her TV ad. Palmer called COVID-19 a "Chinese" virus and asked, "Does China run Boston?"
Elsewhere, Palmer spread falsehoods, such as saying the 2020 U.S. election was stolen and asserting that the government "is forcing us to take a vaccine that's killing healthy people all over the country."
Palmer's remarks entered the spotlight this week after The Dorchester Reporter found the Republican State Committee recently disclosed it spent $3,697 on Facebook ads supporting Palmer in August.
On Sept. 13, the eve of the preliminary election, the party urged Boston residents through a post on its Facebook page to vote for Palmer.
Additionally, Palmer received support from Geoff Diehl, the candidate for governor now vying for the Republican nomination. Diehl backed Palmer as early as July, and attended a GOP-sponsored fundraiser for Palmer on Aug. 22.
Palmer also posted photos this summer with City Councilor At-Large Annissa Essaibi George, Wu's opponent in the mayoral race, including several that indicate he met with her on Aug. 8. He later endorsed Essaibi George, a Democrat, ahead of the preliminary election.
Essaibi George did not seek Palmer's endorsement, nor did she endorse any candidate in the at-large councilor race. Essaibi George hosted meet-and-greet events at her home with invitations sent to all at-large candidates, which is where the photos on Aug. 8 were taken.
"To put it bluntly, I'm disgusted. His comments are racist," Essaibi George said in a statement to Boston.com on Thursday regarding Palmer's posts. "This language has no place in politics, especially not coming from someone who claims they want to represent the entire City of Boston."
The Diehl campaign did not return requests for comment.
Campaign finance filings show the Republican State Committee made five ad buys for Palmer in late August, including on Aug. 30 and 31: the day after Palmer posted on Facebook the remarks Corriveau flagged to Lyons and the day Corriveau messaged Lyons, respectively.
Although Boston City Council races are technically nonpartisan, the party regularly helps fund Republican candidates in local elections, according to Corriveau, a candidate for state representative in the 12th Essex District in 2016 from Peabody who was elected to the committee earlier this year.
The committee did not meet to discuss whether it would financially support Palmer, she said. Releasing funds to campaigns typically falls on Lyons alone, she added.
"It is terrible for them to use the very sparse resources that they have to support someone who's overtly racist," Corriveau said.
The MassGOP did not return requests for comment.
Palmer clarifies
Corriveau said Palmer contacted her soon after she exchanged messages with Lyons.
According to Corriveau, Palmer sent her several text messages "berating" her and then "screamed" at her over the phone that she was "talking s***."
In a Facebook post on Tuesday, Palmer clarified his remarks regarding Wu writing, in part, "Just for the record.. My issue with Michelle Wu is not that she is Chinese… it's that she is a communist!!!"
Contacted on Thursday, Palmer provided a wide-ranging statement to Boston.com, in which he said his "passion and anger is toward the degradation of our country's designed free market and opportunity for all people, how our democracy is under attack and many people are surrendering pieces of it by allowing and electing pro-socialist agendas."
"The very bedrock of the birth of freedom from tyranny is giving way to politicians who are closer to China, Russia, or Cuba than the Greatest, Most prosperous Country that has evolved the world," the statement says.
Palmer went on to call Corriveau a "RINO," meaning a Republican in name only, and "a mole in our party…."
Corriveau said she felt uncomfortable by Palmer before, which she included in her messages to Lyons.
"In my opinion, I was passionately speaking to her about topics that [protect] the ideals of the Republican Party," Palmer said in a text message to a reporter when asked why Corriveau would feel that way. "Given her response I felt it was against the ideals of the real Republican Party…if she was a true supporter of the Republican Party, she wouldn't have responded the way she did."
Mark Jette, an adviser for Palmer, said Palmer often grows emotional when discussing certain subjects and issues and said Palmer was focusing only on political concerns, not Wu's heritage and race.
Jette said he was not present during Palmer's call with Corriveau but added: "I do know that some people misinterpret Donnie because he is so passionate."
Palmer, at one point on a call with a Jette and a reporter on Thursday, evoked birtherism views when discussing Wu's candidacy. But he also said it's "stupid" for people to say he is a racist. At one point, he pointed to his support of Chinese immigrants who left communism in their native country.
When reminded that Wu is Taiwanese-American, Palmer said "that's all soft-ist rhetoric."
Corriveau on Lyons: 'He has failed to lead the GOP'
Lyons has come under fire from those in his own party before for not publicly speaking out against prejudiced statements made by fellow Republicans.
Earlier this year, infighting among MassGOP committee members came to a head in May, when state Committeewoman Deborah Martell made anti-gay statements regarding a Republican congressional candidate.
Martell, in emails and allegedly in conversation with Jeffrey Sossa-Paquette, who is running for the 2nd Congressional District seat, said she was "sickened" by his decision to adopt two children with his husband.
Martell refused to resign, despite widespread condemnation over her remarks, including from Republican Gov. Charlie Baker.
Party members called on Lyons to step in, but he declined to do so citing party bylaws that "freedom of speech and religious liberty are values that are unbending and uncompromising," he said at the time.
Lyons said only that he acknowledged "that she wrote in a manner that was offensive."
"I think he has failed to lead the GOP," Corriveau said this week. "I think the comments that Deb Martell made … were disgusting. I don't agree with them, and the sad part is, it's a very small number of people on the state committee and in the MassGOP who think like them, and unfortunately they're the loudest and they get the most attention."
She added: "This is not what we're about, and it needs to stop. I mean, I'm the only minority on state committee right now, and we've had these issues, you know, since I was elected in a caucus back in February. And I have just been saying the same thing for the past … eight months, that this is not who we are, this is not what we're about. If you talk to 99 percent of the members on state committee, you're going to find that they're incredibly welcoming and incredibly tolerant people."
Corriveau said she has not figured out how Lyons's approach helps the party.
In July, over a dozen party donors wrote a letter to the state committee expressing they had lost confidence in the party's leadership, and called on GOP leaders to make changes or else lose their financial support.
Fundraising has diminished under Lyons's tenure. In light of the controversy in May, seven former MassGOP leaders joined calls for Lyons to resign.
And in June, two national figures in the party, U.S. Rep. Dan Crenshaw, of Texas, and Wyoming Sen. Cynthia Lummis canceled planned appearances at party fundraisers in Massachusetts as the state party fought with itself.
Corriveau said it's become "crystal clear to me that there's really no reason or rationale behind how the chairman's acting, how Jim's acting, and I'm honestly done using my time trying to figure it out," she said.
"I'm more trying to just direct people towards the fact that 99 percent of our party is not like Jim Lyons," she added.
Newsletter Signup
Stay up to date on all the latest news from Boston.com