Politics
Annissa Essaibi George and allies accuse Michelle Wu of pushing to defund the police — and the T?
Wu's campaign says it's "a dishonest, desperate attack."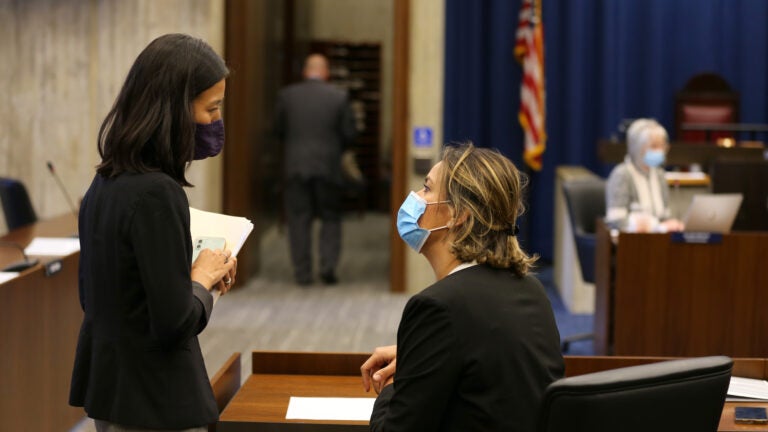 With less than a week before early voting begins in Boston's mayoral general election and "a little bit of work to do to catch up," Annisa Essaibi George is knocking fellow city councilor and mayoral candidate Michelle Wu over her past calls for cutting the police department's budget.
And her allies argue that the police department budget isn't the only thing Wu wants to defund.
In a new attack ad that Wu's campaign says is misleading, a super PAC supporting Essaibi George — named Bostonians for Real Progress — says that, in addition to the police, Wu "even proposes defunding the T," in reference to her support for eliminating public transit fares.
"Wu's way means a less affordable Boston with fewer services," says the narrator of the ad, which also knocks Wu for her vote against the 2020 city budget.
The ad echoes Essaibi George's argument that the MBTA's current fiscal challenges would be exacerbated by "making everything free." Wu, however, has said that fare-free efforts should be paired with greater transit investment from all levels of government — local, state, and federal (Essaibi George has also called for more MBTA funding and eliminating fares on certain bus routes, but has questioned the feasibility of making improvements along with systemwide fare elimination).
In a statement, Wu campaign spokeswoman Sarah Anders called the ad "a dishonest, desperate attack from Councilor Essaibi George and her allies." Anders noted that Wu — who was endorsed last week by three former top state transportation officials — has repeatedly called for more funding for public transit.
"We're ready to fight for the change Bostonians are calling for and a new kind of politics that rejects Trumpian tactics," Anders said.
Essaibi George's campaign noted Monday that she has asked all super PACs, which can't coordinate with campaigns, to stay out of the race, while Wu has only asked them to stay positive.
Still, in a statement, the campaign stood behind the line of attack.
"Annissa also believes that in a time when the MBTA is literally breaking down or falling off the tracks altogether, we should not take away the very revenue that would make the MBTA more safe and reliable to riders, as called for by her opponent," the statement said.
The super PAC ad hit the TV airwaves Sunday, according to The Dorchester Reporter — the same day Essaibi George also reiterated her criticism of Wu's more aggressive police reform position during an interview on WCVB (Essaibi George's campaign said it "obviously does not talk to the PAC or coordinate with them).
"I want to say very clearly I don't support, as my opponent does, defunding the police," she said. "We need a safe city. We also need a police department that is transparent, that is accountable, that is diverse, and that's doing the work."
WCVB host Janet Wu (no relation to the candidate) pushed back that she didn't think Essaibi George's opponent had used the word "defunding."
"I think we can probably go back, and we'll see that that's not the case," Essaibi George said. "And the defund movement — walking away from creating both safe and just communities — it can't be the answer."
Prior to the mayor's race, Wu had joined seven other city councilors calling for a 10 percent cut to the overall Boston Police Department budget. And while her campaign has not pushed a specific number, Wu has called for reallocating resources toward social services and civilianizing certain roles currently filled by police officers, such as administrative work and responding to 911 calls related to mental health and homelessness.
Wu says such efforts would allow the department to redirect officers to police work and address staffing shortages that the department has said has driven up overtime costs (Wu also says she would implement individual overtime caps and other policies to cut down on fraud and minimize routine overtime use).
"Michelle has called for increased funding for public safety and public health, and unlike our opponent, she has real plans for police accountability and reform instead of the broken status quo," Anders said.
Essaibi George — who set herself apart during the preliminary as the only candidate who opposed reallocating police department funding — has called for hiring an additional 300 officers to address the staffing and overtime issues.
"Unlike her opponent, Annissa believes that Boston can be both safe and just," the campaign said Monday. "To choose one over the other is an unnecessary, harmful and false choice. "
The statement pointed out that Essaibi George supports a number of police reforms, from a early warning system for problem officers to the release of body camera footage within 24 hours to reducing routine overtime shifts for court appearances, "as well as investments to community policing, appropriate staffing ratios, and community programs and initiatives across the city." During the WCVB interview Sunday, she also reiterated her commitment to fully implementing recommendations made by a city-commissioned police reform task force.
"I'm committed to starting that effort day one of my administration," Essaibi George said. "Michelle has not said that. She is committed to start talking about it after she's elected mayor. There is a very clear difference."
Anders refuted that claim, noting that Wu said the city "should use its full power to actualize" the five recommendations after they were first released in September 2020.
Newsletter Signup
Stay up to date on all the latest news from Boston.com