Politics
3 stand out moments in Boston's fiery second mayoral debate between Michelle Wu and Annissa Essaibi George
Two weeks before Election Day, the race is heating up.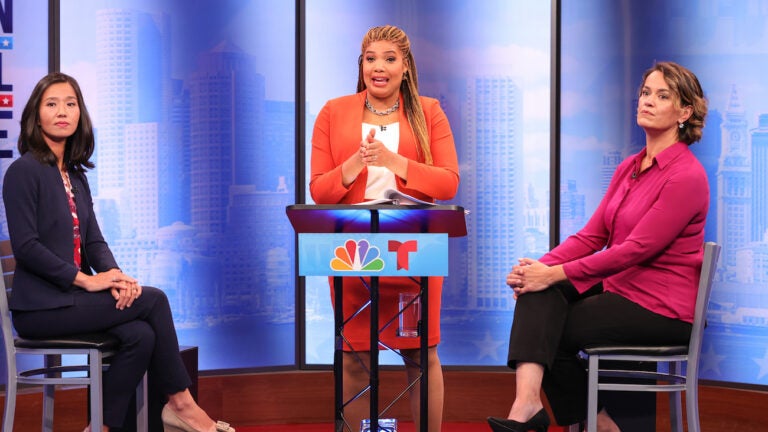 With two weeks until Election Day, Annissa Essaibi George sought to turn up the heat Tuesday night on fellow mayoral hopeful Michelle Wu as the two city councilors clashed in their second head-to-head televised debate.
Essaibi George shot quips at Wu on various issues, from rent control to the latter's push to create a fare-free T system, and, at one point, took aim at Wu's campaign finances, demanding answers for Wu reportedly accepting thousands in donations from a former Republican lawmaker.
"This work is important work Michelle, to lead this city, and the people of Boston deserve honesty," Essaibi George said. "They deserve clarity."
But Wu, who holds a comfortable 32-point lead in the latest polls, rejected the notion her bold policy proposals are unrealistic, and fired back at her opponent's attacks in part by drawing a parallel between Essaibi George's tactics and those used by national lawmakers, like former President Donald Trump.
"What I'll say is that the City of Boston deserves better," Wu said. "Our country and our democracy barely survived four years of Trump, and the types of campaigning that involve negative attacks, personal attacks, falsehoods, and fear-mongering. This is not what I wanted this mayoral race to turn into."
Here are three key takeaways from Tuesday's debate:
Essaibi George went on the offensive — and targeted one of Wu's donors.
The candidates came out swinging.
The first prompt from moderator Latoyia Edwards, of NBC 10 Boston, urged Wu and Essaibi George to ask a question to one another.
Essaibi George said Wu delivered "inconsistent messages" between neighborhoods regarding her support of changes to the admissions process to Boston's exam high schools — a claim Wu disputed.
So set the tone of Tuesday night, in which Essaibi George often implored Wu to defend plans across the spectrum of her policy agenda.
Earlier in the day, the second poll in two weeks showed Wu with a sizable, 32-point lead on Essaibi George, indicating the Dorchester native has significant ground to cover should she want to close the gap before Nov. 2.
While many barbs centered on the issues at hand, Essaibi George's questioning appeared to hit a climax when she sought answers for Wu's connections to former Republican Colorado lawmaker Terry Considine.
"The voters of Boston deserve to know about your relationship with Terry Considine, who is giving your campaign thousands of dollars, a hate monger, a man who ran for U.S. Senate and said terrible racist and discriminatory things about people from Mexico," Essaibi George said. "You need to disavow that."
On Tuesday, the Boston Herald's Joe Battenfeld reported Considine, a GOP donor, contributed $2,500 to Wu's campaign.
Considine launched a failed bid for the U.S. Senate in the 1980s — and counted FOX News CEO Roger Ailes among his advisors — and came under fire on the campaign trail for using a slur to describe Latin American immigrants, according to a Washington Post report from 1986. He later went on to serve in the Colorado state Senate from 1987 to 1992.
Considine is the CEO of real estate development firm, AIMCO, and is also the father of Elizabeth Likovich, a college friend of Wu.
Together with their husbands in 2015, Likovich and Wu bought the two-family home in Roslindale where Wu still resides, the Herald reported. Wu eventually bought out the Likovich couple's interest, according to the newspaper.
Conor Pewarski, Wu's husband, is also listed as a "resident agent" in state records for a Cambridge building owned by Considine, the Herald reported.
In response to Essaibi George bringing up Considine's campaign contributions, Wu said she was not sure what her fellow councilor was talking about.
"I am a city councilor who has led the Committee on Planning, Development, and Transportation and also led the charge many times in which we are focusing on the ethics that are needed on the city council," Wu said.
Essaibi George then pressed Wu that if that's the case, why was Pewarski listed as an agent and why did Considine "assist you in purchasing your home that you live in?"
Wu said there was "absolutely no assistance" in purchasing her home.
"I bought my home in partnership with my college roommate, who was also the godmother to my oldest child and vice versa," Wu said. "But this was a two-family home that we bought together. Their situation changed and they moved and we later were able to move my mom in as we sold her home."
Essaibi George said she hopes Boston voters will eventually get a "more clear answer."
"I don't believe that, if you read today's reports, that that is the full response and I think that if we're going to talk about transparency, we're going to talk about accountability, and you are before the people of Boston asking to be their mayor, that you should be clear, that you should be more transparent," Essaibi George said. "And I hope that the people of Boston hold you accountable in that response."
Wu said the voters deserve an election without falsehoods and personal attacks, adding that she has tried to remain focused on the issues.
"There's absolutely no wrongdoing that happened here, and I am willing and able to stand behind every single bit of the success and stability that my family has had because it has taken hard work," Wu said. "And so I have been reporting every bit of our financial transactions over the years as a city councilor, and there's simply nothing here, and I'm disappointed to see the tactics that are being used."
Essaibi George said rent control would deal a blow to small landlords. Wu said not necessarily.
Nearly 60 percent of Boston residents support rent control, according to a NBC 10 Boston, Boston Globe, and Suffolk University poll.
But Essaibi George remains a vocal opponent of the measure, saying on Tuesday night the practice has been tried before and has failed in Massachusetts.
"It will impact our mothers, our fathers, our grandparents, those that have built some legacy wealth for their families — the triple deckers, the two families across our city, families will lose their homes," she said. "Families will be pushed further out of the city, and it will actually impact greater gentrification and displacement in our city."
Wu countered by saying she isn't ready to "sit back and say this is something that is impossible." She touted her endorsements from federal lawmakers in explaining the need for partnership across local, state, and federal officials in creating affordable housing.
To bring rent control back to Boston, city officials would need a home rule petition approved by state lawmakers. At the moment though, there appears to be little appetite to make that sort of change on Beacon Hill.
"If you look at basically any of the rent control and rent stabilization laws across the country, the places that they're being used already, there are exemptions for small landlords. There are exemptions to make sure that we're protecting the people we need to protect," Wu said, in response to Essaibi George. "(But) I'm not going to just turn a blind eye to the crisis that's there. I'm not going to say this is something that Boston can't do when we need protections."
If elected, when will Wu 'free the T?'
At several points during Tuesday's debate, Wu was pressed on one of her flagship proposals: her push to make the T fare-free.
Asked what year during her term, if she is elected mayor, could riders expect to see a free T, Wu said her administration would work during its first year to expand the free Route 28 bus pilot program that rolled out in August.
The larger conversation, she said, is one she already has started having with her federal and state colleagues.
"Congresswoman Ayanna Presley and Senator [Ed] Markey, both of whom have endorsed my campaign, … they have filed federal legislation that would create billions of dollars of funding for transit agencies to offer fair-free transit," Wu said.
She also pointed to legislation filed earlier this year by now former state Sen. Joe Boncore to remove fares on bus routes across Massachusetts.
"This is within reach and we will fight to make sure it gets done," Wu said.
Leadership at the State House, however, appears to not be interested in the endeavor. On Monday, Gov. Charlie Baker said he was against the idea, while House Speaker Ron Mariano made clear he had other priorities for the MBTA, and Senate President Karen Spilka didn't provide an answer either way, according to CommonWealth.
Essaibi George, on Tuesday, said the idea is "not a commitment that I am willing to make."
"We've got to improve the T," Essaibi George said when asked about how she would improve the transit system. "We've got to make it more efficient. We've got to make sure that we've got more service lines operating to serve the people of Boston, especially our city's workers who are working off-hour shifts … We've got to do that work. Making it free does not help us do that work."
Essaibi George repeatedly said that making the T free would carry a $2.3 billion annual price tag.
However, $2.3 billion is actually the MBTA's overall operating budget. In fiscal year 2019, fare revenue made up $644 million.
"I'm not running for mayor to say what we can't do," Wu said. "I'm not going to underestimate the city of Boston. I'm fighting for what we need and deserve."
Staff Writer Nik DeCosta-Klipa contributed to this report.
Newsletter Signup
Stay up to date on all the latest news from Boston.com