Politics
Allegations of 'false statements' fly as mayoral candidates spar over police accountability
"I'm disappointed to see a pattern of false statements being made here."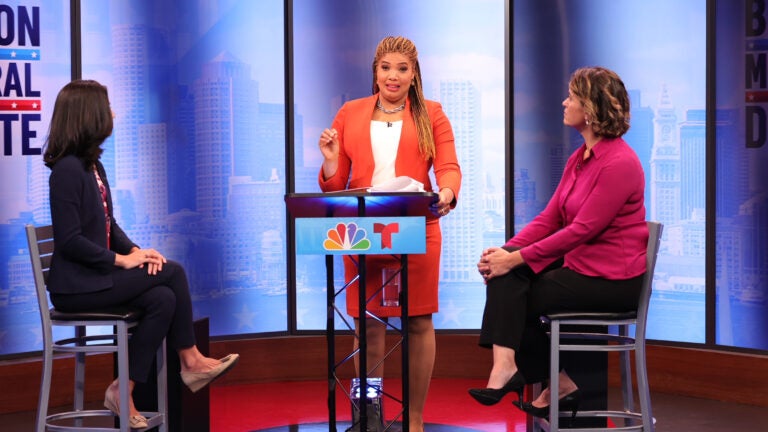 Allegations of false statements were fired from both camps not long into Tuesday's second-to-last mayoral debate, hosted by NBC10 Boston.
Moderator Latoyia Edwards asked the candidates how they would commit to holding police officers accountable. Councilor-at-Large Annissa Essaibi George answered first, and said she'd immediately implement the recommendations of the Boston Police Department task force.
"Councilor Wu has not committed to putting those into place," she said. "That task force has worked hundreds of hours to put into place recommendations, from greater transparency, greater accountability, and swifter accountability, as well as greater transparency, and diversity across our force. …I'd like to understand the work Councilor Wu has done in this space, to ensure we have a city that is both safe and just."
The recommendations from the Boston Police Reform Task Force were made in October 2020, under former Mayor Marty Walsh's leadership. They focused on five main reforms: creating an independent Office of Police Accountability and Transparency, creating a Diversity and Inclusion unit to expand diversity, expanding the body-worn camera program, enhancing the use-of-force policies, and adopting practices that maximize accountability and transparency.
At-Large Councilor Michelle Wu fired back, saying she's proud of consistently pushing for needed reform while serving as a city councilor.
"I'm disappointed to see a pattern of false statements being made here," she said. "I was one of the first elected officials to come out in support of the task force's recommendations at the time they were introduced… There's a clear difference in this race between continuing the status quo of choosing to just nibble around the edges of the changes we need, or truly ensuring we are bringing the community in to deliver the bold changes that are necessary and possible in this moment."
Wu recounted her leadership on legislation banning "racially discriminatory surveillance technology" and, in partnership with colleagues, pushing for a different response to mental health crisis calls. To Wu's comments on mental health crisis calls, Essaibi George said Wu was the one making false statements.
"You're taking credit for something I've done as a member of the City Council," Essaibi George said. "It is my work…that has led to having 19 clinicians that are working every day to respond to mental health crises across our city. That is not your work, please don't take credit for it."
Essaibi George worked alongside former city councilor and current congresswoman Ayanna Pressley to draw attention to the lack of mental health clinicians working with Boston police back in 2017, when only two clinicians rode along with officers. In Sept. 2020, the number rose to 19 as the city reallocated some of the BPD's overtime budget to fund the positions.
Wu countered that 19 clinicians are still not enough.
"Getting even to 19 clinicians is nowhere near the scale of change that's needed," Wu said. "There are hundreds of thousands of residents in our city who are demanding a better response to crisis, who are…telling us the status quo is not working, it's not serving our residents well, it is not just, and we need to do better. I'm going to step up and make sure we move quickly on this."
Essaibi George said she's already stepped up.
"I've already started to do that work," she said. "The clinicians, the crisis response, the improved training, the call center participation, that's the work that I've done, including making sure every one of our schools has a full-time mental health clinician."
Before moving on, Edwards called it a "spirited part" of the debate.
Newsletter Signup
Stay up to date on all the latest news from Boston.com