Politics
3 takeaways from the final Boston mayoral debate between Michelle Wu and Annissa Essaibi George
The two candidates went deep on everything from Mass. and Cass to rent control.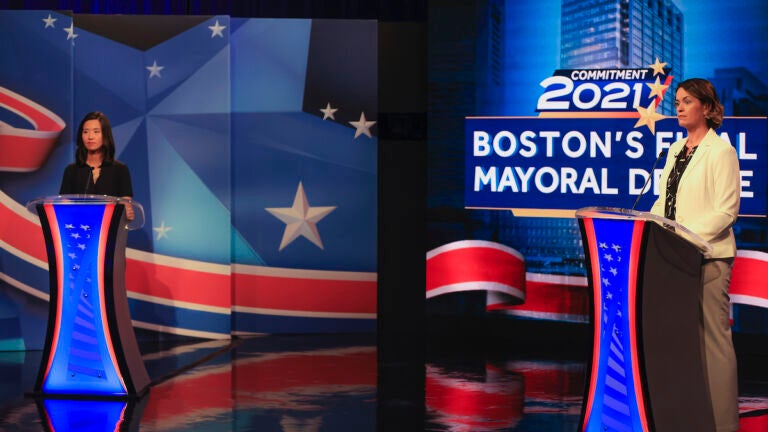 Michelle Wu and Annissa Essaibi George squared off in their final televised debate on Monday night, delving into details and hammering out specifics of their plans for Boston's future in a final push to voters ahead of the Nov. 2 mayoral election.
The two city councilors went deep on issues that have fueled debate since last month's preliminary election, particularly the city's response to the public health and safety crises in the area at Mass. and Cass and whether each would seek to rebuild the bridge to the Long Island substance abuse recovery campus as a viable solution.
The latter subject resulted in perhaps the tensest exchange of the debate as Essaibi George chastised Wu for not placing a priority on reconstructing the bridge.
Wu said she would seek to start a ferry service to the island instead.
"She doesn't truly understand the crisis that is Mass. and Cass," Essaibi George said of her opponent.
"When I think about the doors I've knocked, the conversations I've had with our city's residents, they have very little interest in freeing the T, they have very little understanding of rent control, but they know the crisis that's Mass. and Cass," she added.
The exchange was one of several heated moments in Monday's debate — hosted by The Boston Globe, WBUR, the McCormack Graduate School at UMass Boston, and WCVB — where Essaibi George frequently lambasted Wu's bold ideas for a fare-free T and rent control, among others.
Here are three key takeaways:
Rent control and the 'status quo'
Wu and Essaibi George returned to the oft-debated former's support for bringing rent control back to Boston.
Essaibi George slammed the measure as a failed practice that would harm the livelihoods of small landlords.
"Rent control is not the answer for the City of Boston," Essaibi George said. "It has been tried and it has failed. When we talk about the status quo, rent control is the status quo."
Moderator Tiziana Dearing, of WBUR's "Radio Boston," noted however that rent control has been nonexistent in Massachusetts since voters shot it down in a 1994 ballot question. She asked, how then is it the status quo?
"It has been tried and it has failed," Essaibi George responded. "When we think about innovation, when we think about new opportunity, when we think about bold vision for our city, we've got to work with our residents to create more opportunity for homeownership."
Wu offered that Boston already has certain rent stabilization, with some units restricted to tenant income. The city councilor at large has said any law — which would require change at the State House — could exempt small property owners who rent out their homes. Other cities around the country include such provisions, she has said.
Wu told moderators on Monday she would seek to collaborate with state and federal lawmakers to make rent control a reality.
"I fully agree with (Essaibi George) that the status quo isn't working, especially when it comes to housing," Wu said. "But if we had had the tools of rent stabilization, we would not be where we are today."
Is a bridge the 'urgent' solution to help those at Mass. and Cass? Wu says no.
One of the most contentious moments of the debate emerged over Wu's stance against prioritizing the reconstruction of a Long Island bridge in order to reactivate recovery services on the island.
Advocates generally agree that the former bridge's demolition and relocation of the island shelter's residents led to the worsening conditions at Mass. and Cass. However, the city of Boston's efforts to rebuild the bridge have been obstructed by lawsuits by the city of Quincy, which has steadfastly opposed the construction effort over traffic concerns.
According to Wu, a better, more immediate option would be to reactivate the island's recovery campus with ferry service. And she argued that the process of rebuilding the bridge would divert funds needed for near-term steps like supportive housing and a Long Island ferry.
"This has been a conversation that the city of Boston has had for six, seven years now, and it is a major construction project in the order of $250 million plus that would require construction in the open ocean at the timescale of four, five, 10 years into the future," she said.
"I want to make sure we're taking action in the four-year mayoral term that I am seeking, not for a bridge project that is out of that frame," Wu added.
Essaibi George noted that the city appears close to winning its legal fight against Quincy and pledged that, if elected, a bridge would be " "built under my administration."
"I'm not going to walk away from the battle with Quincy," Essaibi George said, "We need to do this work as a city, in an effort to help so many people who could be my children, your children, are someone's loved ones that need help."
Asked if it was possible to complete within her first four-year term, Essaibi George suggested that the city's "incredible resources" and "incredible minds" could make it happen.
"We can do a bridge hackathon and get this done," she said.
Still, Wu maintained that focusing efforts on rebuilding the bridge would take resources away from other near-term solutions.
"The bridge and the price tag of doing so means that we would be giving up and diverting our resources away from urgent action," she said.
The cost of Wu's 'Free the T' push and the fare free public transit Essaibi George does support
Essaibi George was eager once more to challenge Wu's proposal to make the T fare free, again asserting the move would cost $2.3 billion to leave the station.
"That burden will be put on the backs of our city's residents," she said.
Dearing, however, pointed out that $2.3 billion was the entire budget of the MBTA for fiscal year 2019, a year in which approximately 30 percent of the agency's budget came from fares, or about $700 million.
"The real number is in the billions of dollars when we think about the delayed investment," Essaibi George responded. "When we think about the need to increase and expand services, especially for our shift workers, especially for those that are working off-hours, we need greater investment in the T, not this walking away from it and calling it free and then who pays for it? The people of Boston will pay for it."
But just as quickly, when asked how she would work to alleviate traffic congestion as mayor, Essaibi George said she would extend the fare-free Route 28 bus pilot program spearheaded by Wu and acting Mayor Kim Janey and work towards other fare free buses.
The MBTA could take steps now to save costs, such as allowing passengers to board from all doors on buses which would save $29 million a year in "cost efficiencies," Wu said.
The city invested $500,000 for the three-month program, according to Wu.
Asked whether the bus pilot's cost is sustainable, Wu admitted the city "did overpay for that pilot."
Wu said her plans tout three bus lines the program could include that would cost about $5 million and from there, city officials could push for a fare-free system.
Still, Essaibi George said, Wu did not explain how she would cover that total cost.
"The fare-free bus lines are a conversation and work that we need to explore to do, but freeing the T is a very different conversation," she said.
Wu, in response, outlined how her partnerships with federal lawmakers could prove instrumental.
"The resources that are available are not just within the city budget," Wu said. "I'm proud to have partnered and worked with Congresswoman Ayanna Presley, Sen. Ed Markey as they filed federal legislation that would generate billions of dollars for transit agencies across the country to offer fare-free transportation.
"Both of those leaders, as well as Senator Elizabeth Warren, have endorsed my campaign and are standing with our vision of transportation that is reliable, accessible, and, yes, affordable to all," she said.
Newsletter Signup
Stay up to date on all the latest news from Boston.com