Politics
Charlie Baker says he 'probably' wouldn't sign legislation to allow Boston to reimpose rent control
"I'm going to leave the door open a little bit, because maybe there's something that could be done to deal with this."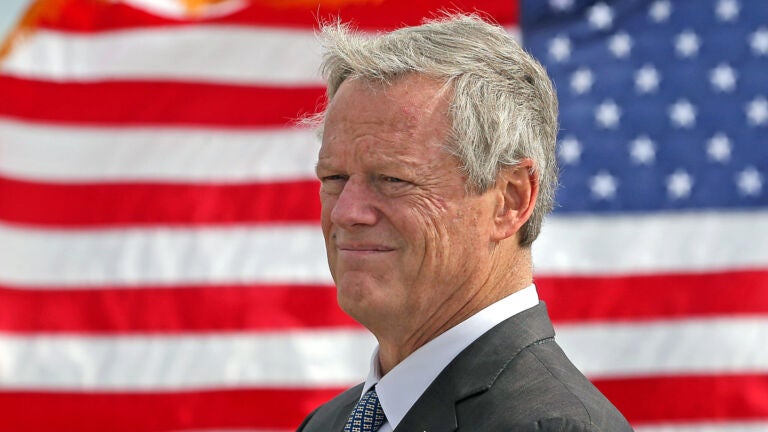 Never say never?
Gov. Charlie Baker says he likely wouldn't sign legislation to allow Boston to impose rent control, but isn't completely shutting down the conversation, as the region grapples with exorbitantly high housing costs.
"Probably not," Baker said during an interview Tuesday on GBH's Boston Public Radio, when asked if there was "any circumstance" in which he would sign a home rule petition seeking to "reimpose some variety of rent control or rent stabilization" in Boston, if City Councilor Michelle Wu — a supporter of lifting the statewide ban on rent control — wins the mayoral election next week.
"But, you know, I'm going to leave the door open a little bit, because maybe there's something that could be done to deal with this," Baker added.
"There's no question that we think housing is probably the single biggest cost of living problem we have in Massachusetts," the Republican governor said, noting that he has proposed investing $1 billion in federal COVID-19 relief funds into housing.
Baker went on to list his problems with rent control, which has been banned across Massachusetts since 1995, after voters narrowly approved a ballot question to prohibit cities and towns from "enacting, maintaining or enforcing" any law that requires below-market rents for privately-owned residential properties.
One way or another, repealing the ban — even in a single city — would require the governor's signature or support of a veto-proof majority in the State House.
Baker — who has previously criticized rent control as the "wrong direction" — said Tuesday that the policy as "originally envisioned" was "unfair," because "it did not treat everybody the same and your income had nothing to do with whether or not you had a rent control apartment."
"I lived for a bunch of years in Boston paying market rent when I was a young person next to two apartments that had older folks in them that made more than me, who paid about half what I paid in rent, because their apartments were rent control and mine wasn't," he said Tuesday.
Baker also alluded to research showing that strict caps on the rents that landlords can charge can have negative effects on long-term housing production.
"And lord knows, here in Massachusetts and in the city of Boston, we need a lot of new housing," the governor said.
His comments come after the issue of rent control again emerged Monday night as a point of contention during the final debate between Wu and fellow mayoral candidate and City Councilor Annissa Essaibi George, who ripped it as a "failed" policy.
Wu, however, has advocated for a different form of rent control or "rent stabilization," in order to prevent residents from being displaced.
"I'm not talking about going back to the old style of rent control that Massachusetts had, but moving towards rent stabilization that other jurisdictions have seen work," she said in an interview published Sunday with the financial trade publication Banker & Tradesman.
Wu specifically cited a recently passed Oregon law capping rent increases at 7 percent per year, plus inflation (effectively capping annual rent increases at around 10 percent). While she acknowledged that the full impact may take years to measure, Wu said that, so far, the Oregon law had "no discernible impact in terms of depressing housing production."
Enacting such a measure in Boston would require either a home rule petition — approved by the City Council, mayor, State House, and governor — or a bill passed by state lawmakers. However, the most recent attempt to add an amendment allowing communities to regulate rents to a larger economic development bill was shot down last year by a vote of 22 to 136 in the House.
Wu has argued that she could use her platform as mayor to move the dial, in partnership with neighboring municipal officials and state lawmakers.
For his part, Baker says he's at least willing to hear them out.
"If somebody has some other way of thinking about how to make housing more affordable without destroying our ability to build more, which we desperately need, I'm happy to hear what that might be," he said Tuesday.
Newsletter Signup
Stay up to date on all the latest news from Boston.com