Politics
Paid leave likely to fall out of spending package as Biden nears deal with Manchin and Sinema
The White House intensified meetings with two senators as they raced to resolve a number of issues in giant tax and spending package.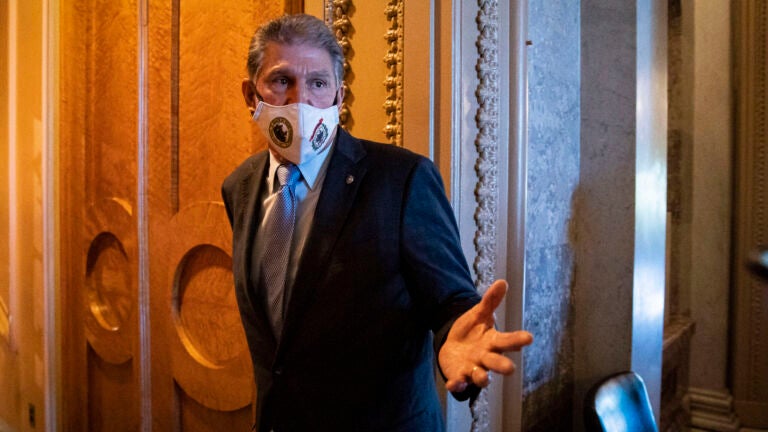 WASHINGTON – Congressional Democrats signaled Wednesday they are closing in on a long-elusive deal to overhaul the nation's health care, education, climate and tax laws, setting in motion a new plan to try to advance President Joe Biden's broader economic agenda as soon as this week.
The frenetic day on Capitol Hill began with another burst of outreach, as Biden continued in the arduous task to craft a signature spending initiative that could unite his party's ambitious liberals and its two moderate holdouts, Sens. Joe Manchin III, D-W.Va., and Kyrsten Sinema, D-Ariz.
Emerging from a roughly two-hour gathering with Biden aides on Capitol, the centrist duo each pointed to "progress" after months of deadlock over Democrats' initial plans to spend $3.5 trillion financed through a slew of new tax increases. The architect of that original plan, Sen. Bernie Sanders, I-Vt., soon paid his own visit to the White House, reflecting the White House's shuttle diplomacy that for hours spanned Pennsylvania Avenue.
By midday, there even emerged faint signs of a tentative compromise.
Democrats appeared on the verge of clinching more than $500 billion in new money to combat climate change, even as they continued to hammer out some of the specifics. Some felt they were also close to a temporary program to expand Medicaid coverage for low-income Americans. Even before Wednesday, the party had neared consensus over a slew of other programs to aid families, including expanded tax credits for parents and new, free and universal prekindergarten for their children.
But the prospects of a deal also forced Democrats to begin to accept difficult trade-offs, as many initiatives were scaled back or jettisoned as a result of demands from Manchin and Sinema. That included a promise to provide paid family and medical leave to millions of Americans, which appeared to fall out of the bill entirely, according to two people familiar with the matter who requested anonymity to describe the talks. They noted negotiations remain ongoing.
Plenty of other rifts still plagued Democrats, including a lingering dispute over a pledge to expand Medicare to offer dental, vision and hearing benefits to seniors. Democrats had identified a slew of alternative measures to pay for their package, including a new tax on American billionaires, but that also remained political jeopardy after Manchin criticized it as unworkable.
The rising specter of a deal nonetheless left Democratic leaders confident enough to try to take the next step in advancing the package, which lawmakers believe could cost closer to $1.75 trillion, roughly half of what they originally hoped to spend. House Speaker Nancy Pelosi, D-Calif., announced they would hold a key procedural hearing in the House on Thursday, opening the door for lawmakers to bring the still-forming tax-and-spending measure to the chamber floor – that is, once they finish writing it.
"Today, we move closer to passing the historic, transformative Build Back Better Act," she said in a letter to Democrats.
A deal before day's end would amount to a symbolic achievement as Biden prepares to depart on a foreign tour later this week. The president has sought to try to secure at least the outlines of a spending deal before heading to the Group of 20 meeting of world leaders in Rome this weekend, followed by an international climate summit in Glasgow, Scotland, a day later.
With the clock ticking, Democrats began to speculate anew that Biden himself could pay another visit to Capitol Hill, weeks after he sought to steer his own party away from a similar political showdown in the House over his economic agenda. White House press secretary Jen Psaki even said at her press briefing Wednesday that such a trip is possible but no decisions have been made.
In the meantime, she sounded a note of optimism, telling reporters that the White House and Democratic lawmakers "continued to make progress on finalizing details as we work toward an agreement."
The political stalemate plaguing Democrats stems from a months-long war between liberals, who looked to preserve their original $3.5 trillion package, and Manchin and Sinema, who insisted on cuts. Their opposition has proven critical, as Democrats require their votes to proceed in a Senate where they possess only a tiebreaking majority.
Cutting the package down to size has proven especially vexing, forcing Democrats to make undesirable compromises on policies that they say would help workers and families, especially low-income Americans, after generations of neglect. Many party lawmakers saw that as their governing mandate after prevailing in the 2020 election – and view it as essential toward preserving their majority in 2022.
In the process, though, the logjam between warring liberals and moderates has bogged down the entirety of Biden's agenda, including a second, separate package to improve the nation's roads, bridges, pipes, ports and internet connections. The infrastructure measure cleared the Senate on a bipartisan basis in August, but it remains stalled in the House, where the Congressional Progressive Caucus has used it as leverage to ensure its other priorities aren't weakened at the hands of spending-weary centrists in the Senate.
In an interview, Rep. Pramila Jayapal, D-Wash., said caucus leaders met Tuesday night and affirmed that they aren't willing to move one economic package without the other. Otherwise, the congresswoman said their signature economic initiative could fall victim to significant delays, which she described as "another way to kill the bill."
"We have to have the full legislative text and the vote," she said, noting "dozens" of her members would vote against infrastructure if the House tries to move the two proposals independently. "What I want is the two bills moving together at the same time."
The demand added urgency to the ongoing talks between the White House, Manchin and Sinema. Hoping to demonstrate progress, Pelosi touted areas of emerging agreement around Medicare, Medicaid and climate change in a letter to her caucus. And set in motion a plan for the House Rules Committee – which sets the parameters by which legislation comes to the floor – to hold an early hearing on the tax-and-spending bill before it has been finalized.
"What I need is text, some text, maybe not the full bill," said Rep. Jim McGovern, D-N.J., the chairman of the panel, adding the timetable aims to show "we're ready to start moving."
"We need to be able to start the hearing on what has been agreed upon," he said.
But some of Democrats' most ambitious plans by Wednesday afternoon remained the subject of considerable sparring. Some party lawmakers grew frustrated, for example, at the inability to broker a deal around paid family leave given opposition from Manchin. They initially pared back the benefits to 4 weeks from 12 weeks, yet by Wednesday, some lawmakers increasingly felt the entire proposal might fall out of the package.
"It's not looking good, and I wish it were otherwise," Sen. Elizabeth Warren, D-Mass., said.
Sen. Majority Leader Chuck Schumer, D-N.Y., meanwhile said he is still working with Sanders to ensure the package expands Medicare benefits so they cover dental, vision and hearing. Sanders, for his part, blasted the political dynamic in the chamber where there are "48 members who disagree with two members" – referencing Manchin and Sinema's opposition to the original $3.5 trillion package.
And Democrats labored anew to resolve their internal war over how to finance the new spending, after Sinema objected to Biden's earlier plan to raise rates on corporations and wealthy Americans. Lawmakers led by Sens. Ron Wyden, D-Ore., Warren and Sinema herself on Tuesday and early Wednesday backed a slew of new funding mechanisms. One would include a new minimum tax on corporations and another would create a special tax that targets billionaires.
But that latter proposal – which would hit roughly 700 of the wealthiest Americans, including Amazon founder Jeff Bezos and Tesla founder and CEO Elon Musk – seemed to trouble Manchin. (Bezos owns The Washington Post). Speaking to reporters, Manchin called it "very convoluted," but also expressed some openness to a 15 percent "patriotic tax" on the wealthy, which he did not explain.
"I don't like the connotation we're targeting different people," he said.
Manchin's skepticism troubled Rep. Richard Neal, D-Mass., the chairman of the tax-focused House Ways and Means Committee, who previously has criticized the billionaires tax as potentially unworkable. Politically, he said there remains "a lot of angst" around the idea, raising obstacles to its inclusion.
But Neal's Senate counterpart, Wyden, maintained it is still on the table. The uncertainty appeared to rile Sanders, who told reporters earlier in the day he is "not quite clear in terms of the revenue package," adding: "Every sensible revenue option seems to be destroyed."
"Should we raise corporate tax rates, personal income taxes for the very wealthy? Of course, we should, but at least one person in the caucus doesn't want to do that," he said. "Should we demand that the billionaires pay their fair share of taxes? Yes, there's another person who doesn't want to do that."
The skirmishes did not appear to unnerve Democratic leaders, prompting Pelosi to tell a closed-door meeting of her top deputies that the still-forming deal is in "pretty good shape."
"In the next couple of hours, I will be communicating with you on our path from here to there … depending on what happens at the White House," the speaker told lawmakers, according to a person in the room who requested anonymity to describe the private conversation.
Once they reach an agreement, Manchin on Wednesday called on Congress to take the next step on that public-works package. "We owe it to the president to move forward," Manchin said, calling on lawmakers to "take a vote on that."
With so much in flux, however, Jayapal said it is more critical than ever for left-leaning lawmakers to have solid legislative language as they seek to avoid a scenario in which they adopt an infrastructure bill and then see the Senate's two centrists quickly backtrack.
"Had the Progressive Caucus not stood up and fought for the entirely of the president's agenda, we would not be here," Jayapal said, adding there had been more negotiations in the "last two weeks than we have had in the last six months."