Politics
Rachael Rollins wants to remake the criminal justice system. Republicans have vowed to block her path.
"I have no problem being held accountable for things that I have done. I just want to operate in a world, generally, where things are factual."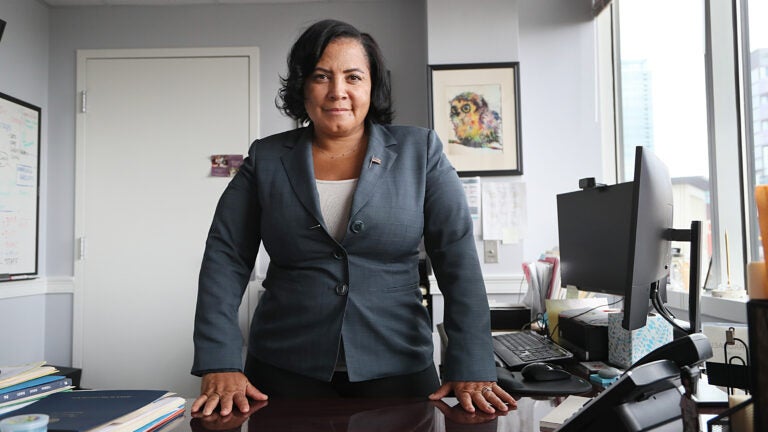 BOSTON – When President Joe Biden announced a slate of nominees to serve as top federal prosecutors across the country, Republican senators approved them without controversy.
All except for one.
When it came to Rachael Rollins, the nominee for United States attorney for the district of Massachusetts, Republicans vowed to block her ascent, calling her "pro-criminal," "radical" and "dangerous." They used a procedural maneuver to delay the progress of her nomination, the first time such a step had been taken in nearly 30 years.
Rollins, 50, has emerged as a lightning rod in the national debate over crime and policing. She is the district attorney in Boston, the first woman — and the first Black woman — to win the job. Rollins, a former federal prosecutor, is outspoken about her belief that the criminal justice system needs reform after decades of incarcerating too many people and allowing rogue police officers impunity.
Republicans are incensed by her policy of not prosecuting certain low-level, nonviolent offenses in most cases. Sen. Tom Cotton, R-Ark., has said she is a "prosecutor in name only" who "consistently sides with criminals." In a recent editorial, Cotton wrote that confirming Rollins would increase drug trafficking and gang activity across New England.
Rollins has described the attacks as surreal. "I have no problem being held accountable for things that I have done," she said on a recent afternoon, sitting at her desk overlooking a federal government building in downtown Boston. "I just want to operate in a world, generally, where things are factual."
What happens next will be a key test of the movement she represents, a group of more than two dozen prosecutors elected in recent years in heavily Democratic cities such as Philadelphia and San Francisco.
Often called progressive prosecutors, they reject sweeping tough-on-crime thinking and embrace policies such as declining to prosecute low-level crimes in many cases and ending the use of cash bail. They say such moves make the system more fair to poor and minority defendants while focusing resources on fighting serious offenses.
Rollins is the first such prosecutor to be nominated to the post of U.S. attorney. If confirmed, she would join an elite group of 93 prosecutors nationwide who act as the top federal law enforcement officers in their jurisdictions.
She would bring an unusual lens to the job. Rollins is the daughter of a Black mother and a White father, who worked as a corrections officer, and is the eldest of five siblings. Three of them have battled addiction, sought treatment and spent time incarcerated. She is the guardian of two of her nieces, who began living with her six years ago.
The portrait painted of Rollins by her Republican critics does not ring true to many in Boston, even among those who don't agree with her approach.
The heads of the police departments in her district, Suffolk County, wrote a letter supporting her nomination, noting that while they have "disagreed strongly" with Rollins at times, they also respect her. Rollins can "admit when she is wrong" and is "incredibly persuasive when she is right," they wrote.
Rollins is known for her bluntness, which wins her fans but can also antagonize. She recently said that Boston's former mayor — current Labor Secretary Marty Walsh — is either "lying" or "a terrible manager" in a controversy over a police commissioner Walsh hired. She has tangled with Massachusetts Republican Gov. Charlie Baker and police unions, who accused her of inciting violence in a tweet and speech during the wave of protests following the murder of George Floyd by a Minneapolis police officer.
"My intent would never be to put anyone at danger, let alone the police that keep us safe every day," Rollins said. She began holding quarterly meetings with the leadership of police unions, something no prior district attorney had done. Larry Calderone, the president of the Boston Police Patrolmen's Association, said what while there have been "plenty of disagreements," the increased dialogue with Rollins has generated "growing levels of mutual respect."
In discussions about Rollins, the word "sugarcoat" comes up repeatedly — as in, it's a behavior she tells people around her to avoid, just as she does. "With Rachael Rollins, you're going to know where you stand on Day One and in every conversation after that," said Terence Delehanty, the chief of police in Winthrop, Mass., a small community next to Boston that is part of Suffolk County. "You don't get that with many people in life."
Delehanty describes himself as an independent who leans conservative. In the race for district attorney, he supported one of Rollins's opponents. But he has come to view her as a friend, partner and someone he trusts. Rollins is always willing to meet and speak with anyone who disagrees with her, he said. "That's a tremendous policy," he said.
Rollins saves some of her most lacerating criticisms for the ways in which poor defendants and defendants of color are treated unfairly by the criminal justice system. Her approach to these questions is never far removed from her lived experience.
Rollins was raised in a biracial, working-class family in Cambridge, Mass., and attended Buckingham Browne & Nichols, a tony private school, and later the University of Massachusetts at Amherst on a lacrosse scholarship. She served as a federal prosecutor in the same courthouse where one of her siblings faced criminal charges.
Rollins has a "deep connection to communities that tend to be failed by the criminal legal system," said Andrea Campbell, a Boston city councilor who has known her for almost a decade. She "has these lenses that most candidates never have."
Those perspectives helped produce her signature policy. When she ran for district attorney in 2018, Rollins made a public pledge that if elected, her office would decline to prosecute more than a dozen low-level crimes in nearly all situations – charges that included trespassing, possession of drugs and resisting arrest. After she won and took office, she issued an expanded memo detailing her approach and enumerating the exceptions to the policy.
While Rollins's move was unprecedented, it was less revolutionary than it seemed. Her predecessor, Daniel F. Conley, said that he declined to prosecute many such cases. However, he did not trumpet it, nor did he pledge to accelerate the process.
"In all candor, for years, we were dismissing these charges" or finding alternate ways to handle such cases, said Conley, who is now in private practice at Mintz, a Boston law firm. He called it an effective strategy for reducing crime while helping young offenders avoid the lasting impact of a criminal record. Rollins's approach to low-level, nonviolent offenses "should not be portrayed as soft on crime by those who cling to the old ways of harsher prosecution," he added.
Rollins notes that her office still prosecutes more than 25% of such offenses. She is not out to decriminalize anything, she said, except mental illness and substance abuse disorders. She describes her philosophy as, "Let's start talking more about the human being that is standing in front of us."
Shortly after she was sworn in as district attorney in early 2019, she had lunch with Anna Harvey, a political scientist at New York University who works on data-driven approaches to public safety. Harvey wanted to study sensitive questions: What happened when prosecutors declined to move forward with charges for low-level crimes? Did people commit more crimes or fewer?
Harvey had asked several other district attorneys to cooperate with the study by sharing their data, but all of them refused. Rollins, by contrast, had only one question, Harvey recalled. Rollins asked: "Are you going to tell me the truth?" Harvey said.
Harvey left Boston that afternoon with nearly two decades of data on prosecutions in Suffolk County. "It was just unheard of," Harvey said. "Not only that she would agree but that it would move so quickly."
The study by Harvey and two colleagues, the first of its kind, showed that when prosecutors in Suffolk County did not take prosecutions of low-level crimes beyond an early stage, defendants were 60% to 70% less likely to return with another arrest within the next two years. It also showed that under Rollins, the office was declining to prosecute more such cases.
While critics have accused Rollins of fostering lawlessness, the statistics do not bear that out. In 2019, the first year of Rollins's tenure, homicides in Boston dropped to a 20-year low. The city was not immune to the nationwide increase in gun violence and killings in 2020, but so far this year homicides have fallen steeply, making Boston an outlier among major U.S. cities, many of which are grappling with rising rates of violent crime.
"The safest thing to say is that the doomsday scenarios that accompanied her election to the job have not materialized," said Andrew Lelling, who served as the U.S. attorney for the district of Massachusetts under the Trump administration. "If you're on the conservative side of the spectrum, you've got to think about these things."
Lelling said he isn't persuaded that Rollins is on the right track, however. "There just isn't enough data yet to know whether this really worked," he said.
On a recent sunny fall day, Rollins sat at her desk, her hair piled into a sleek bun. She fixed her interviewer with a direct gaze and rejected the idea that she is pursuing policies that are detrimental to public safety. After being elected district attorney, she moved her family to Roxbury, a majority-Black neighborhood in Boston with one of the highest rates of violent crime in Suffolk County. As someone raising children in the area, Rollins said, "you bet I'm invested in making sure that it's safe."
On her father's side, Rollins traces her roots to County Mayo in Ireland. Her mother is the daughter of immigrants from Barbados. She likes to say that thanks to her father, she is fluent in "white Irish male." An aide jokingly likens her to Roy Kent, an expletive-spouting character on the hit show "Ted Lasso."
Rollins went to law school at Northeastern University and harbored dreams of being the first woman to head the NBA Players Association (Michele Roberts got there first). Rollins worked for the National Labor Relations Board, the U.S. attorney's office and later became chief legal counsel for the Massachusetts Port Authority.
She was in that last job when she got the type of phone call that no one wants to receive: A sibling's struggle with substance abuse had descended into crisis and her niece Victoria was about to be placed in foster care. Instead, Rollins took her in.
A month later, her assistant pulled her out of a meeting. Rollins learned a different sibling had been arrested, so she took in her niece Meya as well. In a short period of time, she went from being the mother of one child – her daughter, Peyton – to parenting three.
Rollins, who is divorced, completed a state-mandated training program for foster parents. She has opened her home to dozens of kids in crisis for emergency stays, usually just overnight but sometimes longer.
In 2016, Rollins finished a midcareer executive program at Harvard Business School and believed she was about to catapult into a world of new opportunities. A routine mammogram changed all of that. She was diagnosed with breast cancer, had a double mastectomy and underwent reconstructive surgery.
Few in Boston doubt Rollins's courage. But her detractors dislike her policies and sometimes take issue with her style. "Her directness does on occasion get her in trouble," said Lelling, the former U.S. attorney. While he had a cordial and productive relationship with Rollins, Lelling said, there is a "sharp elbow problem" every so often.
At the end of last year, a woman accused Rollins of flashing law enforcement lights and threatening to issue a ticket during a traffic incident at a Boston mall. Rollins denied both allegations and after a review, the state ethics commission dropped its probe of the matter. Two weeks later, a television crew showed up outside her house. Rollins confronted them, told them to leave and warned she would call the police and "make an allegation."
Rollins points out that the television crew arrived at her house two days after the Jan. 6 riot at the Capitol. "Could I have handled that better? Of course I could have. But – " Rollins stops. "No buts. I was on edge as I think our entire country was, and my children were there."
These days, Rollins decompresses by going to her kids' soccer games and track meets and binge-watching "Squid Game." She chokes up as she talks about Peyton heading off to college next year after a time of immense change: the addition of Meya and Victoria to the family, an 18-month battle with breast cancer, Rollins announcing she was running for office, to Peyton now asking, "Can we get some food in the refrigerator please?"
Rollins laughs and pauses and her eyes grow a little red. "Kids are so resilient and amazing," she said. "I want her to be proud of me."