Politics
Finding mental health help isn't easy after events like the Boston Marathon bombing. Ayanna Pressley wants to change that.
"All survivors need and deserve supportive resources in the immediate aftermath of these catastrophes."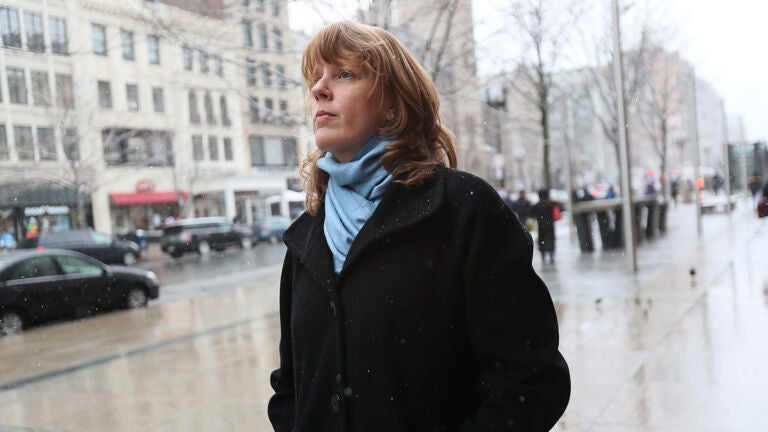 Manya Chylinski didn't have any physical wounds from the Boston Marathon bombing in 2013. But after witnessing the explosions from the finish line bleachers across the street, Chylinski found the post-traumatic stress just as lasting, debilitating, and — in some ways — even harder to address.
The Boston resident struggled with sleeping, eating, nightmares, anxiety attacks, and intrusive thoughts; whether at a theater or an MBTA station, Chylinski couldn't help but envisioning a fiery explosion engulfing the space, killing or injuring everyone else in another bloody scene.
But without physical injuries, Chylinski struggled to find mental health services in the immediate aftermath of the bombing, despite being "very attentive" to local media. Eventually she went to her health care provider and sought help through her insurance, before later finding out about a little-known state assistance program. Still, the process left her feeling overlooked.
"It's normal to feel the way that I felt — the way that all of us felt afterwards," Chylinski said in a recent interview." "And we don't necessarily get that validation that that feeling is normal, and that we will recover and that help is available if we need it."
A new bill being introduced by Rep. Ayanna Pressley seeks to change that.
Called the Post-Disaster Mental Health Response Act, the legislation would change what events qualify for a FEMA program that sets up free crisis counseling and community care in the wake of traumatic events.
Currently, the only events that qualify are ones that get "Major Disaster Declarations." Pressley's bill would expand eligibility to all "Emergency Declarations," from terrorist attacks to hurricanes and earthquakes.
While events with an Emergency Declaration receive some federal aid, they do not get the same robust federal supports as a Major Disaster Declaration that make mental health recovery supports accessible, leaving it to local governments and nonprofits — which may not have the same funding of expertise — to scramble to set up services, if at all.
Pressley, who has worked to make trauma victims heard since her days on the Boston City Council, says the marathon attack resulted in an increase in local awareness about the anxiety and vulnerability that post-traumatic stress can cause — even as the city pushed to move forward.
"When we have this frame of kind of a 'Boston Strong' and this resiliency frame — that in the face of everything we keep going and we keep moving — it does a disservice to those who are struggling emotionally to recover and can further compound their isolation, their depression, and even the stigma because there's not a space being created for them," Pressley said in an interview.
And she thinks the issue will only need more attention and resources. Over the last decade, there have been more than 4,000 Emergency Declarations in 37 states, according to FEMA's database.
"All survivors need and deserve supportive resources in the immediate aftermath of these catastrophes," Pressley said.
Pressley's office cites research showing that experiencing a natural disaster by age 5 is associated with a 16 percent increase in a mental health or substance use disorder by adulthood. After the 2013 marathon, 11 percent of children who attended exhibited PSTD symptoms. More so, 24 percent of earthquake survivors had PSTD, one study found. Another reported that 20 percent of firefighters who have responded to major wildfires experience post-traumatic stress.
"It's a public health threat, because they are a growing number of natural disasters," Pressley said.

During a hearing earlier this month, she pressed FEMA Administrator Deanne Criswell on the subject of expanding eligibility. In response, Criswell appeared to indicate support for the change.
Pressley's confident about the bill's outlook. She's introducing it this week with Rep. Dina Titus — a Nevada Democrat who chairs the House's emergency management subcommittee — as well as two Republican colleagues, West Virginia Rep. David McKinley and Michigan Rep. Peter Meijer.
Pressley says the bill is a "simple fix" and one she thinks will gain traction, noting that there have been Emergency Declarations in 72 percent of all congressional districts in the last decade.
"Mass violence and natural disaster events certainly transcend party lines," she said, adding that the hopes for a committee markup in the coming months, followed by "swift" advancement to the House floor for a vote.
Chylinski says the simple tweak would have made a big difference for her and others in the aftermath of the marathon bombing. In addition to the technical assistance and funding for things like group counseling or suicide lines, FEMA's program could also help support public service announcement so that the quest for help in the first place is less difficult.
"If we're talking about these things from day one, more people are going to know that help is available if they need it," Chylinski said.
Newsletter Signup
Stay up to date on all the latest news from Boston.com