2021 Boston elections
Boston City Council District 3 Race: Frank Baker and Stephen McBride
Two candidates are running for District 3: Incumbent Frank Baker and Stephen McBride.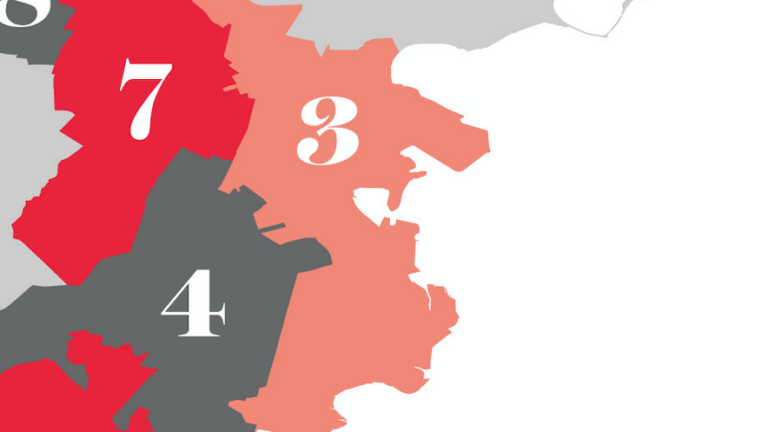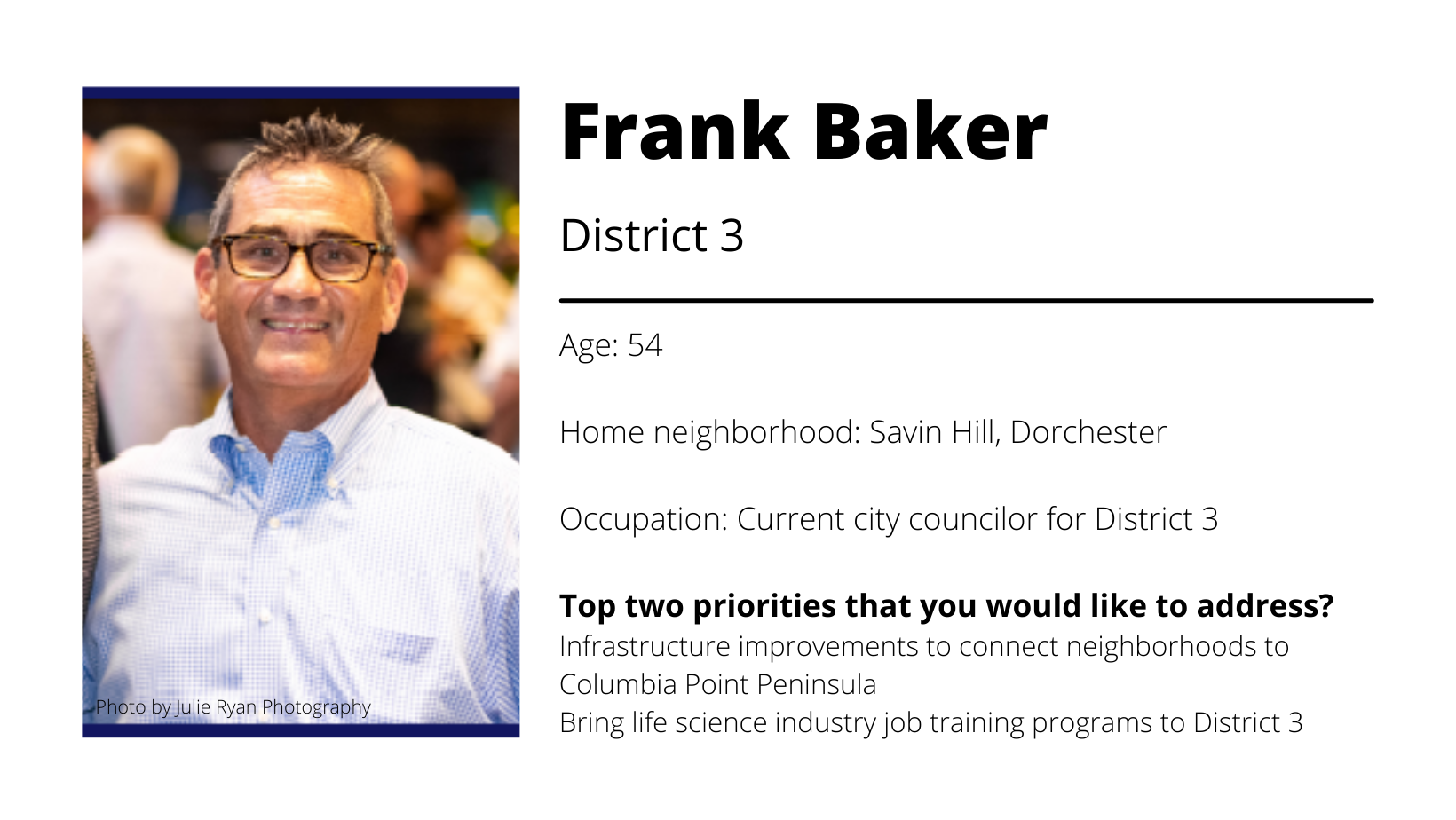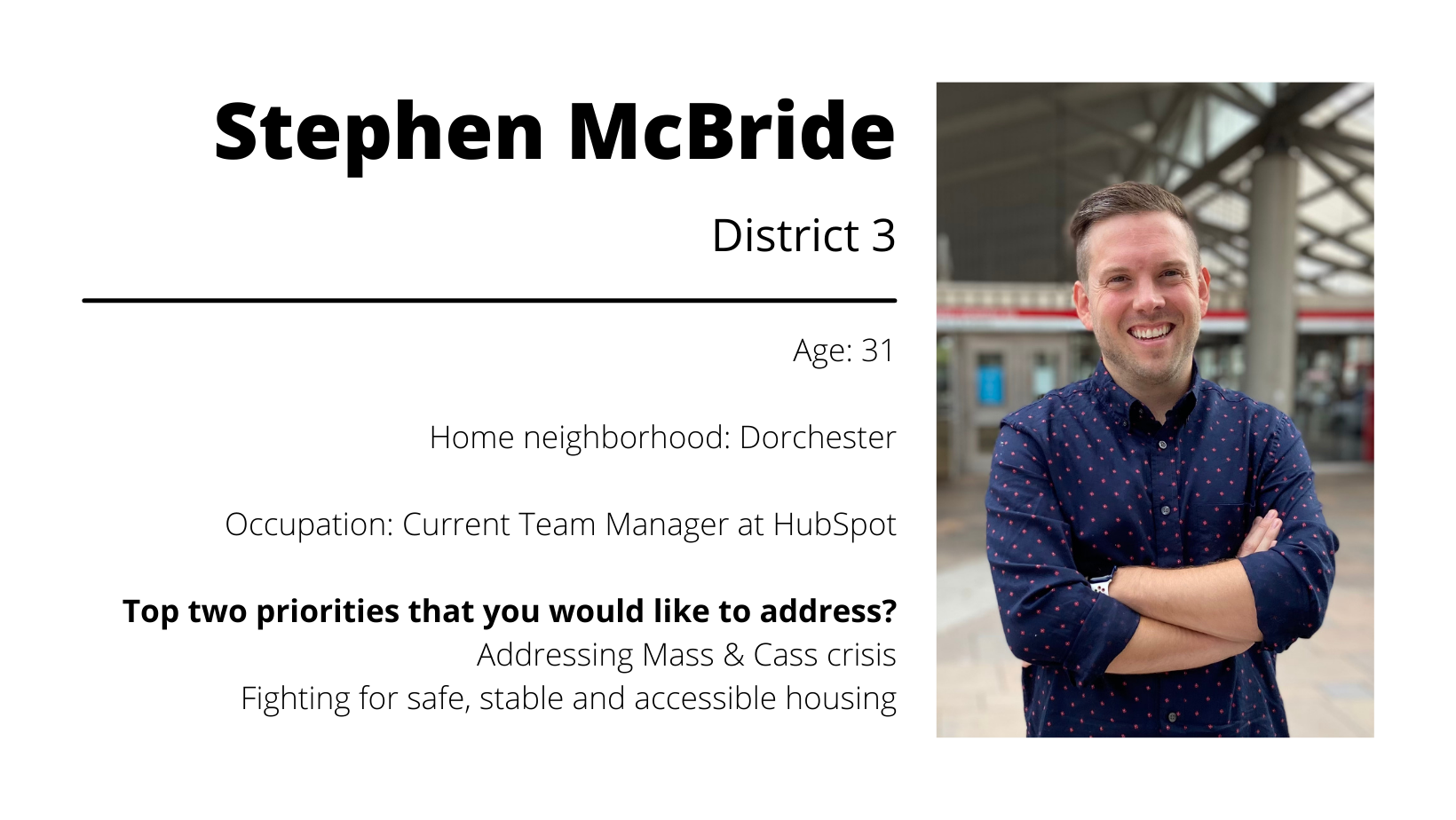 Below are the responses to the candidates' policies and thoughts on current issues that affect the city of Boston.
What are your thoughts on Mass and Cass and what solutions would you suggest to the problems that have arisen in the area?
Baker: Repurpose Nashua Street Jail into a Department of Public Health facility for Section 12 and Section 35, drug diversion, and self-admittance for detox. I would also add a coordination response center at Mass. and Cass where all departments are working together in one place. I would also add multiple bodies to the Boston Police Street Outreach Unit.
McBride: The District 3 city councilor bears a unique responsibility in addressing this crisis, as it sits within the district's boundary. We need a bold leader who is unafraid to take this issue head-on and can work in partnership with the rest of the council. While we continue to press for long-term solutions, such as the reopening of facilities on Long Island, we must make use of the resources already at our disposal. This begins with a decentralization of the services currently offered near the intersection of Massachusetts Avenue and Melnea Cass Boulevard. By taking advantage of properties already under the Boston Planning and Development Agency's control, we can act swiftly to get those living on the streets into stable housing and treatment programs across the city and away from the heart of the crisis. We must simultaneously work with our partners on Beacon Hill to get additional statewide resources up and running to adequately meet the scale of this human tragedy. Our strategy must be comprehensive to address the challenges brought by the confluence of housing, mental illness, and addiction crises and must not criminalize those most in need of our help.
How can housing in Boston be more affordable and inclusive of all communities while mitigating gentrification?
Baker: We need to better coordinate city resources with the builders from the private sector. The should be delivering City of Boston assets, such as city-owned land, that are already designed and permitted to private developers to build more units of affordable housing.
McBride: Addressing our city's housing crisis begins with reimagining development in Boston for what the city is and what it can be, not what it was. It is no secret that this city is growing and changing with no plans to slow down, but we are developing for a city of the past and leaving our neighbors behind in the process. By creating a comprehensive plan for the future of Boston, we can establish overlay districts that will allow us to create more housing at a variety of price points to adequately meet the needs of our neighborhoods. We need guidelines with accountability measures that are informed by and for the benefit of the community, not those who seek to profit off us.
Our processes should be more transparent and understandable in order to build trust in the planning and development process across this city. Updating our zoning code will provide opportunities to build a Boston of the future centered on how to ethnically develop a city with a dedicated focus on racial and economic justice. We must also work to ensure that our affordability standards are adequate to meet the current need — this includes revisiting the Inclusionary Development Percentage (IDP) — which dictates how much of a development must be set aside as affordable housing, currently 13% — as well as the 10-unit minimum at which it takes effect.
How would you, if at all, adjust the Boston Police Department budget?
Baker: We have multiple opportunities to redirect money into our police department, such as a coordinated response unit at Mass. and Cass.
McBride: The police budget should be reflective of the needs of our community. Currently, we are directing funds to the police department for community needs that could be better addressed by those not in law enforcement. It is time for significant investment in social services and alternative safety measures. This investment will reduce the need for police intervention and improve our response to emergencies, such as mental illness crises, that social workers and healthcare professionals better serve.
Outside of social services, we must identify wasted funds. We must reduce needless spending on military-grade equipment that has only damaged the trust between law enforcement and community members and done little to increase public safety. We can also reduce current spending by introducing civilian traffic details in place of a police presence that often results in expensive overtime pay. Finally, when making any changes to the police budget and the role of law enforcement, we must do so with community input and demonstrated need in mind.
What are your top priorities for Boston Public Schools right now?
Baker: Working on separating Madison Park Vocational High School out of the Boston Public Schools so it can become a Suffolk County Regional Vocational School.
McBride: We have the resources to provide our students with an education that prepares them for a future here in Boston and a responsibility to ensure that every student has an equal opportunity to thrive. We must determine the barriers preventing students from receiving a high-quality public education on a school-by-school basis. There is no universal solution, and this process will ensure we invest strategically. Whether updating infrastructure, improving our experiences for ESL (English as a second language) learners, expanding vocational offerings, or determining how to better support teachers, we cannot fix the problems until we understand what they are. Once we know where our funds can best be directed, we can begin to utilize the hundreds of millions of dollars in COVID-19 relief funds for strategic improvements. Building on successful models we've seen across the city, such as the community hub at the Gardner Pilot Academy or the inclusion model at the Henderson, we can re-envision what learning looks like across our city, not only supporting our students but also supporting our families. Finally, voting Yes on Question 3 and signaling our support of adding elected representatives to our school committee will give our communities a greater voice.
What are two of your top priorities that you would like to address?
Baker: My top priority would be to ensure that the proper infrastructure improvements will be implemented to ensure that neighborhoods will be properly connected to the Columbia Point peninsula. Another priority of mine would be to bring more job training programs for the incoming life science industry to my district so our neighbors and children can gain access to these top paying jobs.
McBride: My top priorities are addressing the crisis at Mass and Cass and fighting for safe, stable, and affordable housing. The crisis at Mass and Cass requires immediate action, and we have not seen the political will necessary for the scale of this crisis. I will advocate for an expansion of wrap-around services located away from Mass and Cass and provide a stable shelter with access to the treatment and counseling necessary to help them on the road to recovery. Expanding available services requires a leader capable of building partnerships across the city and state to reduce the concentrated pressure, both on those suffering and the healthcare workers trying to support them. On housing, we must view development through the lens of community benefit rather than corporate profit. By focusing on improving neighborhoods instead of simply lining the pockets of big developers, we can make the changes necessary to improve the affordability of living in Boston. When I enter City Hall, I want to be clear about who I am accountable to — the people. The status quo has not been working for the vast majority of the city, and we must seek to change it.
Responses may have been edited for length and clarity.
Newsletter Signup
Stay up to date on all the latest news from Boston.com