Politics
'We are ready to meet this moment': Michelle Wu wins historic Boston mayoral race
Wu will be the city's first Asian American woman elected mayor.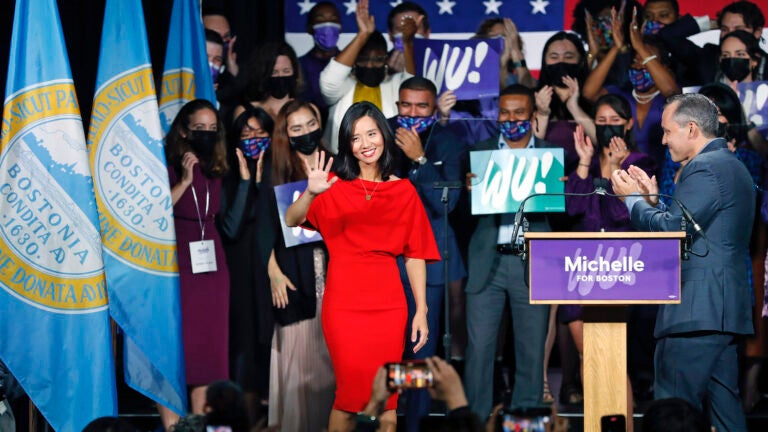 Michelle Wu, a city councilor at-large from Roslindale, beat out fellow Councilor Annissa Essaibi George on Tuesday in a historic race to become Boston's next mayor — the first Asian American woman elected to the office in its nearly 200-year history.
"From every corner of our city, Boston has spoken. We are ready to meet this moment," Wu told an enthusiastic crowd of supporters in the South End. "We are ready to become a Boston for everyone."
Wu, the 36-year-old Chicago-born daughter of Taiwanese immigrants, rode to victory as the progressive standard-bearer who polls long projected would emerge significantly ahead of Essaibi George, 47, a moderate from Dorchester.
With nearly 62 percent of precincts reporting unofficial results just before 11 p.m., Wu had a sizable lead, garnering almost 62 percent of the vote compared to 38.8 percent for her opponent.
Essaibi George conceded shortly before 10:30 p.m.
The election marked a milestone for Boston, as both Wu and Essaibi George, who is Arab Polish American, emerged from a historically diverse field of preliminary candidates in September.
Wu will now serve as the first woman and person of color to be elected as the city's chief official on the heels of acting Mayor Kim Janey, who has served for over six months since former Mayor Marty Walsh's departure for the Biden Administration.
She will take office in just two weeks on Nov. 16, barring any need for a recount.
"I know this is no small feat," Essaibi George said, of the historic nature of Wu's victory. "You know this is no small feat.
"I want her to show the city how mothers get it done," she added.
Elected to the City Council in 2013, Wu has championed progressive policy, from creating the first paid parental leave policy for city employees to pushing for bold ideas that won her widespread support, such as creating a fare-free T, overhauling the Boston Planning and Development Agency, and launching a Boston Green New Deal.
"We're ready for every Bostonian to know that we don't have to choose between generational change and keeping the streetlights on; between tackling big problems with bold solutions and filling our potholes; to make change at scale and at street level," Wu said on Tuesday night. "We need, we deserve, both. All of this is possible … and today, the voters of Boston said all these things are possible too."
From the council chambers to the campaign trail, Wu often called for leadership that meets the urgency of the moment.
She will now inherit a city still grappling with the long term implications of the COVID-19 pandemic; facing a housing crisis that's made Boston increasingly more unaffordable for its working class; and trying to tackle the myriad of issues growing from the region's raging opioid crisis in its own backyard, among other challenges.
In recent weeks, the race grew contentious as Essaibi George sought to paint Wu's vision as lacking detail and simply unattainable, either by technicalities or cost alone.
Bringing back rent control, as heralded by Wu, for instance, would require intervention from state lawmakers, as would action regarding the MBTA.
Essaibi George, however, often rejected centrist labels applied to her candidacy. Instead, she billed herself as focused on the practical and a stalwart advocate on issues she immersed herself in while on City Council: education, homelessness, mental health, and substance abuse.
In her concession speech on Tuesday night, Essaibi George made a call to action for her supporters, even as her campaign came to a close.
The former teacher, looking out at the crowd assembled at the Copley Fairmont Plaza in Back Bay, called "to intentionally do something good, to do something kind, to do something to move this city forward."
"There are countless other ways for you to make a difference in our city," she said. "I'm going to keep at it and I ask you to join me."
As for her work in the weeks, months, and years ahead, Wu told supporters how their shared vision of the city's future fits into its rich history as a national leader for civic life and political ideology.
"Boston has always been that city that punches above our weight, where our activism, our community, our joy radiates out into progress across the country," Wu said. "And today together, we are marching into Boston's promise."
It appeared that first step happened Tuesday, with Wu's groundbreaking win.
She began her victory speech recalling a question one of her two sons asked her the other night: Can boys be elected mayor in Boston?
"They have been and they will again someday," she said. "But not tonight."
Newsletter Signup
Stay up to date on all the latest news from Boston.com