2021 Boston elections
Despite historic election, Boston sees low voter turnout
It might have been a historic election day for Boston, but not when it comes to voter turnout.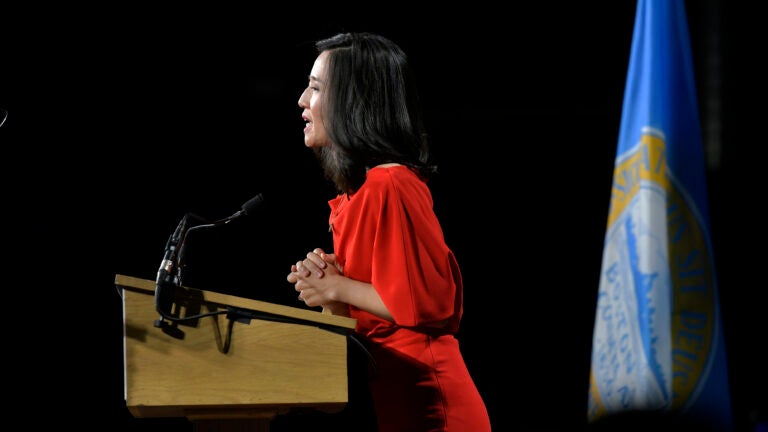 On Tuesday, in a historic race, Boston elected its first woman and Asian American as mayor, City Councilor at-Large Michelle Wu. However, a little over a quarter of Boston voters actually cast a ballot.
According to unofficial results, 127,703 of Boston's 442,049 registered voters cast a ballot on Nov. 2. That's a turnout rate of 28.9%, which is a little lower than the already low rate Massachusetts Secretary of State Bill Galvin predicted.
Though the Boston Elections Department has since deleted the Tweet, the turnout reported around 6 p.m. was about 23.9% with 105,000 ballots counted.
On Monday, Galvin predicted a low turnout for the Nov. 2 election. He told the State House News Service he expected about 135,000 voters — or 30% overall — to cast a ballot, a little less than cast in 2013 when Boston had its last open mayoral election.
Galvin said a little over 142,000 people voted when former Mayor Marty Walsh succeeded Tom Menino and beat out John Connolly.
"We've had a dramatic increase in the number of voters in Boston, particularly attributable, I believe, to last year's presidential election — we carry over 440,000 people on the rolls," Galvin told reporters from the State House News Service. "My opinion is much as it was in the preliminary election: that it will not be a record turnout."
As of Monday, over 38,000 had submitted mail-in ballots of the approximately 53,000 who requested one, Galvin said.
"Because poll workers need time to tally election results and transport materials from polling places to City Hall, counting of ballots submitted on time to the Election Department, but too late to be sent to the polls, may not begin until after 10:00 p.m.," officials said in a statement on Monday. "These ballots will be tallied by precinct and results will be updated on the city's website periodically, as precincts are completed."
On Tuesday, voters were making a choice in races for mayor and at-large city councilor, and many for district councilors. There were also three ballot questions: 1. A proposed amendment to the Boston City Charter that would change the City of Boston's budget process, 2. Whether an Eversource substation should be built in East Boston along the Chelsea Creek, and 3. Whether the current appointed Boston School Committee structure should be changed to a committee elected by the residents of Boston.
Voter turnout in the preliminary was about 25%, but preliminary election turnout is historically lower than in a general municipal election.
In September MassINC Polling Group Research Director Richard Parr told Boston.com that polling suggested that voters who chose Acting Mayor Kim Janey, City Councilor Andrea Campbell, or John Barros were most likely to support Wu.
"Despite there being three good African American candidates on the ballot, the turnout wasn't there at all…but the places that did turn out — yeah, Annissa Essaibi George really got her vote out there," he said. "The question is all these other people who didn't vote…If you start to fill in the colors in Mission Hill and the South End, my gut tells me they're more likely to be Wu voters."
Take a look at the following maps to see how things have changed since the last open mayoral race, and the September preliminary:
Newsletter Signup
Stay up to date on all the latest news from Boston.com