Politics
In mayor's races across the U.S., voters divided on questions of public safety, police reform
The focus on public safety in many city elections comes as large U.S. cities experienced a 30% jump in killings in 2020.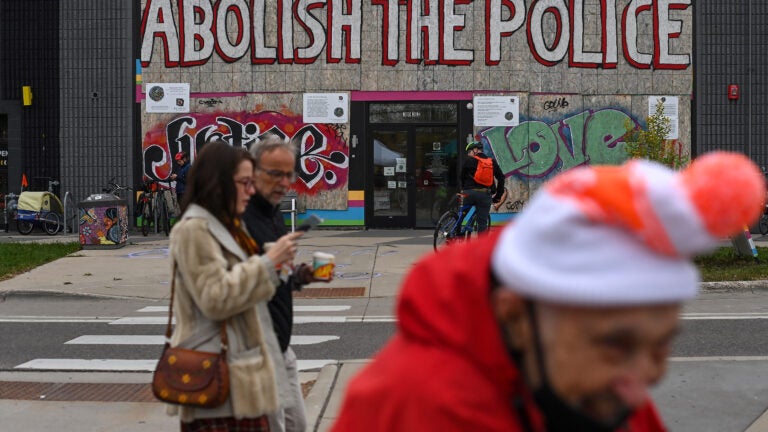 Voters in more than a dozen cities went to the polls Tuesday to select mayors who will try to revive communities battered by a host of pandemic-era challenges, including a surge in violent crime, gutted commercial districts and soaring homelessness.
Some mayoral races, such as Seattle's, exposed sharp ideological divisions among Democratic candidates over policing, public safety and economic inequality. Other contests, particularly in the Rust Belt, pitted older, moderate voters against younger, more liberal residents.
One of the most closely watched races was in Buffalo, where India Walton was trailing in her campaign to become the first socialist mayor of a major U.S. city since 1960s. Walton faced an aggressive write-in campaign from Mayor Byron Brown, a moderate who was defeated in the September primary.
Voters also chose candidates who represented historic firsts. New York is projected to elect Eric Adams, D, as the second Black mayor in the city's history. The city of St. Petersburg, Fla., elected Ken Welch, the city's first Black mayor. Boston elected Michelle Wu, the city's first Asian American mayor, while voters in Pittsburgh elected Ed Gainey, a Democrat and that city's first Black mayor.
And in some cities, voters weighed in on ballot measures aimed at addressing public safety and policing.
In Minneapolis, voters rejected a referendum that would have scraped the Minneapolis police department and replace it with a new force focused on a "comprehensive public health" approach to law enforcement. Opponents of the measure argued that police reform is needed, but worried what this particular ballot language would mean in a city suffering through a "pandemic of violence."
In Miami Beach, voters passed a measure banning the sale of alcohol at bars and nightclubs after 2 a.m., which the mayor says is needed to regain control of the city after a tumultuous year of unruly behavior and gun violence. Miami Beach mayor Dan Gelber, D, also won reelection after promising to quickly implement the new policy to improve public safety.
The focus on public safety in many city elections comes as large U.S. cities experienced a 30% jump in killings in 2020, the biggest one-year increase since the federal government began compiling national figures in the 1960s. In many cities, the number of homicides continued to rise this year.
"The fear of gun crime is palpable in American cities, and because home rule is being eroded in many states, cities now have very little ability to get guns off the streets," said Ned Hill, who teaches economics at Ohio State University's John Glenn College of Public Affairs. "Cities are now having conversations to figure out what does respectful, community policing mean?"
"And what we are seeing," Hill added, "is an uneasy alliance and relationship between the traditional, moderate portion of the Democratic Party and the progressive wing."
In New York, where Democrats have a greater than 6-to-1 voter registration advantage over the GOP, that discussion largely took place this summer ahead of the Democratic primary to replace Mayor Bill de Blasio, who could not run again because of term limits.
In September, Adams, a former police captain who vowed to fight crime, won the Democratic nomination, defeating several more liberal candidates. He is projected to easily beat Republican Curtis Sliwa, founder of the crime-prevention nonprofit Guardian Angels.
In Boston, the campaign to replace former mayor Marty Walsh, who stepped down in March to become labor secretary, largely focused on spiraling housing costs, education and the city's opioid crisis. But the race also highlighted the city's growing diversity because for the first time in 200 years, Boston was poised to elect someone other than a White man.
City Councilor Michelle Wu, D, the daughter of Taiwanese immigrants, defeated City Councilor Annissa Essaibi George, D, the daughter of a Tunisian immigrant who identifies as Arab American.
Wu, a liberal Democrat in the mold of her self-described mentor, Sen. Elizabeth Warren, D-Mass., has called for free public transportation, a citywide "green New Deal" to combat climate change, and rent control to rein in the soaring cost of housing.
She stitched together a coalition of voters that included highly educated White voters as well as segments of the Black, Latino and Asian communities.
In Atlanta, where Mayor Keisha Lance Bottoms, D, decided not to seek a second term, 14 candidates competed in a mayor's race that has become a referendum on who can best manage a city that appears at political and cultural crossroads as its non-Black population has soared over the past decade.
Early returns show City Council President Felicia A. Moore, D, former mayor Kasim Reed, D, and council member Andre Dickens in a tight race. If no candidate in the crowded race receives more than 50% of the vote, the top two finishers will be forced into a Nov. 30 runoff.
In Seattle, a city hard-hit by commercial vacancies downtown, City Council President M. Lorena González, D, squared off against former council member Bruce Harrell in the mayor's race.
González is a staunch liberal, who last year advocated reducing police funding by as much as 50% and diverting that money to social programs. Noting homicides in Seattle increased by 73% last year, Harrell hammered González as he sought to rally moderate voters and business owners behind his candidacy.
Several of the nation's marquee mayoral races were held in the Rust Belt, where aging cities emerged as a new front in the ideological battles engulfing the Democratic Party.
On Monday, Walton and her supporters gathered at a newly formed meeting house and bar named after socialist leader Eugene V. Debs on Buffalo's dilapidated East Side.
A 39-year-old community organizer, Walton was a teenage mother who dropped out of high school before becoming a nurse. In September, Walton shocked many political observers when she defeated Brown, D, who was first elected mayor in 2005.
Walton's primary win was seen as a major victory for the far-left wing of the Democratic Party, as well as racial justice protesters who want more spending social services and less on traditional forms of policing. Walton has received heavy backing from left-leaning affluent communities on the city's West Side as well as the East Side.
"The conditions of concentrated poverty and disadvantage is what allows crime to thrive, and [Brown's] police department has been unaccountable and opaque," Walton said in an interview. "My public safety plan centers on solving the root causes of crime and also having transparency and accountability."
But after he lost the primary, Brown launched a write-in campaign, banking on support from moderates and Buffalo residents who oppose reducing funding for police. A host of labor unions, including the United Auto Workers and AFSCME, supported Brown, despite Walton's efforts to win over blue-collar voters.
As he campaigned Tuesday in a dark pinstriped suit, Brown said he was optimistic that moderate Democrats "will fight back against this far-left, socialist movement."
"It's dividing the party, [and] it's making it more difficult to get things done at the national level," said Brown.
Yet Brown's path to victory was complicated by the need for his supporters to write in his name on their ballots. His campaign handed out stamps bearing his name for voters to use to minimize potential misspellings (stamps, but not stickers, are allowed for use on ballots in New York state).
Despite those obstacles, Caitlin Szalkowski, 36, voted for Brown, even though the Democrat likes some of Walton's ideas.
"The movement she represents make me uneasy," said Szalkowski, a psychology professor.
"We have made a lot of progress in the last decade and a half, and there's a sense of not wanting to see that backslide," she added.
But in Buffalo's West Side neighborhood of Elmwood Village, where historical homes sit on tree-lined streets named for U.S. states, 26-year-old Sara Rosenblatt said she and many of her friends and co-workers voted for Walton.
Rosenblatt said Walton was part of a group of "far-left women of color rising in power" and "only good has come of that."
Shawn Donahue, a political scientist at the University of Buffalo, said he couldn't recall another mayoral election quite like this in the city. He said he had fielded calls from media outlets in Switzerland and Brazil asking him about the race. Meanwhile, "the only thing that people are talking about more in the Buffalo area are the Bills," said Donahue, referring to the Buffalo Bills' 5-2 record this year.
In Cleveland, the mayor's race also pitted a diverse coalition of younger and left-leaning voters against older voters in the city's more traditional outer neighborhoods.
Justin Bibb, a Black 34-year-old nonprofit executive, was the top vote-getter in the September Democratic primary after he campaigned on holding the police more accountable, including supporting the referendum for a civilian police commission, known as Issue 24.
But in the days leading up to the election, the Democrat found himself locked in a tight race against City Council President Kevin Kelley, D, 54, who is White and made his opposition to Issue 24 the central message of his campaign.
In Detroit, two-term Mayor Mike Duggan was projected to defeat fellow Democrat Anthony Adams in that city's mayor's race.