Politics
For progressives, Michelle Wu points to a way forward
"It's a refreshing thing to see a progressive candidate who really knows how to get things done."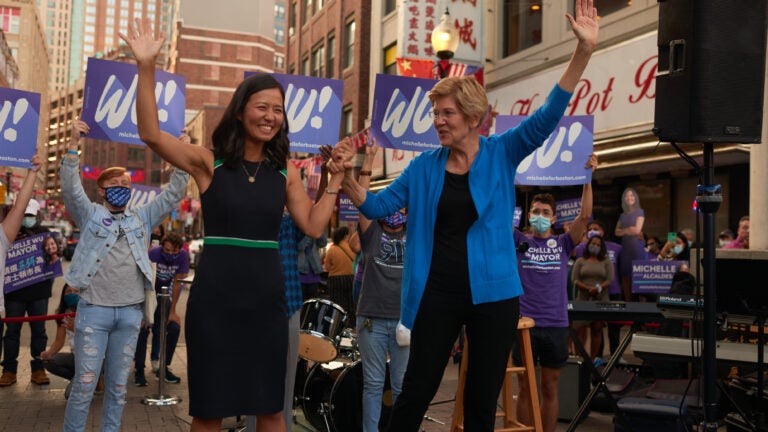 BOSTON — For progressives, Tuesday's elections brought a litany of bad news and one conspicuous bright spot: Michelle Wu, the newly elected mayor of Boston, who took the stage in a scarlet dress, carrying her 4-year-old son on her hip.
Wu, 36, was in intense campaign mode this summer when Eric Adams won the Democratic primary in New York, convincing many pundits that the progressive movement was sputtering at the ballot box, dampened by the practical concerns of older, moderate voters.
Wu had time to pivot toward the center, but she did not: Right up until its last weeks, her campaign was built around an agenda that galvanized this city's young left, like fare-free public transit, climate action and rent control.
And that did not seem to hurt her, even with centrist voters. In Tuesday's election, Wu trounced a more moderate opponent, City Councilor Annissa Essaibi George, by a 28-point margin. Between the September preliminary election and Tuesday's general election, Wu expanded far beyond the younger, more educated whites who are her base, winning by commanding margins among Black, Latino and Asian voters.
Still flushed from her victory, Wu affirmed her plan to make the city into a laboratory for progressive policy, the kind she studied under her mentor, Sen. Elizabeth Warren.
"Boston has come together to reshape what is possible," she told supporters. "We are the city of the first public school in the country, the first public park, the first subway tunnel. We are the city of revolution, civil rights, marriage equality. We have always been that city that punches above our weight."
Wu's campaign — and particularly her "years of infrastructure building and engagement" — should be a model for progressive candidates across the country, said Adam Green, co-founder of the Progressive Change Campaign Committee, which endorsed her.
"She doesn't just represent transformational ideas in a vacuum; she was someone who built credibility in the local community over the years," he said. "We've lost races when the candidates swing out of nowhere, and the first time people are hearing of them is when they run for office."
One explanation for her success is Wu herself, who is difficult to caricature as a radical.
Over her four terms as a city councilor, Bostonians have gotten to know Wu as soft-spoken and thoughtful, intensely focused on policy, meticulous about showing up at meetings and returning phone calls. That experience acted as a "buffer," if any was needed, "for someone this progressive to be elected mayor," said David Paleologos, director of the Suffolk University Political Research Center.
"That kind of quiet, methodical style is a new style for progressives," he said. "It's a different kind of style that she has invented."
Lydia Chim, 26, a budget analyst who moved to Boston from California, said Wu struck her as experienced and practical, qualities she does not always find in progressives.
"It's a refreshing thing to see a progressive candidate who really knows how to get things done," she said.
Wu also cultivated relationships with the city's conservative power centers, tapping into her Harvard pedigree and post-college experience as a management consultant and small-business owner. She comes across as "somebody who is very clearly into managing systems," which has helped her build trust in those parts of the city, said Jonathan Cohn, the chair of a local Democratic committee and a progressive activist.
"Her career is where it is because she has done a good job of catering to business owners and progressives at the same time," he said.
Wu has also benefited from some conditions outside her control.
"Boston might be a harbinger for the situation in our big cities," she said. "They are expensive to live in. People are more educated. That might be a difference we will see."
The demographics of Boston are changing rapidly, with young professionals drawn to the city for jobs in technology, medicine and education. Boston has become "an intellectual elite city," said Nan Whaley, the mayor of Dayton, Ohio, and the president of the U.S. Conference of Mayors. Its politics, she said, are changing accordingly.
It helped that the popular incumbent, Mayor Martin J. Walsh, was tapped as the federal labor secretary in January, leaving the Boston race wide open. By then, Wu was four months into a campaign against Walsh, criticizing his administration for insufficient action to combat racial injustice and climate change.
In open races, it is not unusual for voters to opt for a candidate who has characteristics the previous mayor did not, said David Axelrod, a Democratic political consultant.
"They choose the remedy" to the previous mayor, "someone who has what they lacked, rather than a replica of who they are," he said.
Another factor was something in full view at Wu's victory party Tuesday night: a young, enthusiastic, racially diverse ground operation.
Young people in Massachusetts have been drawn powerfully into organizing, cutting their teeth on the presidential campaigns of Warren and Sen. Bernie Sanders of Vermont and emerging as a formidable political force in the reelection of Sen. Ed Markey.
Wu hosted events for youth organizers more than a year ago, shortly after declaring her candidacy. Alejandra Tejeda, 24, of the Hyde Park neighborhood, attended one, and was so impressed that she departed as a full-fledged passenger on "the Wu train," as it is known.
Her activism consisted mainly of arguing Wu's case with old friends and classmates over Facebook, something she likened to "virtual door-knocking." But for many others, "everything about their life became Michelle Wu."
Tejeda and her best friend, Malaysia Fuller-Staten, exulted Tuesday. They attended Wu's victory party in matching Wu T-shirts, danced a little, and headed home at 11:30, satisfied by what they had achieved. "Young people in Boston definitely played a large role in helping elect Michelle Wu," she said.
And as the glow of victory recedes, Wu will face pressure from the same activists, who are eager to see action on the proposals she ran on: cuts to the police budget, the expansion of fare-free transit, and progress toward restoring rent control.
For Fuller-Staten, that started Wednesday morning at 8, when she began publicly prodding the mayor-elect to find housing for several hundred people who were recently evicted from a sidewalk tent city.
"Alright," she wrote on Twitter, "the sun has risen on a new day and it's time to figure out what Mayor-elect Michelle Wu is going to about the housing issues" in that area.
And that should be expected, Fuller-Staten said.
"It's a new game in politics these days, especially in a place like Massachusetts," she said. "If we're going to put any of our time behind you, whether it's ground work or even just tweeting, we expect that you give us what we were looking for when we supported you."
"It's not like we supported you and now it's done," she said.