Politics
Live blog: Updates on Michelle Wu's mayoral transition
Here's the latest on Mayor-elect Michelle Wu's shift into the mayor's office.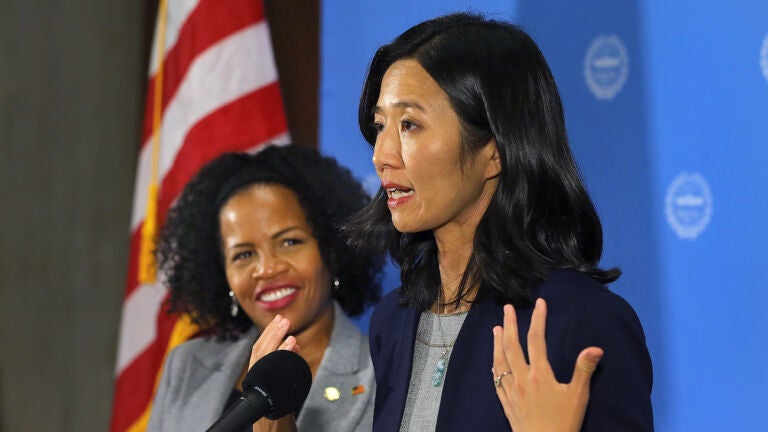 On Nov. 2, Michelle Wu was elected to serve as Boston's next mayor, the first woman and first person of color to be duly elected to the position in city history.
Wu, an at-large city councilor, will take office on Nov. 16 — just two weeks after she was elected, an unusually short transitional period.
Here's what to know about Wu and her incoming administration and updates on her move into the mayor's office:
Latest updates:
As she prepares to take the reins as Boston's mayor, Michelle Wu announced an initial group of core Cabinet advisers Tuesday morning, including her campaign manager, Mary Lou Akai-Ferguson, as interim chief of staff.
The appointments, announced just three hours before Wu's swearing-in ceremony at noon Tuesday, also include three staffers in Wu's City Council office — Brianna Millor, Tali Robbins, and Mariangely Solis Cervera — as new mayoral senior advisers. Wu's current City Council office chief of staff, Dave Vittorini, will also be appointed as a senior adviser.
Wu's team also announced that Mike Firestone, a lawyer and former chief of staff for Massachusetts Attorney General Maura Healey, who is currently leading the campaign against a potential Uber-backed 2022 ballot question, will serve as chief of policy and strategic planning.
And following the unusually brief two-week turnover, Wu's transition director, Dr. Mariel Novas, will continue to lead transition-related efforts "through the early days of the administration."
Wu's team said that the initial group of appointments will help ensure a seamless transition as her full team is built out in the coming weeks, as the incoming mayor begins work Tuesday.
The hirings come after Wu announced her first Cabinet appointments, including former state Department of Public Health commissioner Monica Bharel as Mass. and Cass chief, last week.
"I'm thrilled to have this dynamic team in place on day one," Wu said in a statement Tuesday. "Each brings a wealth of knowledge, experience, and passion for service to City Hall, and they will be instrumental in helping our Administration hit the ground running, continue to build and listen to community, and deliver for the people of Boston. I'm grateful to serve alongside them."
After winning the election to be Boston's next mayor, Michelle Wu's schedule has been filled with briefings on all aspects of city work before officially beginning the job Tuesday. And it appears that it isn't only her cabinet that will be at least initially short staffed.
"We're hearing across all of the briefings a tremendous need for more staff," Wu told the Boston Herald during a sit-down interview published over the weekend.
"On any given day, there are hundreds of positions that we need to fill in city government," she said. "Very exciting opportunities. And we need to make sure that we're reaching into our communities to pull people in."
According to the Herald, officials say there were 420 job postings active on the city's career website earlier this month — which actually equates to even higher job openings, since some of the postings were for multiple openings, such as 35 open crossing guard jobs. The city's career website lists openings for everything from lifeguards to secretaries to police dispatchers to a chief technology officer of the Boston Public Library.
The Herald reported in June that the city had 541 postings for more than 3,700 jobs. And in the days after the election, Wu noted that even hiring for her cabinet would be a work in progress, given the unusually short transition period. Her transition team subsequently launched a website soliciting resumes from Boston residents.
"There are so many incredibly talented people in our community, and we are focused on building a team in City Hall that represents everyone and is ready to hit the ground running, to deliver the core city services our residents count on every day and start tackling Boston's biggest challenges with the boldness and vision that this moment demands," Wu's transition director, Mariel Novas, said at the time.
Alejandra St. Guillen came a single vote away from being a Boston city councilor in 2019.
Now, she'll at least get to be one for a half-dozen weeks.
St. Guillen — a member of the Boston Cannabis Board and the former director of the city's Office for Immigrant Advancement — confirmed Tuesday that she will accept the opportunity to serve out the rest of Mayor-elect Michelle Wu's term on the City Council, as the fifth-place finisher in the 2019 race for the four at-large seats.
"Time is short, the fight is long," St. Guillen tweeted after GBH first reported her plans.
"Can't wait to cause lots of 'good trouble' in the weeks ahead," she added, asking if there was anyone with "something before the council that needs a nudge?"
Usually, a newly elected mayor would take office in January at the same time as city councilors. However, because Boston currently has an acting mayor in the wake of Marty Walsh's departure earlier this year, the city charter dictates that the mayor-elect take office soon after the election is certified. Wu, whose City Council term runs through the end of the year, is slated to be sworn in next Tuesday, thus creating a brief vacancy.
A similar situation played out in 2018, after Rep. Ayanna Pressley — then an at-large city councilor — stepped down after winning her bid for Congress, which elevated conservative perennial candidate Althea Garrison into the chamber for roughly a year.
This time, Wu will be replaced by more of an ideological ally.
St. Guillen campaigned alongside Wu in 2019 and has called the mayor-elect a political mentor. Her announcement Tuesday was also welcomed by soon-to-be City Council colleagues Lydia Edwards and Ricardo Arroyo.
As GBH reported, the City Council is due for an unusual month or so. In addition to St. Guillen, the chamber will also see the return of District 7 councilor and Acting Mayor Kim Janey, who will preside over its December meetings again as Council president "after some restorative time off."
Boston Mayor-elect Michelle Wu announced Wednesday that she will appoint Dr. Monica Bharel, the recent Massachusetts department of public health commissioner, to lead the city's efforts to address the widespread drug use and homelessness in the area known as "Mass and Cass."
According to Wu's transition team, Bharel will work as a new cabinet-level senior advisor for six months to "take charge of the city's efforts" to address the intersecting crises of substance use disorder, mental health, public safety, and homelessness.
Wu has called the appointment of the so-called Mass and Cass. chief a top priority amid her two-week transition, as city authorities under acting Mayor Kim Janey continue the controversial work of clearing homeless encampments near the intersection, as part of an effort to move people to shelters and treatment facilities as the weather turns colder.
The appointment of Bharel — who stepped down in May after six years as the state's DPH commissioner, including during the peaks of the COVID-19 pandemic — is part of a core team Wu announced Wednesday to coordinate the city's Mass. and Cass response.
"This ongoing crisis of substance use disorder, mental health issues, and homelessness requires a coordinated response from government, service providers, and our communities," Bharel said in a statement, adding that Wu "is committed to working with our state and regional partners to secure the lasting public health-led solutions that this moment demands and our residents deserve."
Wu also announced two other cabinet-level appointments Wednesday.
First, she said she will elevate Dr. Bisola Ojikutu, the executive director of the Boston Public Health Commission, to her cabinet, expanding Ojikutu's role to lead the city's broader public health efforts, including the pandemic response. Wu will also ask Marty Martinez, the city's current health and human services chief, to support the transition as a senior adviser.
Wu also said she will reappoint Sheila Dillon, the city's current chief of housing and director of neighborhood development. Wu's transition team said that Dillon will coordinate closely with Bharel on securing necessary low-threshold and permanent supportive housing, with full wraparound health and social services, for individuals currently living at Mass. and Cass, while spearheading the mayor-elect's broader affordable housing agenda.
"Dr. Bharel, Dr. Ojikutu, and Chief Dillon have dedicated their careers to serving the public and each brings a track record of results," Wu said in a statement. "This is the team that we need for Boston as we prioritize public health and housing and center the safety and dignity of all those struggling with substance use disorder, mental health, and housing instability."
Mayor-elect Michelle Wu has named her highly anticipated transition committee, just a week before taking office. The team, which includes current acting Mayor Kim Janey as honorary chair of transition, will help Wu settle into office in what is an unusually short transition period.
The co-chairs of Wu's transition committee are former state representative Charlotte Golar Richie, who also worked under former Mayor Thomas Menino, as well as Jay Gonzalez, former secretary of administration and finance under Governor Deval Patrick, now a practicing lawyer, and Mimi Ramos, Executive Director of New England United 4 Justice.
Both Richie and Gonzalez have been involved in Massachusetts politics in different capacities for more than 20 years, serving former governors and mayors, even running for office themselves in previous elections. Ramos currently serves several leadership positions for multiple coalitions and has been involved for almost 15 years in the socioeconomic and racial justice fight in Boston.
"I am grateful to these community leaders and partners for sharing their wisdom and insight to our work in this important transition period," Wu said in a statement.
Wu's transition advisors also represent a wide variety of expertise in the areas of sustainability, education, finance, and public health. Here are her advisors:
Julian Agyeman, Ph.D. FRSA FRGS, Professor of Urban and Environmental Policy and Planning and Fletcher Professor of Rhetoric and Debate, Tufts University
Dana Alas, Organizing Director, 1199 SEIU United Healthcare Workers East
Shawn Brown, Executive Director, Becoming A Man, Boston
Joe Byrne, Executive Secretary-Treasurer, North Atlantic States Regional Council of Carpenters
Ali Fong, Chef and Co-Founder, Bon Me
Trish Fontanilla, Head of Community, Simplr
Rev. Dr. Arlene Hall, Pastor, Deliverance Temple Worship Center
José Massó, Broadcaster and Producer, ¡Con Salsa! on WBUR
Marcus McNeil, Student, Fenway High School
Cassandra Pierre, MD, MPH, Assistant Professor, Boston University School of Medicine and Medical Director of Public Health Programs, Boston Medical Center
Micho Spring, Chair of the Weber Shandwick Global Corporate Practice, President of Weber Shandwick New England, and Board Chair of the Greater Boston Chamber of Commerce
Kannan Thiruvengadam, climate activist and director, Eastie Farm
Mitchell Weiss, Richard L. Menschel Professor of Management Practice at the Harvard Business School
"This group represents just the beginning of our work to uplift bold solutions to the biggest challenges that await us, and to enlist community in the work of making them a reality," Wu said. "Their expertise and lived experiences are a reflection of the possibility and promise of our city, and I'm honored to have their partnership engaging residents across the city in these early days."
Wu will be sworn in at City Hall as the next mayor of Boston on Nov. 16, an unusual timeline given the current status of Janey as acting mayor, following former Mayor Marty Walsh's departure to become Secretary of Labor for the Biden administration. There will be a swearing-in ceremony held at noon that day, but Wu plans to hold a more formal inauguration ceremony in January.
Acting Mayor Kim Janey has just over a week left in office before Mayor-elect Michelle Wu takes over the reins next Tuesday, but she's still pretty busy.
Speaking on GBH's "Boston Public Radio" on Monday afternoon, Janey said one item on her agenda she wants to see through in the coming days is extending the fare-free MBTA Route 28 bus pilot program she launched in August.
The program, a $500,000 venture paid for by the City of Boston, was initially scheduled to last three months.
Janey, in July, said the initiative aimed to make transportation more accessible and affordable for commuters, particularly those in communities that have been hardest hit by the COVID-19 pandemic. (The route connects Mattapan Square through Dorchetser and Roxbury to Ruggles Station.)
Janey said on Monday she is working to expand the program through at least the end of the year. Her administration is currently negotiating with the MBTA, she said.
"I know that this is a priority for Mayor-elect Wu, so I'm hoping that she will be able to build upon this work," Janey said.
Boston Mayor-elect Michelle Wu will get a full inauguration ceremony in January to celebrate her historic rise to become the first woman and person of color elected to lead the city. But her transition to the other side of City Hall's fifth floor next week will be marked by a quieter event.
According to Wu's transition team, the city councilor will begin work as mayor next Tuesday, Nov. 16, after a brief oath of office ceremony in the City Council Chamber. They plan to announce more information, including live-streaming options for the event, in the coming days.
"Given the shortened transition and the urgent challenges facing Boston, we're getting right to work on November 16th," Wu said in a statement Monday. "While we plan for a full inauguration with public events in January, alongside the Boston City Council, I'm thrilled to mark the quick start of our Administration with a moment in the City Council Chamber next week."
As they scramble to hit the ground running amid the unusually short transition, Wu's team said the ceremony next Tuesday will be a full circle moment. As an aide to the late Mayor Tom Menino before becoming city councilor, Wu worked in the same fifth-floor offices where she will begin her new job as mayor next week. And it will happen in a building she adores, as an ardent defender of City Hall's controversial brutalist design.
In her statement, Wu said that Boston City Hall was "designed to reflect transparency and a commitment to public service, and the work of building a Boston for everyone means empowering all of city government to move with urgency and build community."
She was more blunt about the subject during an interview this past summer.
"I love City Hall," Wu said. "I will fight anyone who says it's not a beautiful building."
Mayor-elect Michelle Wu wants to bring "bold change" to Boston Public Schools — but that doesn't mean immediate changes to the department's leadership.
In her first sit-down interview since the election, Wu told The Boston Globe she was committed to keeping BPS Superintendent Brenda Cassellius, citing the need for stability in the department. (When she was hired, Cassellius was the fifth BPS superintendent in seven years.)
"We need stability, we need to ensure that our schools and school communities have supports," Wu told the Globe, adding that she plans to meet with Cassellius and her staff soon.
"Our public schools are an area where I will be rolling up my sleeves and spending a lot of my time, pushing for political will," Wu said. "It's what I think about every morning when I wake up, because the first task is to get the kids dressed and out the door for school. It's also the foundation for our city's future in so many ways."
Cassellius was hired in the spring of 2019 and within a year was tasked with the department's response to a disruptive global pandemic. She faced criticism from parents and a vote of no confidence from teachers amid the district's reopening process, albeit for opposing reasons. And while a survey found low morale among BPS central staff, Cassellius earned high marks in her performance review from the Boston School Committee — particularly for her focus on equity — amid the unprecedented challenges brought by the pandemic.
This past summer, the School Committee approved a two-year extension of Cassellius's contract, which Wu opposed at the time, saying that whoever is elected mayor should have the "flexibility to work with the school committee and ensure that we have leadership to match the vision of the new administration." However, she later reiterated that she wasn't saying Cassellius "needs to go," adding that "constant turnover of BPS leadership has been incredibly destabilizing."
Asked if she had confidence in Cassellius during the first mayoral general election debate last month, Wu said she would "make sure that the mayor and superintendent partner together."
Mayor-elect Michelle Wu said this week that one of her top priorities when she takes office on Nov. 16 is to address the humanitarian crisis in the area of Massachusetts Avenue and Melnea Cass Boulevard.
Speaking to reporters on Thursday, the incoming mayor said she plans to make some changes to how the city is handling the encampment in the area, WBUR reports.
Wu's comments came after she was briefed at City Hall on the crisis of hundreds of people who have set up tents around Mass. and Cass and are struggling with mental health, substance use, and homelessness.
"From what I can tell, there are changes and improvements that are needed in terms of how we could better connect every individual to services and housing," Wu said, according to GBH.
But the mayor-elect said she couldn't yet commit to any specific policy changes.
Michelle Wu has less than two weeks until she takes office as Boston's next mayor.
And with numerous issues facing the city, there's one task she must do before she can tackle all the others: Staff her administration.
"The priority now is to build out a team that reflects all of Boston, that includes the expertise of our communities, and that is going to move with the urgency of the issues that are at hand," Wu said on Wednesday during a press conference at City Hall after a closed-door meeting with Acting Mayor Kim Janey.
As part of that approach, Wu's team on Thursday unveiled a new website for all things transition related — allaboardboston.com — including an open call to Boston residents who are interested in joining the incoming administration.
Interested individuals can submit their resumes. Residents who aren't looking for a job at City Hall but want to share some of their thoughts on Boston's future with Wu can also do that through a separate form on the website.
Wu, of course, is already entering the new job with a deep understanding of the mechanics of the city's halls of power. A city councilor at-large, Wu will have a decade of experience of working in City Hall under her belt once she she is sworn in later this month.
"The issues are not new, and we'll be able to hit the ground running from day one to make sure that we are prepared for what will happen and be able to respond to the immediate needs of the city," Wu told reporters on Monday, before Tuesday's election.
Still, she added: "It is not possible for anyone to arrive on day one after a two-week transition with a fully staffed-up team and all of the issues ready to go."
"So because we will … not have the luxury of a two-month-long transition, it will be simultaneous and concurrent with the work of getting in there and hitting the ground running," Wu continued. "We'll continue staffing up and take our time to get those decisions right."
According to Janey, there is no available city funding for transition-related expenses, but officials will provide "other resources" such as working space and making the current mayor's team available to Wu's staff.
Wu said Wednesday she spent the day working out of her City Council office.
"It's very comfortable and has everything I need," she said.
Wu also indicated once she's officially on the job, she intends to quickly take on the intersecting issues of substance use disorder, mental health, and homelessness.
Those issues have made headlines in recent weeks as Janey's administration takes a revamped approach to addressing the area where all three meet known as Mass. and Cass.
"One of the very first hires that we're looking to make is to establish a cabinet-level position for clear action, leadership, and coordination across all of the various entities and agencies involved," Wu said. "Mayor Janey has already taken huge steps forward in terms of establishing that coordinated leadership team, and so our goal will be to ensure that there's a point person directly in the cabinet."
Wu was asked whether the door was open for some of her fellow councilors to join her new team, particularly outgoing councilors Janey, Andrea Campbell, and Annissa Essaibi George, who all ran against her in the mayoral election.
Wu said only that her administration will continue to make announcements about hiring decisions as positions are filled.
"Right now, we're still having conversations," she said.
Newsletter Signup
Stay up to date on all the latest news from Boston.com