Politics
Michelle Wu becomes mayor of Boston in less than two weeks. Here's what's atop her to-do list.
"We are in the midst of a faster transition than ever before."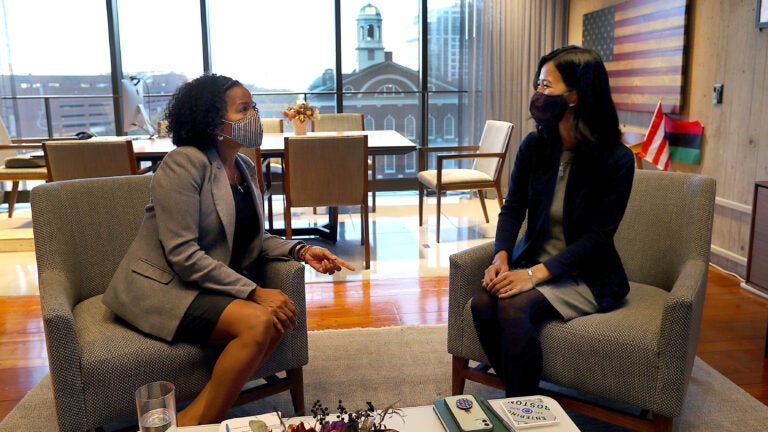 Michelle Wu just became the first women or person of color ever elected to serve as mayor of Boston.
Now comes the hard part.
Due to city charter rules about filling the technically vacant post, Wu now faces a less than two-week transition period before she takes over mayoral duties from Acting Mayor Kim Janey, in the midst of an ongoing COVID-19 pandemic and the administration's ongoing efforts to address the worsening public health and safety issues in the Mass. and Cass area.
"We are in the midst of a faster transition than ever before," Wu said during a press conference Wednesday afternoon.
First, she needs to assemble a team, something that the city councilor admits will be somewhat of a work in progress — even after she becomes mayor.
"We won't have everything set by November 16," Wu told reporters Wednesday morning, referring to the date she takes office. "That is just the nature of what taking the time to do it right will entail, but we will be going as quickly as we can get it right."
So far, she has appointed a transition director — education activist Mariel Novas — and also brought on some outside press help from the Boston-based communications firm 90 West during the two-week period.
However, her eventual City Hall team, including her chief of staff, have yet to be announced. After meeting with Janey at her soon-to-be office Wednesday afternoon, Wu told reporters that she plans to build a team that "reflects all of Boston" and that "includes the expertise of our communities."
Her team even launched a transition website Thursday that includes a portal for residents to submit resumes if they're interested in jobs in her administration.
Mass. and Cass
Wu said Wednesday that "one of the very first hires that we are looking to make" is a new, cabinet-level position focused on the Mass. and Cass area.
"Mayor Janey has already taken huge steps forward in terms of establishing that coordinated leadership team, and so our goal will be to ensure that there's a point person directly in the cabinet," she said, noting that the appointee would be tasked with "clear action, leadership, and coordination" of the various city agencies and nonprofits responsible for responding to the area.
Wu declined to say if she would make any big changes to Janey's current Mass. and Cass. plan, which has received criticism from some public health advocates. Wu did say that she talked with Janey about "very urgently" advancing the work underway to make more low-threshold housing available to those currently living in tents at Mass. and Cass as a "transitional point to then connect to longer term stable housing."
"Every day that goes by, we get closer to winter and life-or-death temperatures for anyone who's on the streets," Wu said.
Mandates for masks… and vaccination?
Some smaller Western Massachusetts cities, like Springfield and Holyoke, moved to drop their indoor mask mandates this week as the recent COVID-19 surge eases.
Wu says she's doesn't have a timeline for following suit in Boston.
Asked about the indoor mask mandate Janey imposed in August, the mayor-elect said she'd "continue to follow the data." However, she indicated that the city's progress vaccinating newly eligible 5 to 11 year olds and closing vaccination gaps would drive the decision. While she didn't give specific benchmarks, Wu said that progress would "in turn affect policies like masking and everything else."
During a debate last week, Wu also said she would keep the indoor mask mandate for Boston Public Schools in place even if certain schools reached the state's 80 percent vaccination threshold for relaxing the requirement. Gov. Charlie Baker's administration recently extended the statewide mandate until Jan. 15.
Wu also declined to say definitively if she planned to require individuals to show proof of COVID-19 vaccination to enter restaurants and other indoor recreation venues.
During a radio interview last week before she was elected, Wu said that Boston "should" have such a requirement, similar to policies in New York City and Los Angeles. During the press conference Wednesday (alongside Janey, who opposed the concept), Wu said it would remain in the discussion.
"We're still very much in the midst of the COVID-19 pandemic," she said. "And so we need to ensure that every possible protection is in place for workers, for the general public, and we'll continue those conversations as part of our transition."
Wu stressed Wednesday that Boston remains in a moment of incomparable urgency and "deep challenges" exacerbated by the pandemic.
"We are still recovering from that," she said, adding that the goal is to also use the opportunity to "address the issues that were here long before COVID-19."
"The mandate from yesterday's results is to take on the big challenges facing our city and to do so in a way that truly brings everyone into the conversation," she said.
Newsletter Signup
Stay up to date on all the latest news from Boston.com