Politics
Why one corner of the new proposed congressional map in Massachusetts is creating a stir
"We know exactly whose voices are going to be heard in that district."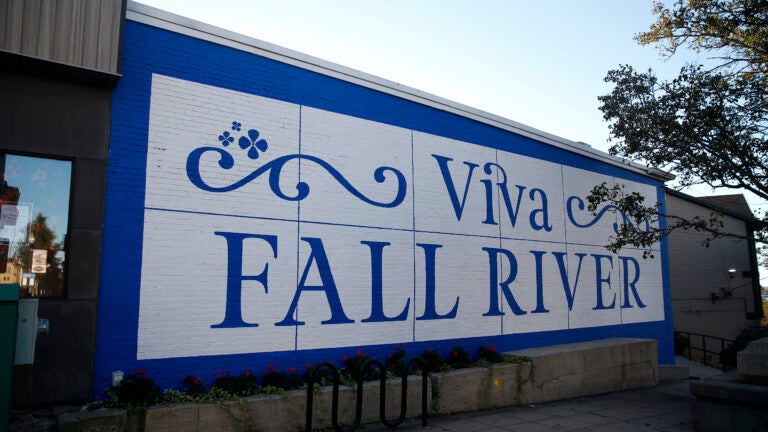 Last week, Massachusetts state legislators unveiled a new congressional district map for the state's nine U.S. representatives.
The proposed map would tweak a number of district borders to adjust for the notable population growth in eastern Massachusetts. It would increase the share of non-white residents in the state's only majority-minority district. It would unite the city of Fall River in a single district.
And it's tearing local elected officials apart.
"I didn't think this was going to be a big deal," state Rep. Mike Moran, the House co-chair of the Legislature's redistricting committee, said during a marathon hearing on the proposed map Tuesday.
The reason is that last aspect: the unification of Fall River in the 4th District — currently represented by Rep. Jake Auchincloss.
The South Coast city is currently split; the northern half is in the 4th District, while the southern half is in the 9th District, along with New Bedford, represented by Rep. Bill Keating.
During the hearing Tuesday, officials, advocates, and residents alike virtually all agreed that uniting Fall River within one district was the right decision.
"It's just united in the wrong district," New Bedford Mayor Jon Mitchell said.
Two opposing factions have quickly formed in the wake of the proposed map's release last Monday.
On one side is Auchincloss and a number of Fall River-area elected officials, including Mayor Paul Coogan, who support the new map, arguing that it would give the 90,000-person city a unified voice as the largest community in the 4th District, which runs up the Rhode Island border to the Boston suburbs of Needham, Newton, and Brookline.
(For those interested, the proposed congressional map, along with the current map, can be viewed in full on the state Legislature's website).
"It's needs are going to be front and center for any member of Congress representing this district," Auchincloss testified Tuesday, adding that the map would mean the South Coast region would continue to have two members advocating on its behalf in Congress over the next decade.
Not everyone agrees that's the case.
On the other side is Keating, New Bedford elected officials, voting rights advocates, and Auchincloss's predecessor in the 4th District, former congressman Joe Kennedy III. They argue that splitting up Fall River and New Bedford into two separate districts would further dilute the voting power of the two lower-income South Coast cities.
"There is no good reason for the South Coast to be divided between its two Gateway City anchors," Keating tweeted last week, blasting what he called a "fundamental shift … more significant than any particular congressmember."
Opponents of the proposed map note that the two cities — home to the largest concentration of Portuguese Americans in the country — share a culture, a health system, a transit system, a chamber of commerce — even a craigslist page. And with disproportionately working class and immigrant populations, they argue a unified South Coast voting bloc could more effectively advocate for its interests.
Keating's statement was echoed by voting rights advocates and Kennedy, who said he "saw firsthand how often the South Coast has to fight twice as hard for half as much." During the hearing Tuesday, Kennedy — who like Auchincloss lives in Newton — noted that the wealthy Boston suburbs in their district have historically voted at higher rates than Fall River.
"We know exactly whose voices are going to be heard in that district," Kennedy said.
Moran, who repeatedly defended the map Tuesday, suggested that the change was in fact induced by an effort to empower the voices of voters of color in a different part of the state.
In an effort to "strengthen" Rep. Ayanna Pressley's majority-minority 7th District, the redistricting committee switched some populations into Rep. Stephen Lynch's 8th District. Lynch gained most of Boston's Back Bay and a few Dorchester precincts, while Pressley gained ground in Milton. But as a result, Moran said Lynch's district ended up with an extra 40,000 residents (the mapmakers aim to portion around 781,102 people in each district).
"You can only give it to two people," Moran said. "You can give it to the 9th, and you can give it to the 4th. You can't give it to the 7th, because that waters down the majority-minority district. … You can only give so much to the 9th, because the 9th can't give any population to anybody, because it's surrounded by water. So the rest of it goes to the 4th."
Moran said that unifying Fall River in the 4th District was the "natural" move, adding that it would give the city the opportunity "someday" to have a member of Congress from the region.
"To me, that is equity on a map," he said.
However, as and he others acknowledged, that vision for the district hasn't yet materialized. During the Democratic primary last year to replace Kennedy, every single major candidate was from Brookline or Newton.
Last month, the voting rights coalition Drawing Democracy proposed a "Unity Map" that would put both Fall River and New Bedford in the 9th District. Kennedy has said it's a "once-in-a-decade chance to address the profound disparities in political representation and power that mark our state."
"There's more power, there's more strength, there's more commonality of interest between Fall River and New Bedford," state Sen. Michael Rodrigues, a Westport Democrat, testified Tuesday, noting that the two cities share colleges like UMass Dartmouth and are invested in the offshore wind economy.
Proponents of the map note that the two cities aren't a monolith.
Auchincloss argued that Fall River is less oriented toward its commercial port and fishing industry than New Bedford, and is more similar to other southeastern gateway cities in the 4th District like Taunton and Attleboro with a history of manufacturing, from textiles to medical devices.
"We are two very large cities," state Rep. Carole Fiole, a Fall River Democrat, said Tuesday. "We have unique needs."
Fiole pointed to the South Coast Rail project and offshore wind development as examples of the "strength of two federal voices."
"We need strong voices supporting our cities, individually and unified," she said.
Still, residents and advocates expressed concern that the split would leave New Bedford with less power in the 9th District, which includes the South Shore, Cape, and Islands. Mitchell noted there hasn't been a congressman from the city since 1922, which he called "an outright travesty."
"I think it's an opportunity to fix that now," the mayor said.
For either city, the opportunity to elect one of their own to Congress would likely come sooner in the 9th District. Keating is 69 and told The Boston Globe that he's "not going to be around for 10 years." Meanwhile, the 33-year-old Auchincloss is not even midway through his first term.
For his part, Auchincloss sees having all of Fall River in his district as a benefit for himself, too. During an appearance on WPRI this past summer, the congressman quipped "I want all of Fall River" and said that having such a "diverse district" was an example of how Democrats "need to be able" to speak to both affluent suburban and working class interests. At the time, Keating said he thought the citizens of Fall River should have their voices heard on the subject.
Advocates agree, though many of the Fall River residents who testified Tuesday support their proposed move to the 4th District.
"Voters should choose their politicians," Geoff Foster, the executive director of Common Cause Massachusetts, said. "Politicians shouldn't choose their voters."
Newsletter Signup
Stay up to date on all the latest news from Boston.com