Politics
'It came off creepy': 6 key moments from the Cuomo transcripts
The interviews were part of a five-month investigation into the sexual harassment claims against New York Gov. Andrew Cuomo that led to his resignation.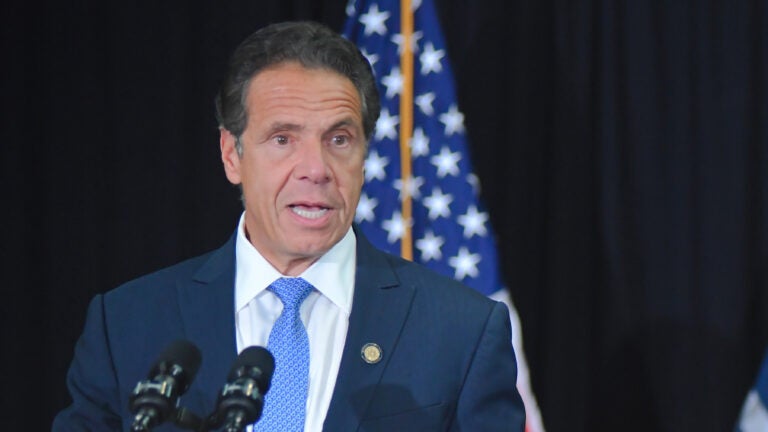 Transcripts released on Wednesday by the office of the New York state attorney general detail interviews with then-Gov. Andrew M. Cuomo and 10 people who accused him of sexual harassment.
The complainants include Lindsey Boylan, a former state economic development official who in December became the first to publicly accuse Cuomo; Charlotte Bennett, a former aide to the governor; and Brittany Commisso, a former executive assistant who filed a criminal complaint against Cuomo in August.
Several people who held various positions in the governor's office also spoke with investigators, including a person identified as Kaitlin, whose account was described in detail in New York Magazine; Ana Liss, who worked in his office as a policy adviser from 2013 to 2015; and Alyssa McGrath, who was still employed there when she came forward in March.
The others were Virginia Limmiatis, a National Grid employee who met Cuomo at a 2017 event, two unnamed state employees and an unnamed state trooper.
The interviews were part of a five-month investigation by outside lawyers into the sexual harassment claims against Cuomo that led to his resignation in August. The transcripts offer a raw retelling of the accounts of Cuomo's conduct. The former governor continues to deny that he touched women inappropriately.
Here are some of the key moments from the transcripts.
'It came off creepy'
A lot of times, he tried to be flirtatious. A lot of times, it came off creepy.
—Trooper #1, page 76
One of the biggest findings of a report released by the attorney general's office in August was an account from an unnamed state trooper who was assigned to Cuomo's protective detail. Her experiences with the governor — which she said included several instances of inappropriate physical contact — swayed many state lawmakers to call for Cuomo's resignation. The transcript offered the first full account, in her own words, of her allegations.
'I knew that I was going to get into trouble and not him'
I remember thinking that I was in his house, not only was it the Executive Mansion, but it was also his home, if I were to do anything as in say something or slap him across the face, I was going to be escorted out by state police and definitely probably fired. I knew that I was going to get into trouble and not him. So I took it.
— Brittany Commisso, page 112
Commisso, who worked as an executive assistant to Cuomo, accused Cuomo of groping her and grabbing her breast at the Executive Mansion. Cuomo was charged last month with forcibly touching Commisso, but the case was thrown into doubt when the Albany County district attorney said the criminal complaint was "potentially defective."
In her testimony, Commisso discussed what prevented her from speaking out initially. She had first publicly discussed her allegations in a joint interview with "CBS This Morning" and the Albany Times Union in August.
'This is what he wants, this is what he gets'
Q: Can you describe for us what the culture was like in the Executive Chamber?
A: If you got yelled at in front of everyone, it wasn't any special day. Things needed to happen immediately, and there was no excuse as to why it couldn't, even if it was just like outside of the realm of physics entirely. It was controlled largely by his temper, and he was surrounded by people who enabled his behavior, like surrounded by yes men — I'll use that term — of this is what he wants, this is what he gets, and that mood and that anger or that fear of him suddenly becoming angry definitely ruled the office and then trickled down.
— Charlotte Bennett, page 82
Bennett, who was an executive assistant and health policy adviser in the Cuomo administration, said that the governor repeatedly probed her about her sex life, asked about her piercings, and told her he was lonely. Bennett had just turned 25 at the time.
Bennett has called the work environment in the governor's office "extremely toxic, extremely abusive."
'It was widely known that he prefers blondes'
Q: You said a few minutes ago that from your perspective, the governor has favorites or plays favorites. Do his favorites have anything physically in common?
A: So it was widely known that he prefers blondes. So there's a lot of women who are hired that are blonde, and who get, like, immediate face time with him, which, you know, some people that were there who have been there for a very long time never ever get face time with him. But, you know, a new blonde is hired, and all of a sudden, like, second day, she gets face time with him, which is typically, like, unheard of.
— Alyssa McGrath, page 46
McGrath had described a series of unsettling interactions with the governor, previously telling The New York Times that Cuomo would ogle her body, remark on her looks, and make suggestive comments to her and another executive aide.
In her testimony, she described an emphasis on looks and open favoritism.
'His actions were not ambiguous'
I was there as a professional to do my work. The governor turned a sincere gesture of simply extending my hand as an expression of gratitude for the state's partnership into a moment of profound shame and humiliation … I don't pretend to know precisely what went through the governor's mind on that day, but I know that his actions were not ambiguous. He placed and pressed, then moved his finger across my breasts in a way that clearly meant to show me his power and his ability to control my body and my dignity.
— Virginia Limmiatis, page 57
Limmiatis told investigators that Cuomo touched her "inappropriately" after he spoke at a public event. Limmiatis, who works for National Grid, an energy company, had waited in line to meet him, wearing a shirt with her company's name on it. The governor "ran two fingers across her chest, pressing down on each of the letters as he did so and reading out the name of the energy company as he went," according to the attorney general's report released in August.
"The governor then leaned in, with his face close to Limmiatis' cheek, and said, 'I'm going to say I see a spider on your shoulder,' before brushing his hand in the area between her shoulder and breasts (and below her collarbone)," according to the report.
'I have phenomenal precautions'
I am 63 years old. I have been in every public office, state, federal. Numerous people have tried to set me up. I'm always wary of people. I have phenomenal precautions.
It would be an act of insanity. Can you ever hear me saying — somebody says to me, 'You're going to get us into trouble.'
'I don't care.'
I mean, it's not — to me, it's just not even feasible.
— Gov. Andrew Cuomo, page 399
Cuomo has repeatedly denied the allegations. During the roughly 11-hour interview with investigators this summer, Cuomo often struck a confrontational tone, characterizing the inquiry overseen by the state attorney general as a "biased political investigation."
Boston.com Today
Get news delivered to your inbox each morning.