Politics
Meet the next mayor of Somerville: Katjana Ballantyne
"I know from experience that in Somerville we can continue moving forward as long as we work together, we can build a city where we all thrive."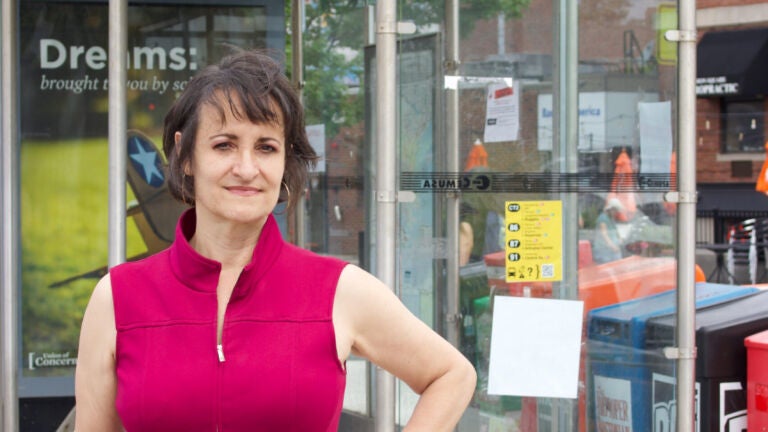 Boston isn't the only city with a new mayor: In January, Somerville's new mayor-elect Katjana Ballantyne will take the reins from nine-term Mayor Joe Curtatatone.
As a hip urban area and the most densely populated city in New England, Somerville is commanding a little more attention in the metro Boston area, especially with the anticipated opening of the Green Line Extension past Lechmere. During the pandemic, regional eyes were on the city as nine-term Mayor Joe Curtatone maintained mask mandates and business regulations while other cities opened up.
Only the second woman elected as mayor of Somerville, Ballantyne brings a wealth of lived-experience to the role. She's an immigrant, car-free, a career affordable housing and economic development advocate, and lifelong volunteer. She's also coming off three terms as an elected city councilor, and has already been working on addressing affordability, economic mobility, transit equity, climate justice and more as a local legislator.
So, here are three things about Somerville's new leader:
1. She comes from a family of immigrants
Ballantyne was born and orphaned in Greece, before being adopted by her Scottish father and Czech-German mother. Her family emigrated to New York when she was 4-years-old.
"That's when I learned that sometimes people are afraid of differences," she said. "Sometimes I was ridiculed and excluded because of those differences — it could have been the accent, the foods, it could have been the culture — and that taught me to value differences and include everyone."
Ballantyne grew up in Western Massachusetts before heading to college and earning a bachelor's and then master's in business. She was the first and only person in her family to go to college, and worked two jobs and took out loans to make it possible. When Ballantyne moved to the Boston area after college, she first stayed on a friend's couch in Chelsea, an experience she said taught her about the importance of stable housing and jobs.
"I had no money and no job, and they said to me, 'you can sleep on the couch until you find a job, and when you get the job, save a month's worth of your salary and then start paying,'" she said. "It took me six months to find a job and then another month to work and save…I felt grateful I had a place to live but I had a tremendous amount of stress because I didn't have the money and I knew my loans were going to be coming due."
Ballantyne moved to Somerville in 1993, where she met her husband and raised two daughters.
"I felt I discovered a place that was fast-changing, it was embracing its diversities and its values," she said. "I had a conversation with someone in Davis Square in front of what today is the CVS…about diversity, and I never had experienced that — someone was talking about how communities can embrace it, and I'd never had that kind of conversation with someone, and it sticks with me today."
2. She has decades of experience in business, advocacy, and volunteering
Ballantyne worked in business, startups, and international supply chain management before moving into the nonprofit world to do more mission-driven work. She began getting actively involved in Somerville in 1999 when she attended a community meeting on Assembly Row development. She started participating in advocacy for the Green Line Extension in 2002, and served on the board of the Somerville Community Corporation, a nonprofit developer, for a decade.
After she paid off her college loans, Ballantyne used the flexibility to work for an affordable housing developer in Jamaica Plain on workforce development, mainly connecting women to local jobs. She ran for office in 2015, wanting to have more strategic discussions on affordability, and has served the city since, including two years as council president.
"My entire adult career I've worked to help residents in our most vulnerable community, primarily women of color, find jobs and job training, career ladders, living wages," she said. "My professional experience has taught me to value inclusive leadership — why? Because you get better results. You get buy-in, you get shared purpose, you get enthusiasm. I want to draw from all of these experiences. I know we can be even better, a stronger community, through inclusion, collaboration, and genuinely caring about our neighbors."
3. She has a demonstrated — and multifaceted — approach to affordability
Ballantyne wants to keep building on the work the city is already doing on affordability when it comes to housing, jobs, transit, education, and food insecurity. Among other things, that looks like creating local jobs, funding universal pre-K and afterschool programs, and coordinating small business stimulus.
"When I ask my neighbors in [public housing], they have struggled to move unless they know their kids are safe," she said. "Why do I say that? Because 92% of households at North Street are women-led households, 87% women of color, and at the Mystic it's 75% women-led households, 72% women of color. Being able to give them a place where they know their kids can be safe from the morning to the evening, so they know they can possibly start to expand their English proficiency or take some classes, that's the reason I'm talking about universal pre-K and afterschool enrichment."
Ballantyne repeatedly emphasized that she's committed to using every municipal tool available to prioritize affordability, and after that to look at the external options at the state or federal level. Somerville has already done a lot at the local level, establishing an affordable housing zoning overlay and requiring 20% of a new residential development to be affordable housing.
"My feeling is if you really want to have sustainable change or impact, the hardest problems are not usually one fix, it's layered," she said.
As mayor, Ballantyne said, she has to be able to zoom in and out, looking at the issues from a local and regional perspective. She pointed out that 85% of Somerville's working residents commute to Boston or Cambridge to work, with eight out of ten cars on Somerville streets passing through the city, using the roads, but not contributing to the economy.
"We are the dormitory to Boston and Cambridge, because over the last decade they've added over 100,000 new jobs but they haven't built the housing to sustain it, so the pressure goes out," she said. "There's more traffic coming from the suburbs… all this traffic is trying to cut through. We need to make it safe for the people who live here to move around. Why should we be making Somerville easier for people just to pass through?"
Somerville may have a lot of work to do, but at the end of the day Ballantyne believes she's the right woman for the job.
"I'm optimistic about Somerville and our future," she said. "I know from experience that in Somerville we can continue moving forward as long as we work together, we can build a city where we all thrive."
Newsletter Signup
Stay up to date on all the latest news from Boston.com