Politics
Three steps and Michelle Wu's journey to bring City Hall to the people
"Our charge is to see every person and listen, to meet people where they are, to give hope and deliver on it."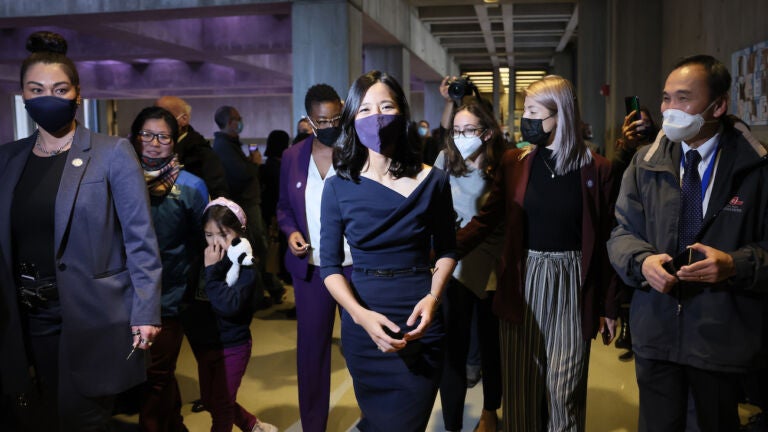 Three steps.
For the barriers Boston's newest Mayor Michelle Wu has faced — and crossed — to become the first person of color and first woman elected as the city's top official, these three steps were a threshold she could not forget.
Delivering her first speech as mayor before a packed City Council chamber on Tuesday, Wu did not speak of the hurdles she bridged personally nor of the glass ceiling shattered by her election.
No, she spoke about the floor.
More specifically: The floor of the City Council chamber, where Wu stretched her political muscles over the past seven years, and tactfully transitioned from an outsider to a progressive force all her own.
On her first day there, the chamber, she explained, had a dropped floor with three steps down in the center.
The feature, some of the architectural flair embedded in the building's simultaneously loved and hated brutalist design (Wu's feelings are in the former), was striking, she admitted.
But for others, those three steps presented a perhaps difficult if not insurmountable problem.
Residents in wheelchairs and those with mobility challenges were three steps further away — blocked, essentially — from testifying on the chamber floor, of holding accountable their government in their house.
What happened next?
Literal structural change.
"We changed this space, reshaped it to be accessible to everyone and brought the floor up three steps," Wu said, recalling the renovations completed in 2018, when she was then the council president. "When we make City Hall more accessible, we are all raised up."
Therein lies the vision Wu has dreamed of for this city and has lived out.
Just as she did for voters on the campaign trail, the 36-year-old Roslindale resident re-committed herself on Tuesday afternoon to a charge she set for Boston these next four years: To conquer the big and the small. Together. Simultaneously.
"Every streetlight, every pothole, every park, every classroom lays the foundation for greater change," Wu said. "Not only is it possible for Boston to deliver basic city services and generational change, it is absolutely necessary in this moment. We'll tackle our biggest challenges by getting the small things right — by getting City Hall out of City Hall into our neighborhoods, block by block, street by street.
"After all, Boston was founded on a revolutionary promise that things don't have to be as they always were," she added.
Wu would know.
The daughter of Taiwanese immigrants, she often says she never envisioned a life in politics.
"The first time I set foot in Boston City Hall, I felt invisible, swallowed up by the maze of echoing concrete hallways, intimidated by the checkpoints and looming government counters, reminded of why my immigrant family tried to stay away from spaces like this," Wu said.
As a recent college graduate in her native Chicago, Wu struggled to get through the meandering bureaucratic processes necessary for opening a cafe for her family.
When she ended up back in Boston to attend Harvard Law School, it's that experience of her own personal struggle that drove her into an internship at City Hall in late Mayor Tom Menino's administration.
There, she completed her first achievement in public service: Developing a kit for Boston's restaurant and small business owners to follow in their permitting processes with the city.
She built on that experience on the City Council where, on that chamber floor, Wu developed her understanding of the city's politics, delivered policies such as paid parental leave for city employees, and even nursed her own children.
These days, Wu knows the hallways of City Hall like her own home, she said.
"The first time I set foot in city hall I felt invisible. But today I see what's possible in this building," she said.
And for Wu, nearly anything seems possible.
But her bold plans — from bringing back rent control to reforming Boston's Planning and Development Agency and a fare-free T — have earned her critics, doubtful of what she can actually accomplish from the corner office.
And the problems facing Boston may have never hit closer to home for some than they do right now.
The COVID-19 pandemic has left nearly 1,500 people dead across the city and unfolded economic hardship that is still sputtering and driving other problems, like rising inflation. Communities of color have been hit particularly hard by the health crisis.
Also ever-growing is the region's housing costs, threatening to displace those who can't keep pace.
In the area known as Mass. and Cass, Boston faces a continuing humanitarian and health crisis surrounding substance use disorder that's only grown more tense in recent weeks as Wu's predecessor, Acting Mayor Kim Janey, brought the city's response in a new direction. (Janey's administration has controversially begun removing homeless encampments in the area.)
How will Wu raise the floor this time?
Not alone, of course.
"Our charge is to see every person and listen, to meet people where they are, to give hope and deliver on it," Wu said.
"We need everyone to join us in the work of doing the big and the small, getting City Hall out of City Hall into our neighborhoods and embracing the possibility of the city," she added later. "The reason to make a Boston for everyone is because we need everyone for Boston right now."
And judging by the crowd scattered throughout City Hall for Wu's swearing-in ceremony on Tuesday, it would seem they are all ready.
As Wu's words echoed through those concrete hallways, a mosaic of humanity listened in moments of silence and applause: The city's people sat together, unfurled across walls, in rows of seats, and yes, on the many steps that still remain in City Hall.
Newsletter Signup
Stay up to date on all the latest news from Boston.com