Politics
Mayor Michelle Wu appoints Segun Idowu as chief of the renamed economic opportunity department
Meet the man who wants to make Boston the home of "the next Black Wall Street."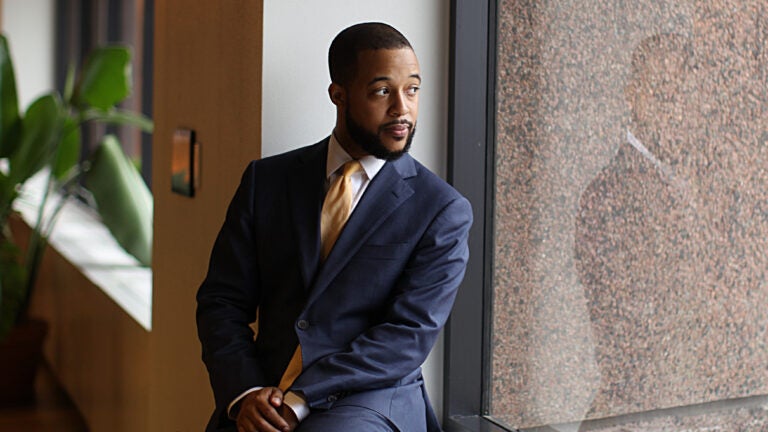 Boston's Department of Economic Development is getting a new leader — and a new name.
Mayor Michelle Wu is appointing Segun Idowu, the president of the Black Economic Council of Massachusetts, to be her administration's chief of economic opportunity and inclusion — a new take on the position formerly known as chief of economic development.
Idowu broke the news Thursday night during BECMA's annual meeting, saying he would step down on Dec. 31 as president of the group, which was founded in 2015 to address the racial wealth gap, and begin work for the new mayor on Jan. 3.
"We will continue our work, expand our agenda, and make some change to the economy," Idowu said to exuberant cheers in the room.
Wu retweeted a video of the speech: "New cabinet chief just dropped."
In a follow up tweet Friday morning, Wu said she was "thrilled" to welcome Idowu to the team.
"I've fought alongside him for equitable city contracting for years," she wrote.
The grandson of a prominent local civil rights activist, the 33-year-old Hyde Park resident and former State House candidate was profiled by The Boston Globe last year amid the reenergized racial justice movement in the wake of George Floyd's murder for his focus on economic empowerment.
"I've always said I want to see the next Black Wall Street in Boston," he said.
Wu's office also announced Friday that Midori Morikawa, the current interim economic development chief, would continue to serve in the role through the end of the year and then transition into a new city role supporting neighborhood economic growth when Idowu takes over.
During an appearance Friday morning on the Globe's Black News Hour, Idowu indicated that the appointment happened "pretty suddenly," but said he was "really excited" to begin work. He said the role is "focused on making Boston a more equitable place to live and play and visit and making sure that we are building wealth for all of the people that live here."
"I'm looking forward to that because that was our work at BECMA," he said.
A spokeswoman for the Wu administration confirmed that the Department of Economic Development would also be renamed as the "Department of Economic Opportunity and Inclusion."
Idowu had been part of a group that sued former mayor Marty Walsh's administration this past February, after a city study found that Black- and Latino-owned businesses received just 1.2 percent of its nearly $2.2 billion in public contracting dollars from 2014 to 2019.
Walsh subsequently signed an executive order setting a goal of using minority- and woman-owned businesses for at least 25 percent of the city's contracts, including 10 percent for minority-owned businesses. However, BECMA has said that goal should ultimately be 40 percent, including 15 percent for Black-owned businesses.
Idowu refrained from getting into his specific plans under Wu on Friday. Despite his criticisms, he did say Boston was "one of the best at getting money to our folks, especially last year," through a community development grant program he credited for being "straight forward."
"So what is the city going to do?" Idowu said. "It's going to keep making sure that not only is the city getting money to people, but then making sure that our private sector friends are putting money in the pot to help our folks out, working with the state government to get that money where it needs to go, and then, with these federal dollars as well, making sure that we're supporting our businesses in that way."
Newsletter Signup
Stay up to date on all the latest news from Boston.com