Politics
Bill Galvin slams new Massachusetts state legislative districts as 'incumbent protection'
"A lot of communities are being splintered."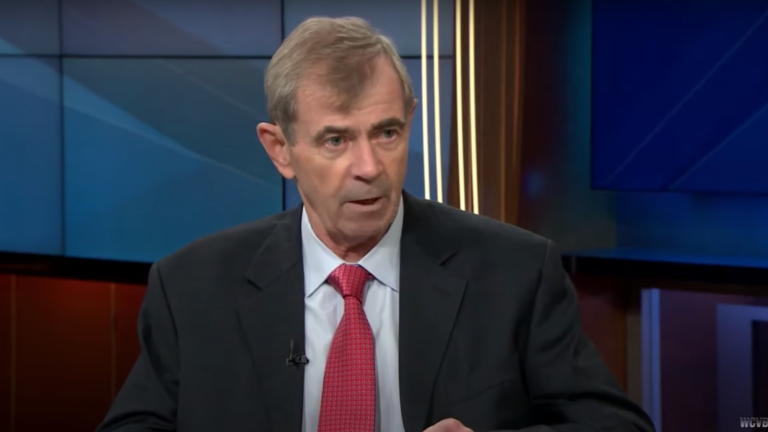 Massachusetts Secretary of State Bill Galvin says he thinks the State House's recently passed U.S. congressional district map is "defensible."
But he feels the opposite about the new state legislative district maps.
During an appearance Sunday on WCVB's On The Record, Galvin took aim at fellow Democrats in the Legislature for forming — and almost unanimously approving — new district maps for state representatives and state senators that he said "shattered" precincts and were motivated by "incumbent protection."
"A lot of communities are being splintered," Galvin said. "And it's not simply about the inconvenience to election administrators; it's about voters. Elections should be about voters."
Asked what he though the motive was for the new districts, Galvin said bluntly: "Incumbent protection."
"They had a right to take precincts," he said. "It's not new; communities merge up with other communities. But when you splinter precincts so that nobody has a concentrated area in the neighborhood, that's what's wrong."
At the heart of Galvin's criticism is what's known as "subprecincts," in which the larger House and Senate boundaries cut through local precincts, the smallest geographical electoral unit. That means that neighbors in the same district could have different state representatives or state senators.
According to the State House News Service, the new maps could result in "hundreds" of new subprecincts across Massachusetts, up from just 12 today. And some would be split up in more than one way.
"In Cambridge, there's a precinct that would have … three different state reps, two different state senators, and two different members of Congress," Galvin said on WCVB. "How can anyone make any sense out of that?"
It's not a new concern.
After the once-a-decade release of U.S. Census data was delayed due to the COVID-19 pandemic, the State House passed a law in September to change the redistricting process to allow them to redraw legislative districts before local communities finalized their precinct boundary lines (traditionally, that order is reversed).
However, since June, Galvin has accused legislative leaders of proposing the changes in their own self-interest. He's been particularly critical of state Rep. Michael Moran, a fellow Brighton resident, who is the House chair of the Legislature's redistricting committee.
"The Senate was a little more reasonable," Galvin said Sunday. "They did adopt some [suggested] changes. Not in the House. We had very little cooperation with the House."
After the House and Senate signed off on the maps last month, Galvin sent a memo to Baker's office saying the new districts would make "election administration nearly impossible in some instances." After Baker signed the maps into law, Galvin released a statement saying he was "extremely disappointed" and that the new maps "will inevitably lead to chaos at the polls."
Moran has defended the maps, which will increase the number of House districts that have majority-minority populations from 20 to a record high of 33.
In August, he told the News Service that Galvin's criticism "shows me how little the secretary's office is paying attention to things like maximizing minority representation in the map-making process."
Galvin said Sunday that argument is a "distraction," arguing that newly created districts in cities like Chelsea or Lawrence emerged from population growth or vacancies.
"The idea that Lawrence is getting a seat because of the magnificence of the Legislature is ridiculous," Galvin said.
"The real story, especially on the House side of redistricting, is they shattered precincts," he went on. "They took precincts — neighborhoods — and divided them."
Galvin said the districts also "cannibalize" some communities, such as Brookline, a 63,000-person town that is split into four House districts but has just one state representative who's actually a resident. Framingham, a city of 72,000, is similarly split into four districts, while 118,000-person Cambridge is divided into six.
According to Galvin's office the subprecincts also create irregularities, such as forcing Cambridge officials to create a unique ballot for a small area along southwest of Beacon Street with only 60 people in it.
Moran and his fellow redistricting committee cochair, state Sen. Will Brownsberger, have noted that the changed process does give cities and towns until Dec. 15 to tweak their precincts in order to fit the new legislative maps.
However, that simply won't work in some areas, according to Galvin's office.
"The splits are so small or non-contiguous that you can't make a precinct out of them," Deb O'Malley, a spokeswoman for the secretary, said in an email Monday.
Because of the wards and precints are required to be compact, contiguous, and of roughly equal population size, O'Malley said some subprecincts just cannot be absorbed into areas in the city surrounding them.
"Clerks and other local officials are certainly examining their options right now, but in some cases, those options are extremely limited," O'Malley said. "In some of these cases, splits are caused by the district encompassing much of the one city and having only a small piece over the border of another one. You can't make an entire precinct out of that small piece, so you end up with a tiny subprecinct within a larger precinct. That means different ballots for people in the same polling place and potential confusion for voters and poll workers alike."
Galvin said Sunday that his office will try to educate voters in the communities with subprecincts, but reiterated the plans should have been prevented in the first place.
"It's so obvious democracy is under attack, not only throughout the world, but in our own country," he said. "And it'd be very easy for us to sit back and say, 'Oh, it's all those bad people in Texas, or it's all those bad people everywhere else.' But when you engage in gerrymandering — and I must say it's the Democrats; Democrats are doing the same thing this time — you're not helping anybody and you're certainly not helping voters."
All that said, Galvin added he does "have confidence in voters."
"One thing I know about voters, they see through a lot of things," he said.
Newsletter Signup
Stay up to date on all the latest news from Boston.com