Politics
What if Charlie Baker ran as an independent? A new poll suggests it's his 'most viable path.'
Facing a potentially difficult primary, the incumbent Republican governor has a complex decision to make.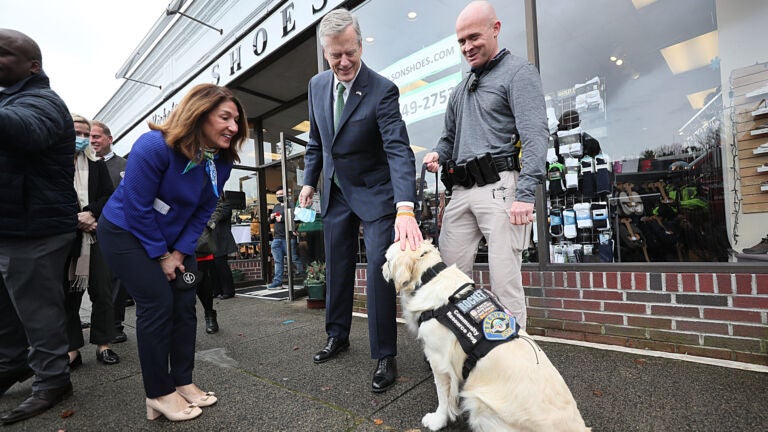 Gov. Charlie Baker says he still hasn't decided if he'll run for a third term as Massachusetts governor. He also says he's "very comfortable" in the Republican Party, even as many of its leaders and base remain loyal to former president Donald Trump.
But, what if, the moderate Republican incumbent — facing a potentially difficult primary against Trump loyalist and former state representative Geoff Diehl — ran for re-election with an (I) next to his name instead?
A new poll suggests it might be his best shot.
In a hypothetical 2022 general election matchup against Attorney General Maura Healey as the Democratic nominee and Diehl as the Republican nominee, Baker still leads the field as an independent candidate with 32 percent support, according to the poll conducted last week by Northwind Strategies, a Boston-based Democratic-leaning political consulting group.
According to the poll, Healey got 26 percent and Diehl got 21 percent.
There are a few big caveats: For one, polls this far out from Election Day are not especially predictive. Also, like Baker, Healey says she's still deciding whether she'll run for governor, and she would also face a competitive primary against three declared candidates: Ben Downing, Danielle Allen, and state Sen. Sonia Chang-Diaz.
"Given all the data, the most viable path to victory for [Baker] may be running as an Independent in 2022," Doug Rubin, a founding partner at Northwind Strategies, tweeted Tuesday morning.
There's two big data points to which Rubin is referring.
First, is the accumulating evidence that Baker is "deeply underwater," as Rubin puts it, with Republican voters in Massachusetts.
While he remains one of the most popular governors in the country, boosted by a high approval rating among Democrats, Baker is viewed favorably by just 23 percent of Republican general election voters and unfavorably by 68 percent, according to the poll Tuesday.
A poll released last week by UMass somewhat similarly found Baker with a 41 percent approval rating among Republican voters, compared to 49 percent who said he had fallen short of their expectations. The poll also found that 48 percent of Republican voters in Massachusetts perceive Baker as an ideological liberal, rather than as a moderate or conservative.
And a poll released last month found Diehl with a 50 percent-to-29 percent lead over Baker in a Republican primary. That poll, conducted by Public Policy Polling on the behalf of the Democratic Governor's Association, also found that 54 percent of Republican primary voters had an unfavorable opinion of Baker, compared to 30 percent who viewed him favorably.
A potentially difficult Republican primary isn't the only problem.
The new poll Tuesday also forecast a potentially tight general election race in a one-on-one matchup against Healey.
"Baker starts with a lead against Dems with statewide name recognition but is well under 50% – which is usually bad news for an incumbent Governor," Rubin tweeted Tuesday.
Following the poll's release, MassInc pollster Steve Kozcela tweeted that it's "getting very hard" to see Baker running again as a Republican. He also noted that it's unlikely his team's internal polling is showing anything different.
Of course, there are pros and cons to running as an independent.
Without the Republican label, Baker gets just 19 percent of Republicans and Republican-leaning voters, while 67 percent back Diehl, according to the Northwinds poll (in comparison, Baker received 50 percent support from GOP voters when matched up solely against Healey).
"Baker basically loses almost all Republican votes as an independent," Rubin told Boston.com over the phone Tuesday afternoon.
At the same time, Rubin says Baker picks up significantly more support from Democrats and unaffiliated voters when running as an independent — enough to win over key groups, including women, Latino, and college-educated voters.
"When Baker runs as an independent in a three-way race, he flips all of those groups, so that he wins those groups," rather than Healey, Rubin said.
Still, it would be a major switch for Baker, who has identified as a Republican since college. Despite his clashes with the state Republican Party's conservative leaders, he told GBH in June that he thinks it's "really important" for Massachusetts to have two healthy political parties.
"I don't think the way to solve the problems that you point to in the Republican Party is to run away from it," Baker told GBH at the time, advocating for his increasingly out-of-style brand as a "New England Republican."
Despite many reporters' best efforts, Baker has repeatedly declined this year to say if he's decided to run for re-election in 2022. If he choose not to run at all, pollsters generally agree it would spell doom for the Republican nominee in Massachusetts, whether it be Diehl or Lt. Gov. Karyn Polito.
"Healey smokes her," Rubin said of his firm's polling of a Healey-Polito matchup.
The recent UMass poll suggests Polito would face a tough race against any of the three lesser-known Democratic candidates as well.
Baker was pressed again by GBH host Jim Braude on whether he'd run for a third term during his most recent monthly appearance on the radio show in October. The governor again declined to say, only promising a decision "soon."
"It's a very complicated issue, Jim," Baker responded, "for all kinds of reasons."
Newsletter Signup
Stay up to date on all the latest news from Boston.com