Politics
Charlie Baker indicates he won't run for re-election as an independent
"I believe in my brand of Republicanism."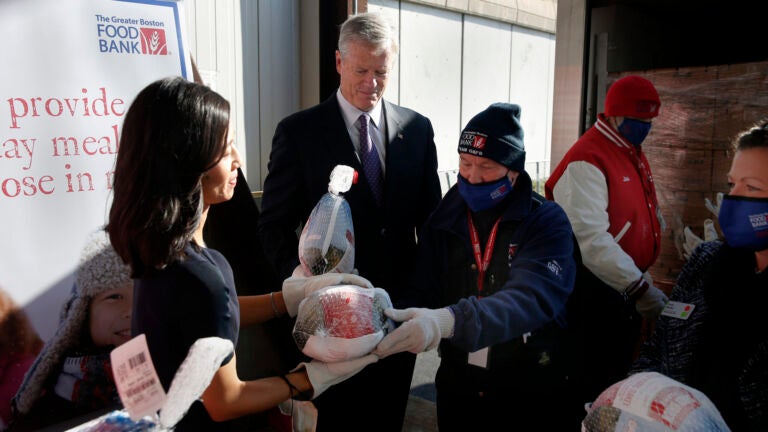 It's still unclear if Gov. Charlie Baker plans to run for a third term. But if he does, the moderate Republican says it won't be as an independent candidate.
After a poll last week suggested that the popular Massachusetts governor might have a clearer shot at re-election as an independent, Baker said on GBH radio that it's a "reasonable assumption to make" he'll run as a Republican, if at all.
"I've been a Republican for most of my — well, almost all of my adult life, and I believe in my brand of Republicanism," Baker said Monday, after "Boston Public Radio" host Jim Braude asked if he would consider running as an independent.
Baker, who said Monday that he's "pretty close" to deciding whether he'll seek re-election, faces a potentially difficult Republican primary against Geoff Diehl, a former state representative who's been endorsed by Donald Trump.
As a socially moderate if temperamentally conservative technocrat, Baker has increasingly clashed with the Trump-adoring factions that have increased their power over the Republican Party, especially over COVID-19 pandemic rules and restrictions. And multiple polls show Baker to be "deeply underwater" with Republican voters, despite his relatively high approval rating among independents and Democrats.
Additionally, last week, a poll commissioned by the Democratic-leaning political consulting group Northwind Strategies suggested that Baker may have a better shot of winning the general election in a three-way race with Diehl and Massachusetts Attorney General Maura Healey, compared to his odds in a one-on-one race against Healey, who's also considering a run for governor.
However, Baker said Monday that he's "never run for anything based on whether or not I thought I could win — period."
"When I ran for the Select Board in Swampscott, I had all my friends telling me, 'Oh, don't run for the Select Board; if you lose, then you'll never be able to run for governor,'" he told GBH. "I was like, I really wanted to do it, so I ran, and thankfully, I won. And when I got into the race in 2010, Governor [Deval] Patrick and Treasurer [Tim] Cahill were both already in the race. And I had all kinds of people saying to me, 'Don't do that. You're running against two statewide office holders, name ID, blah, blah, blah.' And I did it, and I lost. And then in 2014, I had all kinds of people telling me, 'You're a loser. Why would you bother to run and lose again?' … But I felt I had something to say and something to offer, and I ran, and, you know, we won by about 40,000 votes."
Baker continued: "I don't sit around and say to myself, you know, 'Can I win or not?'"
Rather, he said the question was whether he has "the desire and the agenda that I believe would be in the state's best interest" as well as the "energy and the commitment to follow through and deliver on it."
Later in the interview, Baker, who turned 65 on Nov. 13, added that he plans to continue working late into life — corner office or not.
"I've always said that I'm one of these people who's gonna want to be purposeful and productive as long as I can be purposeful and productive," he said. "I don't have any hobbies. … I read books. That's probably the only hobby I have. I don't golf. I don't boat. I don't do any of that. I don't fish. I don't do any of that stuff. So — and my wife would lose her mind if I didn't have something useful to do. So I have a feeling I'm going to be hopefully working for a while."
Newsletter Signup
Stay up to date on all the latest news from Boston.com