Boston Public Schools
Mayor Michelle Wu is keeping Kim Janey's two temporary Boston School Committee appointees
"Lorena Lopera and Rafaela Polanco García have served with dedication and urgency to ensure Boston Public Schools is connected to each one of our families."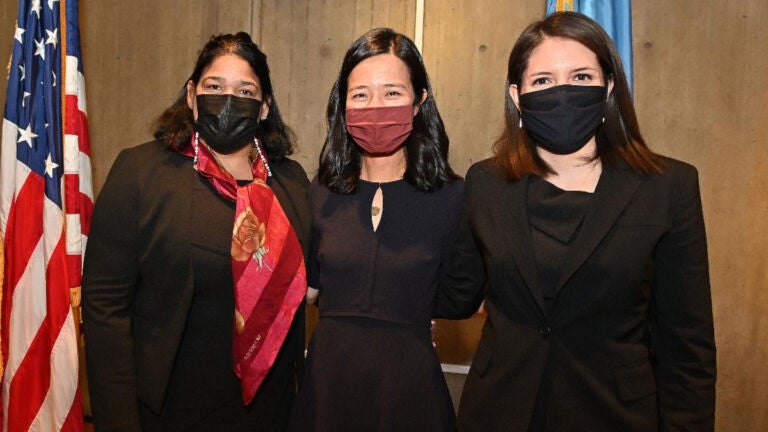 Lorena Lopera and Rafaela Polanco García will get two more years on the Boston School Committee.
Mayor Michelle Wu announced Tuesday morning that she is reappointing Lopera and Polanco García to the School Committee, extending the two temporary appointees' terms until Jan. 1, 2024.
"Lorena Lopera and Rafaela Polanco García have served with dedication and urgency to ensure Boston Public Schools is connected to each one of our families," Wu said in a statement. "I am excited and grateful to reappoint these passionate community leaders who have consistently advocated for equity, inclusion, and accessibility in our school system."
Lopera and Polanco García, both mothers of BPS students, were appointed by former acting mayor Kim Janey in July to fill "a void of Latina leadership" on the School Committee, after the only two previous women of Hispanic descent on the body resigned over controversial texts. However, as acting mayor, Janey could only appoint them to serve as long as she was in the mayor's office.
During the mayoral campaign, Wu had pledged to also fill the seats with two Latina members. Her announcement Tuesday shows she felt Janey's picks were the right people for the job.
Latino activists have pressed for more representation on the seven-member committee; while roughly a fifth of Boston's population is Latino, the disproportionately young group makes up 42 percent of the BPS student population.
After taking office, Wu said she's hoping to make the School Committee more accessible.
She specifically mentioned "more community listening sessions out in the neighborhoods" to complement the School Committee's bimonthly meeting schedule, as well as "multilingual outreach to be part of every phase of decision making."
Lopera immigrated to the United States from Colombia at the age of 4 and is a veteran education activist, currently serving as the executive director of Latinos for Education, New England, a group dedicated to creating leadership pathways for Latinos in education.
"I look forward to working with families, educators and community members so that our school system is more equitable, responsive, and provides quality support for all of our children," she said Thursday.
Polanco García, a fellow education activist, moved to Boston from the Dominican Republic in 2015 and now lives in public housing in South Boston. According to Wu's office, she has a background in law and bilingual advocacy. Polanco García was also the first School Committee member to speak Spanish as her primary language.
"I am very excited about the opportunity to continue representing immigrants and English language learners," she said Thursday.
Boston School Committee Chair Jeri Robinson said Thursday that both have "added great depth to our conversations as a Committee."
"I look forward to their continued engagement as we advance important policy issues with a deepened focus on family and community engagement where both Ms. Lopera and Ms. Polanco García have earned reputations for excellence in their fields," Robinson said.
Wu will also soon have to decide on two additional appointments to the School Committee, whose members serve staggered, four-year terms.
Her office recently extended the deadline to apply for the seats currently held by Ernani DeAraujo and Dr. Hardin Coleman — whose terms expire at the end of December — until this Wednesday at noon. According to her office, candidates will be interviewed over the next two weeks.
Newsletter Signup
Stay up to date on all the latest news from Boston.com