Politics
Maura Healey to announce her future plans 'soon,' after Baker opts not to run for re-election
The Massachusetts attorney general says she'll reveal whether she'll run for governor at some point — just not today.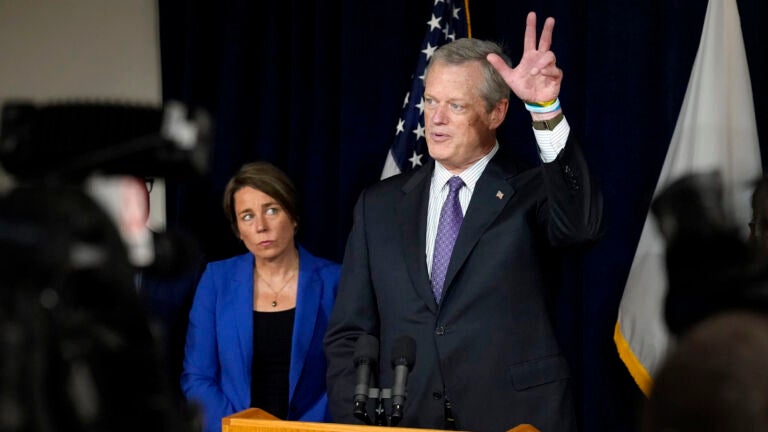 Following the news that Gov. Charlie Baker will not run for re-election next year, Massachusetts Attorney General says she'll make an announcement about her future plans "soon."
During an appearance Wednesday on Bloomberg TV, Healey declined to say if she'll run for governor, saying she'd save the topic "for another day" and instead praising the moderate Republican governor for being a "great partner."
"I really appreciate the tremendous service that Governor Charlie Baker has offered and will continue to offer to the commonwealth of Massachusetts," she said.
Polling has suggested that the Democratic attorney general, who has repeatedly said she's considering a run for governor, would begin as a favorite in the race, in part due to her statewide name recognition. But she offered no specific timeline on when she would decide.
"Soon," Healey told Bloomberg. "But really today is about acknowledging and appreciating the service of Governor Baker. These jobs are not easy, particularly in these challenging times. As we see across the country, some of the divisiveness, some of the rancor, so important that we have people in office who understand how to get things done in common spirit and common effort on behalf of the people of our states, of our country."
Healey's praise for Baker's bipartisan work stood apart from the reactions Wednesday from some of the Democrats already running for Massachusetts governor, who criticized Baker for not pursuing more structural solutions to the state's most pressing problems.
"When I announced my candidacy in February of 2021, I did so not to run against Charlie Baker or any other candidate — but because I was tired of watching Beacon Hill refuse to act with urgency on the biggest challenges of our time," Ben Downing, a former state senator and the first Democrat to enter the race, said in a statement Wednesday, adding that Baker's decision provided an opportunity to "upend the culture of complacency on Beacon Hill."
State Sen. Sonia Chang-Diaz, a fellow Democratic candidate, similarly called for a "new chapter."
"For far too long, people in power have asked working families to wait for change — despite a growing affordable housing crisis, inaccessible and expensive child and health care, the existential threat of climate change, and long-standing racial injustice," she said.
Harvard professor Danielle Allen, who was the first Democrat to publicly consider a run, thanked Baker for his service Wednesday, adding that his announcement "means status quo is not an option."
"This is both a challenge and an opportunity," Allen said.
Downing and Chang-Diaz have campaigned on plans to dedicate more state funding to expand affordable (and in some cases free) child care, higher education, and public transportation. Allen also pledged Wednesday to "insure progress on the basic building blocks of a green and healthy democracy, and a healthy life: Housing, transportation, schools, good jobs, and justice."
On the other end of the political spectrum, Republican candidate Geoff Diehl also rallied against the "status quo." Though he said he would put more emphasis on "individual freedom and initiative," Diehl thanked Baker and Lt. Gov. Karyn Polito for their two terms in office.
"While I have often differed on policy with this administration, I have always liked Charlie Baker and Karyn Polito personally and I wish them the best in their future endeavors," he said in a statement Wednesday.
The former Senate candidate also noted that he has been endorsed by former president Donald Trump, a fact that may be advantageous in the Republican primary but is unlikely to help in a general election in Massachusetts, where Trump failed to get more than a third of the vote in the 2016 and 2020 elections.
"My campaign is providing Bay Staters with a hopeful choice for fresh leadership and a bold new direction for our state," Diehl said.
Newsletter Signup
Stay up to date on all the latest news from Boston.com