Politics
City Council passes Mayor Wu's $8 million vision for 3, fare-free MBTA bus lines
Councilor Frank Baker was the sole opposition vote.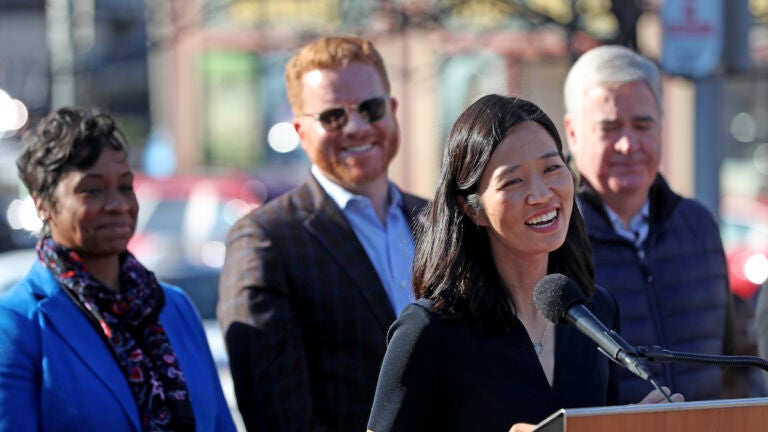 The Boston City Council on Wednesday backed Mayor Michelle Wu's plan for making three MBTA bus routes fare free for at least two years — a move officials say will serve communities hardest hit by the wide-ranging effects of the COVID-19 pandemic.
The council voted 12-1 to use $8 million in federal pandemic relief funds to cover the expense of the program, which will extend the ongoing pilot initiative for the 28 bus — launched in August — and add the 23 bus and the 29 bus.
The routes serve Mattapan, Dorchester, and Roxbury — all areas where longstanding issues were disproportionately exacerbated by the health crisis and its economic fallout. Wu's administration said it's working with the MBTA to begin the program by the start of the new year.
"We're a city that's rich with opportunity," said Councilor Michael Flaherty, chairman of the council's Committee on COVID-19 Recovery. "We've got the best colleges and universities in the world. We've got the best hospitals and network of community health centers. We've got financial services, life sciences — CEOs talking about moving their companies to Boston every single day. The problem we have is connecting folks to those valuable resources."
Councilor Frank Baker was the sole opposition vote. Baker raised concerns that the initiative would face economic hurdles after the two-year period.
"I personally don't think I'm going to be here for that vote," Baker said. "But we have to really think about, do we want to pay $12 million for three, free lines or do we want to lay people off? Because when we go into city budgets with that much money, that's a liability that we have no idea how we're going to pay it.
"With that being said, I plan on voting no today so in case anybody on Twitter wants to start attacking me, let's get it going," he added. "But this needs to be taken for real here."
The funding for the program comes from the $558 million the city received from the American Rescue Plan Act. A spokesperson for Wu said last month the city still had over $360 million available and that federal guidelines allow for the money to be spent for the bus program.
The Wu administration has boasted the three bus lines serve diverse areas of the city, including along Blue Hill Avenue, noted by the Livable Streets Alliance as one of Boston's streets most in need of upgrades to help bolster reliability and ridership.
The pilot will also give the city time to further analyze the benefits of fare-free public transit service, including faster buses, increased ridership, less traffic, and more potential for business development along the routes, Wu's team has said.
Officials have already reported a boost in ridership on the 28 bus route since it went fare-free in August.
"This is something that we should be exploring," Councilor Matt O'Malley said. "You are seeing more and more cities doing this."
According to Flaherty, Wu's administration also informed officials at a recent public hearing the funds will help develop a long-term cost analysis and the city will consider sustainable funding sources such as potential partners and other subsidies, like the proposed federal Build Back Better Act and President Joe Biden's infrastructure package.
Several councilors last month moved to immediately pass Wu's proposal hours after she filed her appropriations order, but Councilor Andrea Campbell blocked a vote that day because residents should have an opportunity to weigh in on the subject at a public hearing, she said.
Campbell had repeatedly expressed her general support of the idea, but also noted that the city "overpaid" for the $500,000, three-month free 28 bus pilot. Therefore, further discussion of Wu's proposal was necessary, she said at the time.
"I can't stress this enough: I was really surprised that the body was willing to pass this with a suspension (of the rules) … not only given the amount, but most importantly that we're using COVID dollars," Campbell said on Wednesday.
"I think (it's) really important that when it comes to COVID dollars in particular, that the public have an opportunity to weigh in on how those resources will be used," she added.
Campbell, whose district includes many of the bus lines, ultimately voted in favor of the plan.
Newsletter Signup
Stay up to date on all the latest news from Boston.com