Politics
Massachusetts lawmakers put a lot into the new $4 billion spending bill. Here's a breakdown.
From direct payments to below-market condos.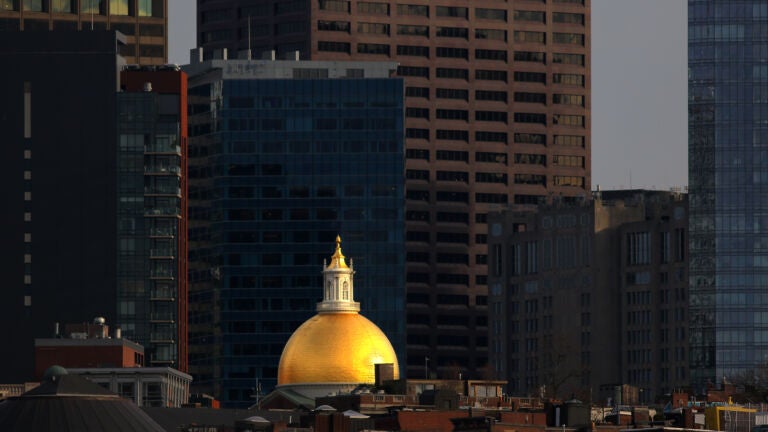 At long last, we have a deal.
After months of negotiations, Massachusetts lawmakers have finalized a compromise bill to spend $4 billion in federal COVID-19 relief and state budget surplus funds, after merging separate proposals from the House and Senate.
And at nearly a tenth the size of the state's annual budget, it's perhaps needless to say that there's a lot in it.
The 163-page bill directs massive chunks of money to everything from direct payments for certain workers to affordable housing to the health care system.
In a statement Wednesday night, House Speaker Ron Mariano and Senate President Karen Spilka said the sprawling legislation would invest "directly in our residents and our hardest hit communities and economic sectors."
The bill also earmarks millions of dollars for specific projects, such as a $75,000 "lifeline" to the Pilgrim Hall Museum in Plymouth or $50,000 for paving a specific stretch of Route 119 in Groton (only true Grotonians know what we're talking about). There's $50,000 for an Irish social club in West Roxbury, and another $50,000 so that Townsend can renovate its gazebo. The list goes on.
That said, much of the funds are allocated in multi-million dollar sums broadly aimed at communities hardest hit by the COVID-19 pandemic, meaning it will ultimately fall on state agencies to decide where the money lands.
(Scroll a bit further below for the details.)
The Legislature is currently in informal session, meaning the $4 billion legislation needs unanimous approval in both Democrat-led chambers.
Mariano and Spilka said they're aiming to get the legislation to Gov. Charlie Baker's desk "by the end of the week." And it's already well on its way; the House passed the bill with a voice vote Thursday, and the Senate plans to follow suit Friday.
The Republican governor said Monday on GBH that he was "incredibly unhappy" that the spending bill had been delayed past Thanksgiving after his administration had sought to unilaterally allocate the federal funds this past spring. However, he voiced his support for passing the bill during the informal session.
After holding several public hearings this fall, state Sen. Michael Rodrigues told CommonWealth magazine that there weren't any major controversial sticking points, but that the size of the legislation meant it took time to iron out the differences between the House and Senate versions after they were unveiled this fall.
"It's just a lot of details to comb through in a $4 billion, 120-page budget," Rodrigues said. "It wasn't like we were sitting around twiddling our thumbs. We were actively engaged. It's a lot of work."
With the legislation potentially arriving on the governor's desk Friday, here's a look at the major items it includes:
Direct payments for workers
$500 million for direct payments of between $500 and $2,000 to lower-income essential workers who worked in person during Baker's declared COVID-19 state of emergency from March 2020 and June 2021.
According to the legislation, individuals with a household income of up to 300 percent of the federal poverty level ($38,640 a year for individuals or $79,500 for a family of four) would be eligible. Further eligibility requirements would be determined by an advisory panel, though the potential groups range from health care workers to teachers to transportation workers to foster care parents.
The bill also says the panel should take into account whether individuals' jobs subjected them to increased financial burden and increased risk of exposure to COVID-19, as well as whether they already received bonuses or hazard pay.
The payments must be issued by March 31, 2022.
Unemployment insurance fund
Housing
$150 million to build supportive housing for people experiencing chronic homelessness; those with behavioral health needs or substance addiction needs; survivors of human trafficking, domestic violence, or sexual violence; foster care participants; young adults; seniors; and veterans.
$150 to improve state-aided public housing
$115 million to build below-market condos through the state's CommonWealth Builder Program for individuals making between 70 percent and 120 percent of the area media income. The developments must be a minimum of six units.
$115 million to build and preserve affordable rental housing through grants and state incentives
$65 million to fund programs that increase homeownership opportunities in communities that were hardest hit by the pandemic, such as down payment assistance programs, mortgage insurance, mortgage interest subsidies, counseling, and financial literacy programs.
Health care
$400 million to expand mental and behavioral health services, including nearly $200 million to a loan repayment program for psychiatrists, psychologists, and other health professionals; $26.6 million to recruit and retain community health center workers, $15 million for co-responder programs; $10 million to assertive community treatment programs; $7 million for a new 24/7 community health center; and smaller amounts for an array of various mental health initiatives
$300 million to expand and strengthen Medicare home and community-based services
$260 million to support "fiscally strained" hospitals in hard-hit communities
$200 million to bolster local health public boards, including around $100 million to establish a standardized and unified health data system, $70 million for technical assistance, and $30 million for training and educational opportunities for staff
$50 million for building improvements and worker retention at nursing homes
$30 million for for loan repayment, retention and recruitment programs for human service workers in Massachusetts
Business and workforce development
$135 million in grants to cultural and tourism assets — from museums to artists to local chambers of commerce — recover from the pandemic, including for facility upgrades and direct financial assistance
$107.5 million for workforce and career technical skills training, including apprenticeship programs for low-income workers and English classes for speakers of other languages. At least $25 million must go toward vocational schools that connect students with "high-demand technical and trade fields"
$100 million in grants for capital improvement projects at existing vocational high schools and public schools operating existing career and technical education programs
$75 million for small businesses negatively impacted by the pandemic, including at least $25 million for those who did not initially qualify for previous relief grants and $50 million for businesses that serve underserved markets or are owned by minorities, women, or veterans
$15 million to support the state's cybersecurity operations
$15 million for "high-demand" workforce training programs in fields like healthcare, education, manufacturing, information technology, and cybersecurity
$14 million for grants divided equally between the state's agricultural, commercial fishing, and cranberry growing industries
$10 million for regional tourism councils to develop a marketing campaign to attract out-of-state visitors
Environment
$100 million for various local environmental infrastructure projects
$100 million for water and sewer infrastructure improvements
$90 million for offshore wind and port infrastructure development, including $10 million to rehabilitate the North Jetty in Boston's Seaport to service the wind power industry.
$25 million for a tree-planting program on public and non-profit-owned land, with priority for gateway cities, environmental justice populations, and other neighborhoods "without adequate tree cover"
$15 million to invest public parks, reservations, trails, rivers, beaches, lakes, and urban open space — including a $400,000 per project grant program
$6.5 million for a pilot program to retrofit low- and middle-income housing to be more energy efficient
Education
$105 million to provide additional relief funding for public schools and colleges to mitigate the financial impacts of the pandemic
$100 million for public school districts to improve ventilation and air filtration systems
Social supports
$50 million to expand broadband and internet access in underserved communities
$50 million for MBTA transit station improvements in Norfolk County
$44.8 million to address food insecurity and expand access to local food through grants to food pantries, farms, and others in the supply chain, including $17 million for the Greater Boston Food Bank
$37.5 million for summer jobs programs for at-risk youth and other programs aimed at reducing juvenile delinquency
$25 million to match private fundraising by the state's public universities, including $15 million for the University of Massachusetts, $5 million for other state universities, and $5 million for community colleges
$24.5 million in grants to support workforce development and building upgrades to the state's Boys and Girls Clubs and YMCAs
$12.5 million for community-based gun violence prevention and intervention programs
Newsletter Signup
Stay up to date on all the latest news from Boston.com