Politics
The MBTA is scaling back service due to a worker shortage. Mayor Wu made an offer to help fix it.
"Can't have cuts to service, especially as we work to remove financial barriers on key bus routes."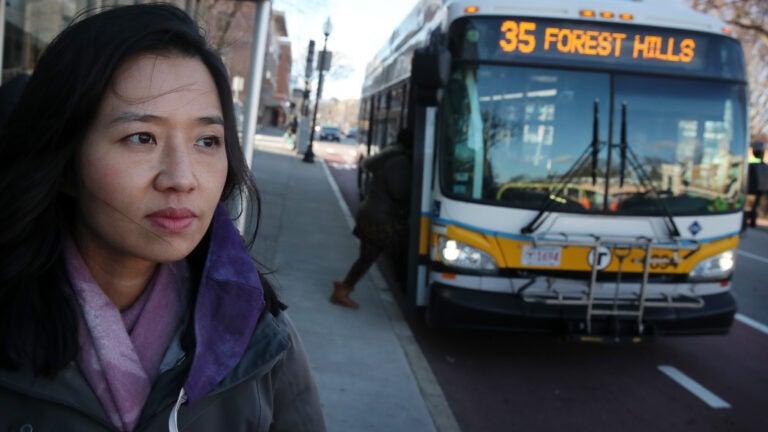 MBTA riders are slated to face another wave of service cuts as the agency combats a shortage of bus and train operators.
And one of the T's most prominent passengers wants to do what she can to help stave off the disruptions.
Mayor Michelle Wu on Thursday told a Boston.com reporter she has offered to partner with the transit agency to host job fairs aimed at beefing up staffing.
"Can't have cuts to service, especially as we work to remove financial barriers on key bus routes," Wu wrote on Twitter.
Her offer was made directly to Steve Poftak, the MBTA's general manager, who, as Wu told her followers on social media, she happened to bump into on an Orange Line train mid-commute that morning.
In an email, Joe Pesaturo, a spokesperson for the MBTA, said the agency will reach out to the city in light of the conversation between the two.
A spokesperson for Wu deferred to Wu's online comments when asked about any additional details for potential job fairs.
Wu and Poftak's seemingly chance interaction on Thursday arrived just days after the MBTA announced this week it is reducing service intervals on dozens of bus routes and the Mattapan trolley beginning on Dec. 19.
MBTA officials say the move is prompted by the fact employee attrition has moved faster than the rate of new hires, along with "other challenges."
"The T currently has about 1,560 bus operators," Pesaturo wrote in his email. "Another 300 or more are needed in order to deliver service at pre-pandemic levels."
Wu, an outspoken public transit advocate, has a particular interest in trying to ward off this round of service interruptions.
Earlier this month, the City Council approved her $8 million request to make the 23 and 29 buses free, and extend the fare-free pilot program launched in August for the 28 bus, for at least two years. Her administration has been eyeing to launch the program by the start of the new year, and both the 23 and 29 buses are slated to see some service cuts, according to a complete list from the MBTA.
On the Orange Line Thursday morning, Wu hosted an apparently impromptu Instagram Live video with Poftak. Any discussion between the two leaders on the planned service cuts was not held on camera, however.
Still, when Wu asked Poftak what he wants riders to know about the MBTA right now, Poftak said, "The MBTA is here for you. Please mask-up when you're on the T, and we'll continue to invest in the MBTA to give you more reliable, more modern service."
"We can't wait to be a partner on that, too," Wu said.
Newsletter Signup
Stay up to date on all the latest news from Boston.com