Politics
What's at stake in the state Senate election between Lydia Edwards and Anthony D'Ambrosio
The contentious battle over "experience" features two Democrats running on the argument that they'd be an independent voice — and that the other would not.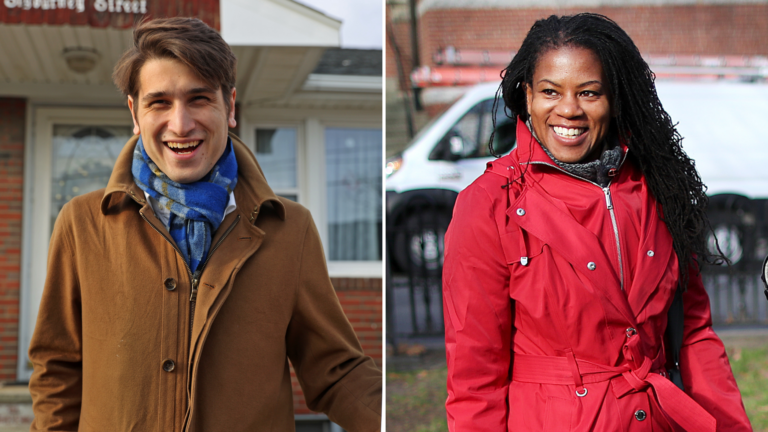 The Massachusetts Senate's First Suffolk and Middlesex District stretches from the banks of the Charles River in Cambridge through downtown Boston and East Boston up to Revere and Winthrop.
However, the increasingly prickly Democratic primary race to be the district's next state senator has garnered interest far beyond those borders.
In the wake of former state senator Joe Boncore's decision to take a biotech lobbying job, the all-but-certainly decisive special election primary Tuesday pits Boston City Councilor Lydia Edwards against Revere School Committee member Anthony D'Ambrosio, both of whom cast themselves as outsiders, albeit with insider support.
And it will decide whether Boncore's successor is a close ally of Boston Mayor Michelle Wu — or of Revere's local political class.
In that way, the low-turnout election has become a turf war, with Boston and Cambridge elected officials lining up behind Edwards, a hard-nosed progressive lawyer, while D'Ambrosio boasts support from "every corner" of Revere, including both Mayor Brian Arrigo and his political nemesis, former mayor Dan Rizzo.
That said, the 40-year-old Edwards also has the support of many of the state's top Democrats, including Sens. Elizabeth Warren and Ed Markey and Attorney General Maura Healey. In a statement last week, Warren said Edwards has been a "powerhouse for change throughout her career fighting for affordable housing, generational opportunity, and environmental justice."
If elected, Edwards would also be the only Black member of the state Senate for at least a year; D'Ambrosio, at the age of 25, would be by far the youngest.
D'Ambrosio has looked to turn Edwards's statewide support against her, casting himself as an "outsider" unbeholden to the Democratic establishment on Beacon Hill.
"I'm going to be a senator who is fierce in his criticism when work is not conducted efficiently or effectively, when resources are not allocated as they should be, like we're seeing right now," D'Ambrosio said in an interview.
The son of a well-known Revere lawyer and former School Committee member, D'Ambrosio was born in the city before moving to Boxford with his family as a child. He went on to attend three prestigious schools — Phillips Andover Academy, Yale University, and the University of Cambridge in England — before taking a job as a financial analyst and winning election to the Revere School Committee in 2019.
But Edwards argues D'Ambrosio's lack of a record is a risk that the diverse, growing Senate district can't afford to take coming out of the pandemic.
"Housing's at stake for us. Our health is at stake for us. Racial justice and equity is at stake for us," she said.
As a second-term city councilor with a heralded background in legal advocacy, Edwards argues that she's the only candidate with a record of "big policy work," from housing to workers' rights. And she says she's "battled tested" from her time representing a City Council district spanning Charlestown, East Boston, and the North End that is larger than the city of Revere.
"You don't want to put a Senate district in massive transition, with billions of dollars at stake, in the hands of someone who's never never led in massive ways, in big bold ways," Edwards said in an interview.
"Experience is the biggest policy difference," she said. "He has none."
D'Ambrosio says his two years on the School Committee during the pandemic will serve his top priority well.
"As much as city councils are important, they don't have much of a hand in the day-to-day operations or guiding of school districts right now," he said.
Coming out of the pandemic, D'Ambrosio says his focus is securing additional funding for school districts to tackle a "huge learning gap" and emotional health crisis among students that has been exacerbated over the last two years. He says the money is especially needed after lawmakers delayed extra funding for districts from the Student Opportunity Act in the midst of the pandemic.
"We need resources to absolutely enhance mental health counseling, student liaison offerings, and general social and emotional need offerings right now in our school systems," he said.
If D'Ambrosio is the schools candidate, Edwards is the housing advocate in the race.
She says her priorities would include passing the HOMES Act, a bill she authored with Boncore that would allow individuals to go to court to have past eviction records sealed. She also points to another bill that would give tenants the right to match any offers to buy the property in which they reside. Edwards also floats tax breaks for small landlords who rent their properties below market and scaling up local housing trusts, like the one she negotiated for East Boston, to provide rental relief and invest in affordable housing.
Edwards also says she would support legislation to repeal the statewide ban on rent control, which was one of Wu's defining priorities during the mayoral campaign.
"I'm happy to let cities have the creativity and autonomy that they need to figure out what the hell they need to stabilize their housing markets," she said. "Some cities don't want or need rent control, and some will need some form of it. But I don't think it's the State House's business or the suburbs' business to tell Boston what they can and can't do with their housing market."
It's a point of distinction between herself and D'Ambrosio, who says he is "not a fan" of rent control.
"It's a measure that's failed in the past historically," he said.
D'Ambrosio says he would focus on pushing for larger percentage guarantees for affordable senior housing in new developments requiring zoning relief. He says Edwards shouldn't have taken donations from members of HYM Investment Group, the real estate firm behind the massive Suffolk Downs redevelopment project, which promises to bring nearly 1,500 new affordable housing units to the district but has also prompted concerns about the displacement of low-income residents.
"The idea that a politician like Councilor Edwards, who has received significant financial support from the lead developer, can act in an impartial way to fight back against any potential transgressions made by the developer is lunacy," he said.
Edwards has argued that she won "unprecedented concessions" from the Suffolk Downs developer, including $800,000 in rental relief.
"Eight hundred families will be getting a $1,000 check," she said.
Edwards also questions how independent D'Ambrosio will be from his father, Gerry D'Ambrosio. Over the course of the campaign, she says "the kid has been all over the political spectrum depending on what he felt was going to help him win."
"We all assume his father will be the real senator," she said. "He has no separation from him. He's quote-unquote self funded, at 25, $80,000 of his quote-unquote own money. That's the biggest risk."
State records show D'Ambrosio — who has worked since 2019 as an analyst for investment groups like Choate and Raymond James — loaned his campaign $50,000 in July.
Edwards also rejects the notion that she would be beholden to anyone, arguing that she's repeatedly held her ground on issues while representing her "purple district" on the Council.
"At some point, everyone's angry at me, but I've gotten through it and I've been consistent," she said. "I don't have a big family backing me. There's a certain level of independence and autonomy that I have by virtue of it just being me. I'm not married. I'm not getting my husband or my cousins any jobs. … That's what people claim that too much of these jobs are these political jobs are about."
Edwards's potential election would also give Wu another close ally in the State House, where many of the new mayor's most ambitious plans will require approval.
In addition to repealing the rent control ban, Edwards is a vocal proponent of making more MBTA services fare-free. She also plans to push legislation — a version of her own proposed ordinance at the city level — to require employers to let workers opt in to receive an MBTA pass as a pre-tax benefit. Edwards also talks about expanding inner harbor ferry service and making it accessible with a CharlieCard, calling it "shameful" that Winthrop currently must use town money to fund their ferry.
During the Boston mayoral campaign, D'Ambrosio donated to one of Wu's opponents, Andrea Campbell, and declines to say if he would have voted for Wu if he was a Boston resident ("I'm not a Boston resident").
Still, D'Ambrosio also says he'd be a "strong partner" to anyone advocating for a "free or very cheap T" — or public transportation in general — noting that Revere and East Boston's tunnels, roads, and bridges are "incredibly overburdened" by current commuter habits.
Both candidates say they've been invigorated by the race's home stretch, even as they must convince voters in the midst of the holiday season and in the shadow of last month's municipal election to turn out again. With no Republican on the ballot, the winner of the Democratic primary is all but destined to win the general election on Jan. 11, 2022.
Speaking over the phone from his car, D'Ambrosio joked last week that he felt his hands were about to "freeze off from canvassing all day." Edwards, whose team has mobilized progressive activists and elected officials to barnstorm the district, thinks her record will ultimately carry the day, even if it means she is at odds with constituents at times.
"People may disagree with me, but they at least know what and why they disagree with me," she said.
Newsletter Signup
Stay up to date on all the latest news from Boston.com