Politics
Setting the record straight on 'Five Car Flaherty'
Boston City Councilor At-Large Michael Flaherty's (inaccurate) nickname persists. Has anything changed?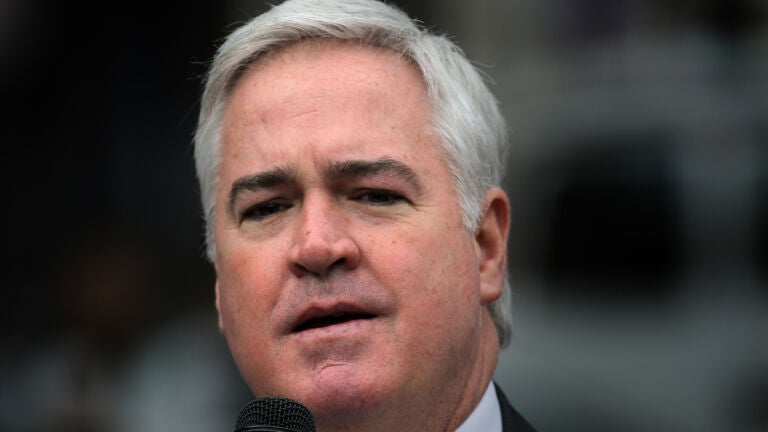 A day after Mayor Michelle Wu took office, the city's transit advocates rejoiced.
The progressive politician many of them had championed on the campaign trail earlier this year put forward a bold, $8 million plan to make three MBTA bus routes fare free, for two years.
And unlike Boston traffic, things seemed to be moving fast.
In the City Council chamber that day, Councilor At-Large Michael Flaherty was the first to stand. He pushed the council to suspend its rules and get Wu's appropriations order passed right then and there.
And he was shoulder-to-shoulder with Wu outside the Ashmont MBTA station the next morning, as the new mayor made her pitch for the plan to residents.
Wu boasted that the record should show Flaherty took the Red Line to the press conference that day.
A gleaming Flaherty held up his Charlie Ticket.
"In case there's any doubters out there…," he quipped.
Flaherty, a popular city councilor who topped the ticket this November for a fourth consecutive term, has been at odds with Boston's transit community before.
In 2019, when he stood in opposition to then-councilor Wu's proposal to charge fees for the city's resident parking permits, Flaherty lamented the policy would result in a $375 annual payment for the five vehicles at his residence.
Wu, meanwhile, had offered the current system — under which permits are free — had left the city unable to fairly manage curbside parking for residents. The fees could potentially help tune down Boston's congestion woes, she said.
Another strike against Flaherty from his critics was his argument that eliminating some bus stops could free up "hundreds" of parking spots in one neighborhood alone.
And so he earned a rather infamous nickname he's struggled to live down: Five Car Flaherty.
"It's a great example of some of the downsides of social media," the councilor told Boston.com recently.
To be clear: Flaherty nor his family owns five cars — a point Wu has made light of recently. ("She needs to get the 'Five Car Flaherty' off my back once and for all," he said at Wu's last meeting as a city councilor.)
Flaherty owns a triple-decker home, and while his family owns three cars, his tenants in the other two units own their own vehicles, hence the five in total.
"The remarks were misunderstood or misconstrued," he said. "But then obviously it took a life of its own."
The nickname gave Flaherty a reputation he says is also at odds with his voting record and own views.
Still, it was that reputation that remained in the minds of some when Flaherty became perhaps Wu's most vocal supporter for her bold bus policy, thus begging the question, did Five Car Flaherty have a change of heart?
"Nothing has changed per se because I've always supported public transit," Flaherty said.
"I've always talked about the City of Boston being a city of opportunities," he added. "You know, we've got the best colleges and universities in the world. We've got the best hospitals and network of community health centers. We've got financial services, life sciences. CEOs are coming here, bringing their companies here on a regular basis.
"What's lacking, I think — the challenge for Boston is access to that opportunity. Reliable and affordable public transit can be a great tool to empower the city's working class to ensure that they do have access to all these opportunities."
Transportation? A top priority, Flaherty says.
On the campaign trail in October, Flaherty listed transportation as a top priority for his new term; specifically, having the city make the necessary investments for upgrades so that the transit system works "for all of our neighborhoods, not just some."
For anyone surprised about Flaherty's fierce support of fare-free buses — there were at least a few folks on Twitter — the councilor says those that know him and his record have always known where he's stood, that he's always been "a staunch, longtime supporter of public transportation."
Flaherty knows the need for more pedestrian safety efforts, an issue that he said is at the forefront of nearly every community meeting he attends, he said.
And he understands the arguments for and against measures such as reducing the number of traffic lanes for automobiles for the sake of safety and equity for pedestrians and cyclists — a tenet of the city's "Complete Streets" initiative — especially because he once subscribed to the latter way of thinking.
At a candidates' forum in 2019, Flaherty told West Roxbury residents he once would have been right there with those opposing narrowing Centre Street from four to three lanes, Universal Hub reported.
Flaherty, after all, had fought city and state agencies that were envisioning a similar change in South Boston. He said at the time he had been concerned about the loss of parking spaces in a neighborhood where such spaces are practically a commodity.
But Flaherty admitted the "road diet" approach had actually paid off: There were "major, significant safety improvements" in the area, and he was able to change his opinion.
"I'm a strong supporter of the 'Complete Streets' program," Flaherty said recently. "That includes the bike lanes, bus rapid transit, wider sidewalks, creating cohesive networks that allow for multi-modes of transit to move quickly."
(For the record, Flaherty was an early supporter of the dashed proposal of bringing gondolas to the Seaport, he noted.)
For those constituents who don't always know his views, Flaherty said he's usually able to sway them.
"Once they give me an opportunity to sort of, you know, fully listen to some of the concerns or the issues that I have or the position I've taken, it changes the tune," he said.
On Election Day in November, Flaherty encountered a woman at a polling place with a pamphlet he said asserted he was trying to get rid of bus stops.
She approached him, and the two had an exchange on the issues, he said. Flaherty believes he was able to change her opinion of him, and when she returned from voting, she offered him a chance to ride her electric bike.
Flaherty, caught on video, hopped on and was clearly taken by it.
"I'm turning in my five cars for an electric bike," he joked.
Federal funds? Not just for fare-free buses.
Flaherty, who chairs the council's COVID-19 recovery committee, said Wu reached out to him about the prospect of using $8 million of the city's remaining $360 million-plus federal funds awarded under the American Rescue Plan Act.
"I felt it was important to work with Mayor Wu, particularly in her first week," he said.
"I thought it was a no brainer," he added.
So what about other transit initiatives? Are there areas where the rest of the federal cash could help out?
Flaherty thinks so, especially with the bipartisan infrastructure bill signed by President Joe Biden last month.
"I think that hopefully working with the (Wu) administration, we may see some more ideas, but one that does come to mind for me, you know, is connecting North Station and South Station and finding a way to do that," Flaherty said. "Whether that's through a gondola, whether that's through the proposal right now which is the North South Rail Link, or any other avenues to make that happen, I think that would work wonders."
On parking permit fees? 'I still have concerns.'
As for creating fees for the city's resident parking permits, Flaherty said he still has concerns.
"You know, there's a reality for some individuals and families where vehicle ownership is central to their ability to provide for their needs," he said. "I felt and still feel that we shouldn't put programs in place that penalize these households or families without providing legitimate alternatives for them. It feels almost like a regressive type of fee.
"In some neighborhoods, particularly the densely populated neighborhoods, there are more cars than spaces," he continued. "So we would actually be charging people for a space that doesn't exist, if you follow the logic."
To be clear, Wu has made no statement or indication of any intention of revisiting her permit fee proposal now that she is mayor.
It's also clear if she ever does, she'll still have opposition from Flaherty.
But the city councilor at-large also maintains this: Anyone who wants to know who he is and works to figure that out, they'll "find someone that is practical, that's reasonable, and that wants to work and come up with solutions that work for everyone," Flaherty said.
"I want to make sure that whatever we're doing, that we're being fair to everybody," he said.
Newsletter Signup
Stay up to date on all the latest news from Boston.com