Politics
Why Mayor Michelle Wu is talking to Pete Buttigieg about Boston's fare-free bus pilot
Wu wants the pilot to run for at least two years. Federal guidelines could make that a bit more complicated.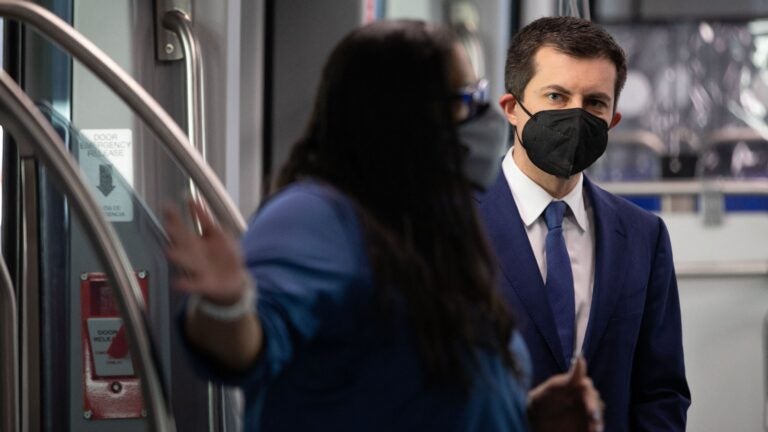 Boston Mayor Michelle Wu's plan to eliminate fares on three MBTA bus routes easily cleared the City Council earlier this month.
Now, it just needs to pass muster with Washington, D.C.
Wu's fare-free bus pilot recently encountered a road bump at the federal level, as CommonWealth magazine reported earlier this week, due to some technical rules governing such trials.
Wu's plan calls for using $8 million in federal COVID-19 relief funds to eliminate fares on the 23, 28, and 29 bus routes. And the pilot program would run a minimum of two years, which Wu says is necessary in order to allow riders and businesses time to adjust to the new free service, as well as let officials monitor other long-term impacts.
"It needs to be longer than just a few months," she said Monday. "People need time to change up their daily routines. Businesses need time to hire and staff up. Employees need time to make new decisions about where they will work.
However, the Federal Transit Administration's rules limit such pilot programs to a maximum of six months. Any longer than that, and it would be considered a permanent fare change and require a fare equity analysis to determine if the changes have a disparate impact on the basis of race, color, or national origin.
City officials aren't necessarily worried about that.
In fact, they say reducing fares on the three bus lines — which run through Dorchester, Mattapan, and Roxbury — would benefit people of color. But if they have to reinstate fares after the two-year period, the same equity analysis could find doing so would have the opposite effect.
MBTA officials first raised the issue last week.
In turn, Wu raised it with U.S. Transportation Secretary Pete Buttigieg during a scheduled trip to the White House on Tuesday.
"Guess who brought this up today at the White House?" she tweeted later that evening.
The Boston mayor told Politico that Buttigieg, a former mayor himself, asked his team at the Department of Transportation to look into the six-mont limit.
Wu's office says they will be meeting with the FTA in the near future to share details on the pilot, as well as the plans to use a federal grant to install a bus lane on Blue Hill Avenue (along which the 23, 28, and 29 bus routes all run).
They're also looking to get specific on the federal regulatory restrictions, in the hopes of partnering with the FTA and the MBTA to chart a path forward.
The city's goal is to begin fare-free service on the three bus lines in "early 2022," Wu's office said.
According to the FTA, its guidelines wouldn't prevent the MBTA from reinstating fares at the end of the two-year pilot — though the agency would have to conduct another equity analysis.
"Fare changes are common throughout the transit industry, including after pilot fare reductions," an FTA spokesperson said in an email. "At the conclusion of the 2-year pilot, if MBTA needs to reinstate a fare on these routes, it would need to conduct a fare equity analysis again following the Title VI Circular requirements, as all large recipients routinely do for any fare change."
Former state transportation secretary Jim Aloisi also argues that restoring fares back to their previous levels wouldn't necessarily fail an FTA equity analysis.
"If the two-year pilot produces data that demonstrates significant downsides, it's not a given that saying 'the experiment didn't work as we hoped and we are restoring riders to the same status quo ante position' would be problematic, as there would be no disproportionate impact," Aloisi wrote this week in CommonWealth.
If a disparate impact was found, the FTA says the MBTA — which is in the midst of a larger bus network redesign — could make other changes. Earlier this year, after T officials released an equity analysis showing that the Green Line Extension project would ultimately have a disparate impact, the agency's oversight board voted to keep a nearby lower-fare bus route in place to minimize the impact.
It's not the first time that federal guidelines have forced the city to jump through hoops in its efforts to test out fare-free service.
During the ongoing fare-free 28 bus pilot, Boston has been paying to reimburse free trips on the MBTA's The Ride within three-quarters of a mile of the route, due to FTA guidelines requiring "comparable" fares for para-transit service.
Wu's office says they will continue that approach in future pilots, in order to ensure that "all of Boston's residents" can benefit from free fares.
During the mayoral campaign, her office said that whether fare-free MBTA service would require eliminating The Ride fares — which the MBTA says could result in increased use of the door-to-door service and ballooning costs — "is still a matter of debate." Other fare-free pilots across the country haven't eliminated paratransit fares. And in a white paper laying out a roadmap to a free MBTA, Wu's office suggested seeking a potential waiver to provide discounted fares on The Ride instead, "with the potential to negotiate the statute in the longer term."
Of course, when it comes to FTA's six-month limit of pilots, the debate could be entirely moot, if Wu has her say.
The Boston mayor has long called for eliminating MBTA fares, particularly on local buses. And her office has characterized the two-year pilot as a "step" in that direction, as they look to partner with surrounding cities and towns to expand fare-free service.
"We thought starting with a two-year period was the absolute baseline and foundation, and we will certainly be looking for partnerships at the State House and other levels to keep this going," Wu said last month.
Newsletter Signup
Stay up to date on all the latest news from Boston.com