Politics
Massachusetts created a commission to study qualified immunity. Reform advocates aren't happy with the result.
"Our communities can't wait any longer for meaningful action."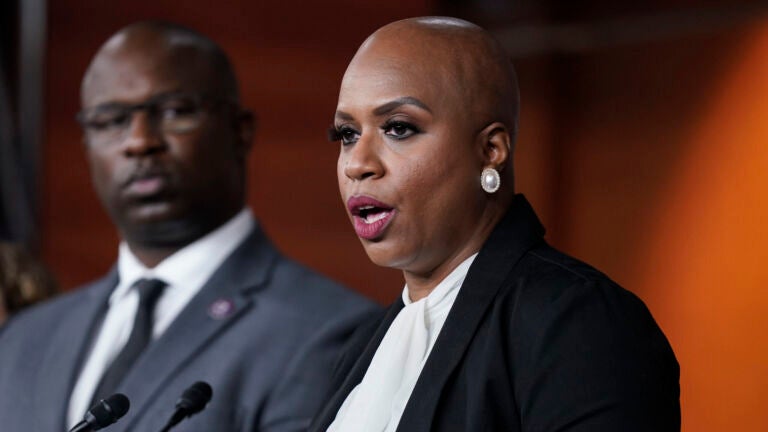 Following months of racial justice protests, Massachusetts Gov. Charlie Baker signed a sprawling compromise police reform bill on the final day of 2020.
The multi-faceted bill — hailed as "a necessary first step towards achieving systemic change" — put in motion a number of reforms, from a new certification process for police officers to guidelines around the use of physical force to limits on "no knock" warrants and facial recognition technology.
It also created a commission to study qualified immunity, the legal doctrine which shields individual police officers and other government officials from civil lawsuits stemming from things they do during the course of their jobs.
Critics have argued that the court-created doctrine also shields officers from accountability, even in cases of clear wrong-doing, such as police brutality. However, supporters say qualified immunity ensures officers can do their job — which sometimes involves split second life-or-death decisions — without the fear of being held personally liable.
The Supreme Court has written that qualified immunity balances two interests: "the need to hold public officials accountable when they exercise power irresponsibly and the need to shield officials from harassment, distraction, and liability when they perform their duties reasonably."
At the same time, it has come under increasing scrutiny, as examples of police brutality — often against people of color — mount without recourse.
The Massachusetts police reform bill did tweak the doctrine, allowing officers who had been decertified by the new state board responsible for investigating misconduct, the Peace Officer Standards and Training (or POST) Commission, to face lawsuits.
In other words, if an officer was stripped of their badge by the state panel for misconduct, they could then be sued.
However, after a five-month study, the commission tasked with specifically studying qualified immunity held off on any additional reforms.
Instead, the 15-member group issued recommended last week that legislators wait another two years while the rest of the police reform bill is implemented. The group also suggested two changes be made to the state's civil rights laws.
Reform advocates blasted the recommendations.
Rep. Ayanna Pressley, one of the country's leading qualified immunity critics, went so far as to call the commission's recommendations "dangerous," arguing that communities of color will continue to be disproportionately affected.
"Our communities can't wait any longer for meaningful action," Pressley told Boston.com in a statement.
What did the commission actually say?
The commission's 38-page report made three recommendations, two of which pertained to the state's current civil rights laws.
The first was that state legislators should remove "threats, intimidation and coercion" language from the statute, which had created a higher bar for individuals to successfully sue law enforcement officers in Massachusetts state court, effectively forcing plaintiffs to take their cases to federal court.
According to the commission, the removal of the language would remove a barrier and allow lawmakers and stakeholders to "work together more closely and quickly to consider any further actions."
The second recommendation was to pass legislation requiring judges to determine in writing whether alleged misconduct in a case violated a person's civil rights, even if qualified immunity applied to the case.
"Through this requirement, courts will allow precedent to develop, thereby putting all parties on notice of improper conduct," the commission wrote.
It could effectively lower the standard for future cases, in which the violation of a "clearly established law" is necessary to overcome the application of qualified immunity.
The final recommendation was to wait another two years to make qualified immunity changes, in order to evaluate the effectiveness of the 2020 police reform law.
The commission wrote that they expect the reforms to "increase public confidence in law enforcement," and suggested it could change whether additional qualified immunity reforms are necessary.
"The three recommendations we made will, if adopted by the Legislature, give full effect to the police reform law, provide more clarity to our law enforcement professionals and foster increased public confidence in our criminal justice system," state Rep. Michael Day, a Stoneham Democrat and commission co-chair, said in a statement.
His fellow chair, state. Sen. Jamie Eldridge, a progressive Democrat from Action, added that qualified immunity remains "a barrier for everyday Massachusetts residents, disproportionately people of color, to get their day in court to seek justice from mistreatment by law enforcement."
However, Eldridge added that the commission's suggested changes "will hopefully increase access to justice for civilians and improve the trust between law enforcement and vulnerable populations," while the 2020 police reform law's qualified immunity reforms are still being implemented.
"I will continue to work towards amending the policy in a way that ensures equity for all," he added.
'A charade and a façade'
Not all members of the commission, which was comprised of lawmakers, police groups, and civil rights groups, were satisfied by the recommendations.
Matthew Segal, the legal director of the ACLU of Massachusetts, said the group was "disappointed" by the lack of "meaningful changes to qualified immunity."
"This commission was mandated to study the impact of qualified immunity, and the evidence that the commission gathered overwhelmingly showed that this doctrine harms the administration of justice," Segal said.
The Boston-based group Lawyers for Civil Rights also criticized the commission for not going far enough, calling it a "colossal failure."
Lawyers for Civil Rights blamed the outcome on the commission's "composition," which they said "failed to meaningfully reflect the people of color who are disproportionately and imminently at risk of police violence."
Following the string of high-profile police brutality cases against people of color, the group said it was "absurd to suggest that more data is needed to assess the impact of qualified immunity."
"As the outcome reflects, the commission was a charade and a façade," their statement read.
Pressley — who has called for the complete abolishment of qualified immunity but also reluctantly backed the 2020 police reform bill — said the outcome was "a missed opportunity to address the hurt and harm felt by those murdered or abused at the hands of law enforcement."
"The commission's recommendation to delay action to address this unjust doctrine for two years is dangerous, and means that more communities in Massachusetts—particularly Black and brown communities—will be denied the accountability necessary to heal," the Boston Democrat said, reiterating that qualified immunity must be abolished "immediately."
"The commission must reverse course before more lives are needlessly lost," she wrote.
Newsletter Signup
Stay up to date on all the latest news from Boston.com