Politics
Who wants to be the next attorney general?
With Maura Healey's gubernatorial run, a race for the state's top prosecutor is now wide open.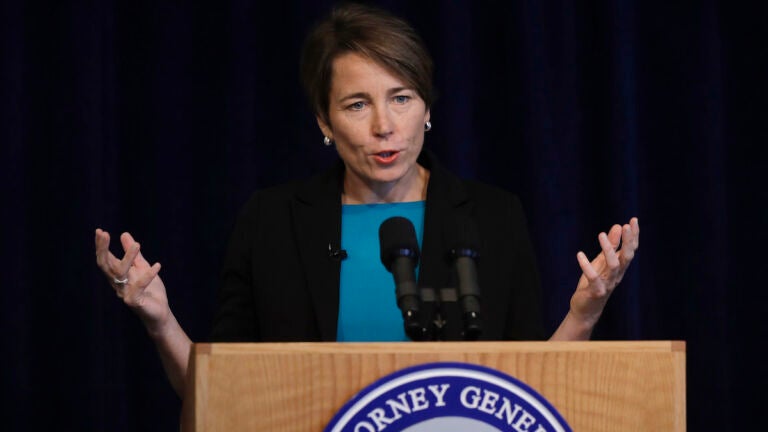 As quickly as speculation over whether Attorney General Maura would run for governor of Massachusetts ended with her campaign announcement on Thursday, rumors returned — but for a different race.
Healey's plan to seek the Democratic nomination for governor pushed more speculation to the forefront of the state's political circles over which candidates will leap to fill her anticipated open seat.
And there's already a growing shortlist.
Shannon Liss-Riordan, a labor attorney and former candidate for U.S. Senate, and Quentin Palfrey, who made an unsuccessful bid for lieutenant governor in 2018, are both expected to soon launch campaigns, possibly within days, Politico reports.
Palfrey told the outlet in a statement, "As your attorney general, I will serve as the 'people's lawyer' fighting for social justice and racial equality."
A campaign spokesperson for Middlesex County District Attorney Marian Ryan also told the political publication that Ryan hasn't just yet crossed off a possible run, either.
And Andrea Campbell, the former Boston city councilor who launched a campaign for mayor last year, is seriously considering a run for Healey's seat, people familiar with her thinking told The Boston Globe on Thursday.
Campbell, in a tweet, wrote that she was "excited" to see Healey launch her campaign for governor.
"[Massachusetts] couldn't have asked for [a] better AG than [Maura Healey] — she's been a champion for the people of our Commonwealth on climate change, student debt, immigration, and opioid crisis," Campbell wrote. "I'm grateful for her leadership and friendship."
Should she decide to run, Ryan would have a financial leg up: Campaign finance filings show she had nearly $367,000 on hand late last month, of which, approximately $50,000 was raised in December alone.
Meanwhile, Liss-Riordan reported $159,131 and Palfrey reported $135,815. Campbell's account sat at $35,120, records show.
Newsletter Signup
Stay up to date on all the latest news from Boston.com