Politics
Joe Biden's approval in Mass. has dropped significantly, poll shows
The president is liked as much as he is disliked among voters in the Bay State.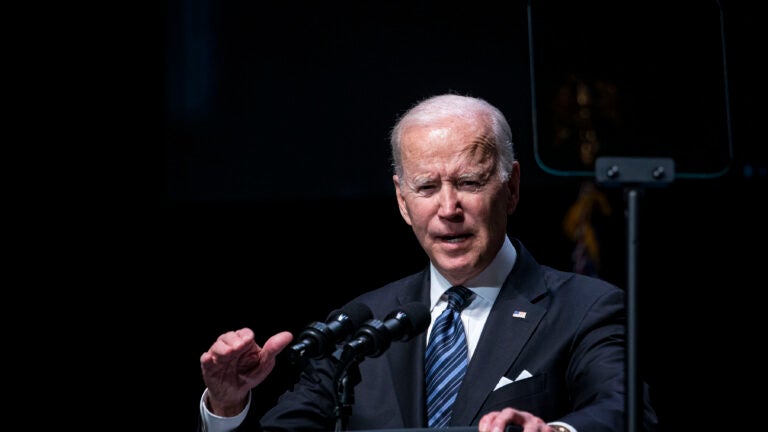 President Joe Biden is not as popular as he once was, even in Massachusetts.
Only 46.01 percent of registered voters in the state surveyed for a new Suffolk University/Boston Globe poll currently approve of Biden, who carried the Bay State by over 33 percentage points in the 2020 presidential election.
By contrast, 46.27 percent of poll participants disapprove of how Biden is handling the job.
Poll results show that out of 765 voters surveyed, only two more people polled gave Biden a thumbs down than those who see the president's job performance more favorably.
Seven percent of those polled were undecided over their opinions of Biden. There was a 3.5 percent margin of error.
Results show Biden is struggling the most to win over younger voters: 50 percent of voters ages 36 to 45 disapprove of his performance, as do 47 percent of voters ages 18 to 35.
The president has the most support from voters between the ages of 56 and 65, with 55 percent of those polled in that group giving Biden a thumbs up.
Of the racial demographics noted in the poll results, white voters were split with 47 percent in favor and 47 percent disapproving of how Biden has handled the presidency. Forty-eight percent of Black voters approved of Biden, compared to 38 percent who did not, and Hispanic voters were split with 42 percent in favor and 40 percent against Biden's job performance.
By political ideology, nearly all Republicans surveyed disapprove of how Biden has handled his term, or 95 percent. Meanwhile, 53 percent of the state's unenrolled voters — who make up the most of Massachusetts' voting population — disapproved as well.
The poll also showed voters' worsening outlook on the economy: 51 percent indicated they believe the economy is in a recession or depression.
The results paint a troubling outlook for Democrats heading into the midterm elections this November.
"If you're technically underwater in Massachusetts, that sends a powerful message to the country," David Paleologos, director of the Suffolk University Political Research Center, told the Globe.
"When independents in Massachusetts are that negative on an incumbent Democratic president who won this state going away, one wonders what an independent swing-state voter in Ohio, Nevada, or New Hampshire is thinking," Paleologos told the newspaper. "It poses a real challenge for the midterm elections for Democrats."
Sorry. This form is no longer available.
Newsletter Signup
Stay up to date on all the latest news from Boston.com