Politics
'Where is the political courage?': Mass. lawmakers react to Texas school massacre
"Our children deserve to go to learn in safety, not worry whether their school's next lockdown is a drill or not."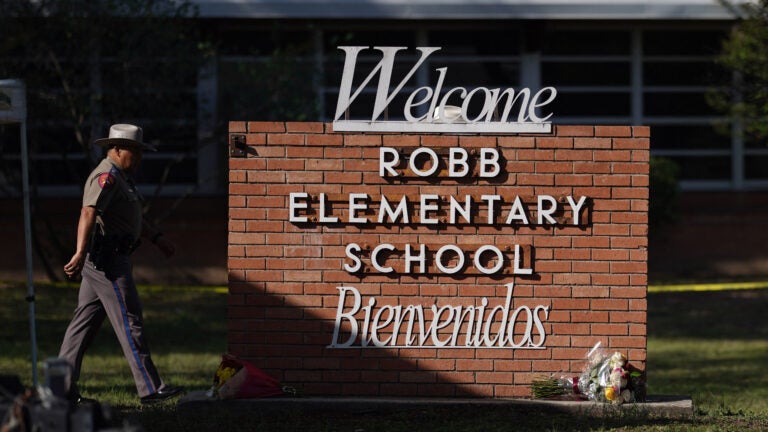 Massachusetts lawmakers and officials are among the many expressing anger, grief, and calls for action after a gunman killed 19 kids and two teachers at an elementary school in Uvalde, Texas.
The resounding messages were ones of heartbreak and frustration, with many of the elected leaders calling for action from Congress to address gun violence.
Gov. Charlie Baker said the Tuesday shooting at Robb Elementary School left him "horrified" and "heartbroken."
Mayor Michelle Wu called on the country to "urgently" move toward gun reform.
Sen. Elizabeth Warren joined the swift calls for action, saying the shooting at Robb Elementary is "sickening."
Rep. Ayanna Pressley pointed to the unfulfilled dreams and the lives cut too short by the shooting.
Horrified by the shooting, Sen. Ed Markey said there are no excuses for people who refuse to act for gun reform.
Markey later called for gun legislation, writing "Abolish the filibuster and pass gun safety legislation now."
Attorney General Maura Healy, who is running for governor, alluded to the growing list of mass shootings in the United States and said that the country "needs more than thoughts and prayers."
From her campaign account, Healy said her heart aches for those who lost a loved one.
Other members of the Massachusetts delegation to Congress weighed-in, including Rep. Jim McGovern, who said that as a dad he is disgusted by the violence.
Rep. Jake Auchincloss posted a video after tucking his children into bed and said he had "hate in his heart" for politicians and organizations who allowed the slaughter to happen. He called for a vote on gun safety legislation and the disbanding of the National Rifle Association.
"No parent should live in fear of their child not coming home, especially when sending our kids to school," Auchincloss tweeted. "We have the power to stop this. Too many Republicans lack the political courage. Enough is enough."
Another representative with children, Rep. Lori Trahan said the shooting is "every parent's worst nightmare."
Acknowledging that many things were still unknown about the shooting, Rep. Seth Moulton said there is much more that can — and must — be done. He later called Texas Gov. Greg Abbott a coward for not standing up to the gun lobby.
Rep. Katherine Clark, the assistant speaker of the U.S. House of Representatives, pointed to the impact mass shootings have on children.
Members of the state legislature also joined the chorus of calls for change.
State Sen. Sonia Chang-Diaz, who is running for governor, said she sent her kids off to school with extra kisses the day after the shooting.
Sen. Jamie Eldridge said more is needed than just words.
State Sen. Adam Gomez said the tragedy underscores the importance of mental health services, background checks for owning firearms, and the need for parents to properly secure any weapons they own.
Boston city councilors also reacted to the massacre.
Councilor Kenzie Bok called Tuesday's shooting a "wrongful tragedy."
Pointing to the May 14 shooting in a grocery store in Buffalo, New York, Councilor Ricardo Arroyo said the country should move to make guns less easily accessible.
Before sharing pictures of the victims of the shooting, Councilor Kendra Lara said sweeping gun reform is needed.
Councilor Gabriela Coletta said she is sickened by the lack of action from leaders.
Councilor Ruthzee Louijeune said she was "weeping" for the families affected.
Newsletter Signup
Stay up to date on all the latest news from Boston.com