Politics
State Sen. Sonia Chang-Díaz ends campaign for governor
The Boston legislator is focusing on supporting candidates in down-ballot races instead, she said.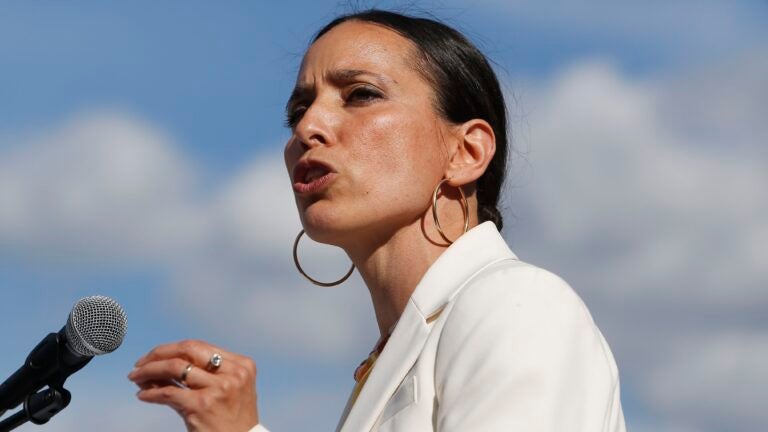 Boston state Sen. Sonia Chang-Díaz ended her campaign for the Democratic nomination for governor on Thursday, telling supporters she is directing her focus on supporting candidates with similar progressive values in down-ballot races this fall.
"The reality is, this race has always been about more than just me. It's been about all of us coming together and building a movement for courage and urgency in this state," Chang-Díaz said in a statement. "A good leader calls the question and focuses resources not just on themselves — but on the best way to build our power and win real change for the long-term."
The lawmaker also intends to use her campaign to help push voter registration and turnout in "communities that have long been overlooked," she said.
"This is an important part of how we keep building power for years to come."
Chang-Díaz, 44, of Jamaica Plain, will still appear on the ballot in the Sept. 6 primary election, although she will no longer be actively campaigning against frontrunner Attorney General Maura Healey.
Her departure from the race essentially secures a path to the nomination for Healey, who was endorsed by the party earlier this month and has consistently led polls by a large margin.
"I'm deeply grateful to Senator Sonia Chang-Díaz for her many years of service to Massachusetts and her inspired leadership during this campaign," Healey said in a statement, shortly after Chang-Díaz's announcement. "The legacy of her campaign will live on through the young girls who finally saw themselves represented in a candidate for the highest office in the state. I look forward to continuing to partner with Senator Chang-Díaz to bring people together and make Massachusetts work for all of our families."
Geoff Diehl, the Republican-endorsed frontrunner, also issued a statement thanking Chang-Díaz while taking aim at the presumed Democratic nominee.
"Her departure from the race makes this now a clear contest between my vision to make Massachusetts a better place to live and work, and the policies of Maura Healey which would drive more families and businesses to leave our state in search of better opportunities elsewhere," Diehl said. "I look forward to a spirited campaign that provides contrast between these two different visions over the next several months."
Chang-Díaz launched her bid for governor a year ago to the day on Thursday, pushing bold, progressive ideas, such as support for the so-called "millionaire tax" to free public college for state residents and closing the state's racial wealth gap.
At a candidate's forum in April, Chang-Díaz – who had unsuccessfully challenged Healey to several debates – sought to draw sharp contrasts between herself and Healey, targeting the prosecutor for her record on education, the environment, and racial equity.
"I respect the hell out of your work on the national level," Chang-Díaz told Healey, who built a reputation of challenging the Trump administration over 200 times during the former president's term. "But standing up for racial equity at every turn means more than doing it when it's against Donald Trump or against ExxonMobil. The next governor is going to need to have the courage to do that when it's against members of our own party."
But polls showed Chang-Díaz struggled to bring that message to voters. She has lagged behind Healey by a large margin after the attorney general entered the race early this year, and even after Harvard professor Danielle Allen ended her bid in February.
Campaign finance filings show Chang-Díaz closed out last month with over $321,000 in her war chest. Healey, meanwhile, had over $5.2 million on hand.
"I have looked at the numbers every which way," Chang-Díaz told reporters on Thursday morning. "Unfortunately, there is no path I can responsibly lead my supporters on that results in me becoming governor this year."
Instead, Chang-Díaz said she will marshal her supporters and their grassroots efforts into supporting candidates she calls "Courage Democrats" in down-ballot races. These are candidates "who walk the walk when it comes to our values," she said in a statement.
On the list so far are Vivian Birchall, a candidate for state representatives for the 14th Middlesex District; Raul Fernandez, a candidate for state representative for the 15th Norfolk District; Sam Montaño, a state representative candidate for the 15th Suffolk District; Ricardo Arroyo, the Boston city councilor running for Suffolk County district attorney; and Rahsaan Hall, the civil rights attorney running for Plymouth County district attorney.
"I have no doubt that they will fight to put courage over politics in our state, and I am going to be using my energy to help put them into office," Chang-Díaz said in a statement.
However, she declined to answer to reporters whether she will support Healey.
"I am focusing my energies on these candidates," she said. "I will support the Democratic nominee in this race. There is no question. In the primary, I am going to vote for myself because I think I am the best choice for governor."
Newsletter Signup
Stay up to date on all the latest news from Boston.com